The NFL Draft is a fickle process. It's not always easy to separate first-round busts from late-round gems, but some teams have proven to be better at scouting and developing players than others. The Philadelphia Eagles haven't hit on every single pick, but they've done a solid job of getting quality players. Most of their selections have come at the middle or back of the first round. With that in mind, here are the Eagles' last 10 first round draft picks and where they are now:
2004 - OG Shawn Andrews, Arkansas Razorbacks (Pick #16)
When healthy, Andrews was a pretty solid offensive lineman. He only played three full seasons for the Eagles in his five years with the team, but was a Pro Bowler in each of those years. He joined the Giants after playing just two games from 2008 to 2009 because of injuries. He lasted just one season before injuries eventually resulted in his release and retirement. 
2005 - DT Mike Patterson, USC Trojans (Pick #31)
Patterson played eight seasons for the Eagles, but didn't quite have the impact the team hoped for. He was a serviceable, and often solid, starter, but never an impact player. He also spent two years with the Giants, but didn't play in the NFL this season. Patterson wasn't a bust, but he wasn't a home-run pick either. 
2006 - DT Brodrick Bunkley, Florida State Seminoles (Pick #14) 
Bunkley was a starter for three seasons and a solid one at that. He wasn't very disruptive, recording just six sacks in his five years with the Eagles. But he did a good job of stopping the run as a nose guard. He last played for the New Orleans Saints in 2014. Much like Patterson, this pick wasn't bad, but it wasn't that great either. 
2009 - WR Jeremy Maclin, Missouri Tigers (Pick #19) 
After not having a first rounder for two years, the Eagles landed Maclin in 2009. Maclin slid a bit on draft day, much to the Eagles' delight. He came into his own under Chip Kelly after showing promise early in his career. He's developed into a bona-fide No. 1 WR, although he's now with the Kansas City Chiefs. Still, this turned out to be a solid pick. For more on Maclin, download the Chat Sports Android and iPhone app. 
2010 - DE Brandon Graham, Michigan Wolverines (Pick #13)
Graham hasn't played like a Top 15 draft pick, but he played well enough for the Eagles to keep him. The team moved him to linebacker before the 2014 season, and he's set career highs in sacks every season since. He's fresh off a 6.5 sack season, although the Eagles should be moving back to a 4-3 look. Download the Chat Sports Android and iPhone app for more on the Eagles' likely move to a 4-3 defense.
2011 - OG Danny Watkins, Baylor Bears (Pick #23) This is the only true bust the Eagles have had in their last 10 first round picks. It's also a rather odd situation. Watkins was 26 when the Eagles took him, the oldest first round pick since 1980. Watkins lasted just two seasons with the Eagles and never seemed committed to playing football. His true passion was being a firefighter, which is his current occupation. 
2012 - DT Fletcher Cox, Mississippi State Bulldogs (Pick #12)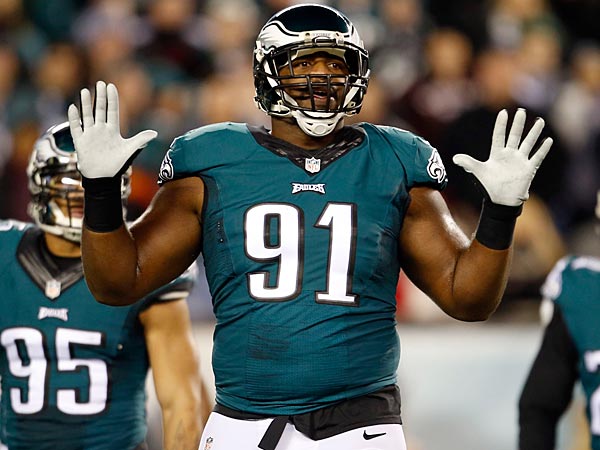 The Eagles followed up their worst first rounder with their best in the past 10 tries. Cox has been great as a defensive lineman and is fresh off his best NFL season. He's strong against the run and getting to the QB. The Eagles must bring back the impending free agent. Download the Chat Sports Android and iPhone app for the latest on Cox's contract situation. 
2013 - OT Lane Johnson, Oklahoma Sooners (Pick #4) 
Johnson was the first pick after Kelly became head coach and he's been a strong starter. He's not quite among the top tackles in the game, but he's a very good starter. Plus, he's still only 25. For more on the Eagles' offensive line, check out the Chat Sports Android and iPhone app. 
2014 - DE Marcus Smith, Louisville Cardinals (Pick #26)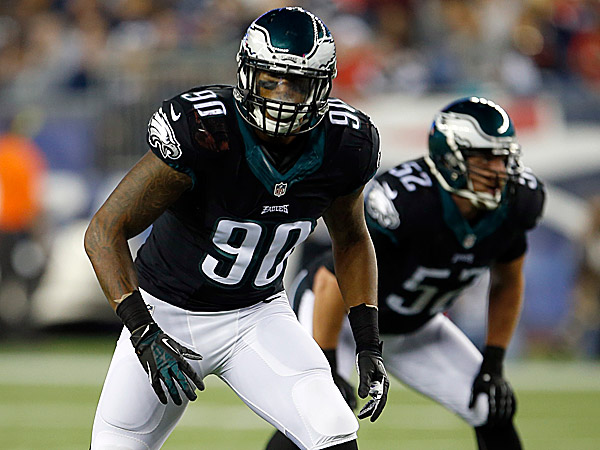 This was a confusing pick on draft day and it still doesn't make much sense. Smith was a reach in the first round and hasn't seen the field much for the Eagles. He has just 1.5 career sacks, all of which came this year. Perhaps the potential switch to a 4-3 scheme will benefit Smith. 
2015 - WR Nelson Agholor, USC Trojans (Pick #20)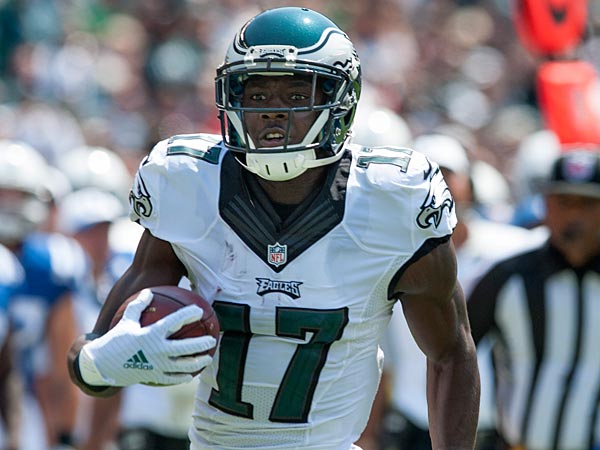 The jury is still out on the Eagles' most-recent first rounder. Agholor showed promise in his rookie year, but also battled injuries while looking like a rookie. He should develop into a quality WR with speed to spare, but it's too early to declare that he'll be a WR1. 
Back to the Philadelphia Eagles Newsfeed
Related Topics: Marcus Smith, Fletcher Cox, Lane Johnson, Nelson Agholor, Brandon Graham, Jeremy Maclin, Eagles News, NFL Draft