The Philadelphia Eagles will have a new head coach in tow when they pick #13 overall in the 2016 NFL Draft, as Doug Pederson helps make the first big decision of his tenure with the team. With that in mind, here's our Eagles Draft Rumors Roundup For January 31st.
Time To Trade Up For Carson Wentz?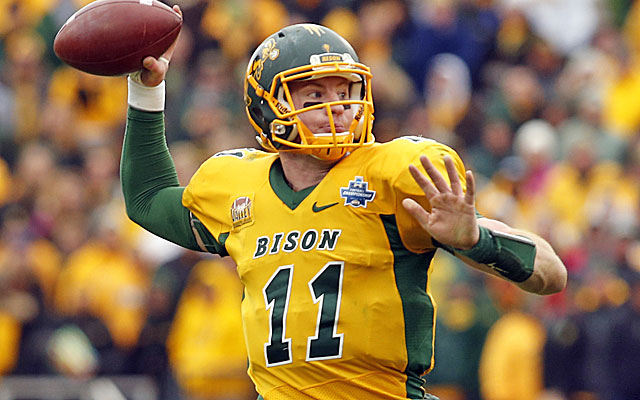 Former North Dakota State quarterback Carson Wentz has been the darling of the pre-draft process, with his lauded size and arm strength vaulting him into the top-five draft conversation.
Wentz's skyrocketing stock could make for a tough decision for the Eagles brass, especially since Philly is reportedly intrigued by the idea of grooming Wentz as their next franchise quarterback. If they are indeed going that way, they'll likely have to trade up in hopes of snatching him away from a team like Dallas (#4).
Is that really the way to go? NJ.com's Eliot Shorr-Parks isn't so sure:
"The Eagles are need desperate need of a quarterback, and unless they are putting on a very strong poker face, it doesn't seem like Sam Bradford will be back. Even if he is, the duo of head coach Doug Pederson and top personnel executive Howie Roseman have made it pretty clear they aren't blown away with the idea of paying Bradford what it will take to keep him.
"Just because Bradford isn't the option, however, doesn't mean Wentz -- or any other rookie quarterback -- is."
"The reality of drafting a quarterback in the first two round, but especially at No. 13 overall, is that if the Eagles miss, it is unlikely Pederson or Roseman will be around for long."
A first-round quarterback bust could be lethal for any QB/GM combo, and it would be a heck of a stigma to live down even if they survived a whiff on someone like Wentz.
Wentz Plus 16
The Eagles met with Carson Wentz in the lead-up to this past weekend's Senior Bowl, but they also sat down with 16 other prospects as they continue to set their draft board.
Here's the full list, minus Wentz: DB Sean Davis (Maryland), OL Cody Whitehair (Kansas State), DL Shawn Oakman (Baylor), S Darian Thompson (Boise State), OT Jason Spriggs (Indiana), EDGE Kyler Fackrell (Utah State), OL Vadal Alexander (LSU), DE Carl Nassib (Penn State), LB Jared Norris (Utah), DB DeAndre Houston-Carson (William & Mary), WR Paul McRoberts (Southern Missouri State), FB Glen Gronkowski (Kansas State), DB James Bradberry (Samford), LB Nick Kwiatkoski (West Virginia), G Josh Garnett (Stanford), & OL Joe Dahl (Washington State).
Back to the Philadelphia Eagles Newsfeed
Related Topics: Eagles NFL Draft Rumors, Eagles Draft Rumors, Carson Wentz, Eagles Rumors, Eagles News, Carl Nassib