The Philadelphia Eagles' franchise history is littered with amazing players who could make this list, but these next eight guys are the greatest of the great. Here's our list of The 8 Best Players In Philadelphia Eagles History.
8. RB Wilbert Montgomery
LeSean McCoy might have edged him as the team's all-time leading rusher, but Montgomery still remains one of the most productive skill-position players in franchise history. With 6,500+ career rushing yards and 2,500+ career receiving yards, you can't get much better than his output in the late 70s and early 80s.
7. RB LeSean McCoy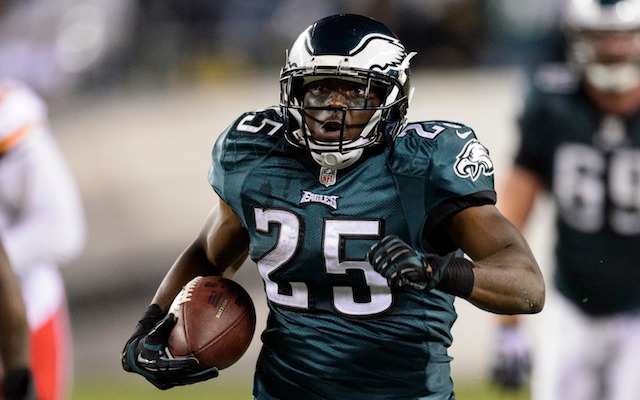 He's the team's all-time leader in rushing and a top-40 entrant in receiving yards (#32). His six years in Philadelphia mark one of the most productive stretches by any running back of any time period. His exit from the team not withstanding, the only reason McCoy isn't higher on the list is because of the sheer impact -- both on-field and otherwise -- of the six players ahead of him.
6. TE Pete Pihos
His name may have been shuffled into obscurity in regards to non-Eagles fans, but modern tight ends owe a huge debt of gratitude to this trail blazer. Pihos made six consecutive Pro Bowls and led the league in receiving three years in a row from 1953-55, combining brute force with great hands to transform the tight end position from mere blocking to something much different.
5. RB Brian Westbrook
For the majority of his time in Philly, Westbrook was the key cog in the Eagles' offense. In fact, he helped usher in the era of the dual-threat back by proving equally deadly as a rusher and pass catcher out of the backfield. One of the most versatile players of any era (including his work as a returner), Westbrook redefined how NFL teams approach the concept of offense.
4. RB Steve Van Buren
Van Buren played just eight years as a pro, but regardless he earned his stripes as one of the greatest running backs of the 1940s and 1950s. Van Buren led the league in rushing four times while also functioning as a top-tier threat for the team in the return game. His stats may not be as gaudy as others thanks to a shorter schedule, but that means nothing compared to his impact and imprint on Eagles lore.
3. S Brian Dawkins
If you're looking to get a glimpse of the spirit of Philadelphia, you can't do any better than Brian Dawkins. Dawkins is just one of a few members of the NFL's 20/20 Club, with over 20 sacks and 20 interceptions to his credit. He's also exemplified heart and passion, functioning as the lifeblood of the Eagles during his 13-year run with the franchise.
2. LB Chuck Bednarik
On any other franchise's list, Bednarik would likely be #1 with a bullet. However, he's still an amazing second-place finisher, finishing his career in the early 1960s with a reputation as one of the hardest hitters in the history of the game. That reputation remains intact and is even more amazing considering he also starred at center for the team.
1. DE Reggie White
The Minister of Defense reigns again. Not only is White the greatest Eagle of all time, he may be the greatest defensive player in NFL history. While he didn't finish his career in Philly, his 124 sacks in eight seasons is still far and away a franchise record. A true legend.
Follow our Philadelphia Eagles team page for the latest Eagles rumors!
Back to the Philadelphia Eagles Newsfeed