The Philadelphia Eagles dominated the NFC on their way to the franchise's first-ever Super Bowl title last season, but now that the offseason is here, Philadelphia wants to strengthen their roster as they make another run defend that championship. However, in order to do that, the Eagles need to cut some players to create cap space. Here are four surprise cuts they may make:
1) Torrey Smith, WR
Cutting Smith is also guaranteed to happen for Philadelphia, as they can save $5.1 million by doing so without having to deal with any dead money. Smith has he wants to be back next season and the Eagles need someone to fill the deep threat role, but a reunion would come at a much, much cheaper price tag.
2) Brent Celek, TE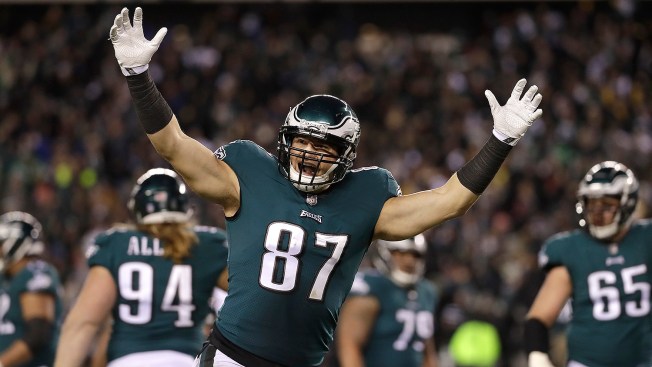 Celek may very well choose to retire, but if he doesn't, the Eagles may decide to part with their longest-tenured player. Why? They can save $4 million by cutting him even with $1 million in dead cap - and $5 million is simply way too much for a backup tight end. If he does come back, expect it to be on a restructured contract.
Stick with us in the Chat Sports app or follow NFL by Chat Sports on Facebook to be the 1st to know every breaking story and all the rumors on the NFL!
3) Mychal Kendricks, LB
A breakup between Kendricks and the Eagles has been coming for some time now, and while he played a big role for Philly this year following the injury to Jordan Hicks, it may simply be time to move on. His contract does carry $3.2 million in dead money but cutting him would save $4.4 million.
4) Vinny Curry, DE
With Derek Barnett set to earn a starting role in 2018, Philadelphia is expected to part with either Vinny Curry or Chris Long. Though Long's contract carries very little dead money and Curry has $6 million on his contract, the Eagles can save over $3 million more by releasing Curry instead of Long. Given their cap situation, that extra money may prove valuable.
Back to the Philadelphia Eagles Newsfeed
Related Topics: Eagles News, NFL News