It's was a topsy-turvy offseason for the Philadelphia Eagles so far, but that doesn't mean they won't be competing with the best teams in the league again this season. Here are four reasons why the Eagles will make the playoffs this year:
4) Influx of young talent
The back end of the draft isn't likely to bear much fruit for the Eagles, but there's plenty to like about the Nelson Agholor/Eric Rowe/Jordan Hicks trio in front of the draft. Both Rowe (cornerback) and Hicks (linebacker) are high upside prospects with great motors who'll likely be impact players early, and Agholor's work as a precision route runner and returner will have Eagles fans jumping for joy before long. Some may cry foul on this draft, but it's better shape than people are claiming.
3) Sam Bradford is really good when healthy
Bradford figures to be Philadelphia's starting quarterback, which is a problem because he's coming off of two ACL tears, but when he's healthy, he's been a good QB in the league. He threw for over 3,700 yards and 21 touchdowns in 2012 and has shown he can break apart a NFL defense. As long as he stays healthy, Bradford will be the best quarterback the Eagles have had under Chip Kelly.
2) Improved defense
Philadelphia had a bottom five defense last year, and that was the biggest reason they missed the playoffs. They released linebacker Trent Cole and cornerback Cary Williams, but have brought in several players with a lot of upside, headlined by former Seahawk corner Byron Maxwell linebacker Kiko Alonso, who recorded over 150 tackles in his rookie season in 2013.
1) The Mad Scientist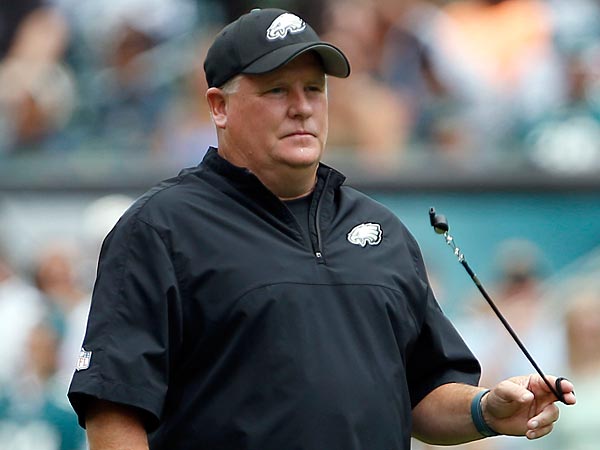 Fans have been left scratching their heads at most of the moves Philadelphia has made this offseason, putting a lot of pressure on Chip Kelly to win this season. However, Kelly has posted a 20-13 record during his first two years in the league, and his unconventional style has turned the Eagles into one of the NFL's most dangerous teams. At this point, fans have to trust that Kelly knows what he's doing – he's certainly earned it.
Follow our Philadelphia Eagles team page for all the latest Eagles news and rumors!
Back to the Philadelphia Eagles Newsfeed
Related Topics: Philadelphia Eagles, NFL