The 2015 Philadelphia Eagles have their sights set on the Super Bowl following a very intriguing spring, but there's still plenty to be sorted out as we move in training camp. Here are three things to watch for in the preseason: 
1) Is Sam Bradford the answer?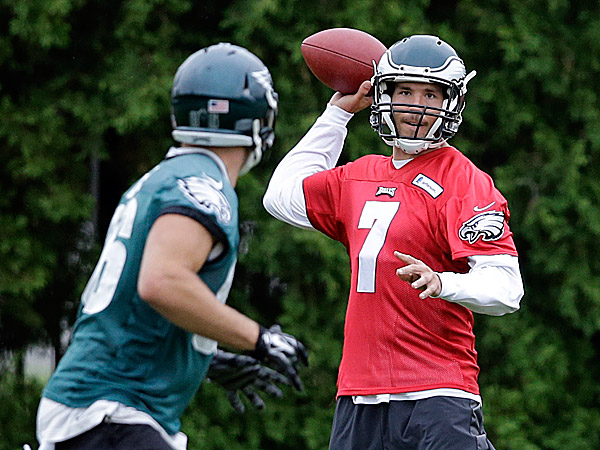 Philadelphia made the head-scratching move of trading starting quarterback Nick Foles to the St. Louis Rams for Sam Bradford, is coming off of two torn ACL's and hasn't taken a competitive snap in almost two years. If Bradford can't stay healthy or doesn't play well, Chip Kelly will be on the hot seat very, very quickly. Bradford also has only one year left on his contract, so Kelly needs Bradford to prove the franchise can invest in him to prove the deal was worth making.
2) How will the DeMarco Murray era start out?
LeSean McCoy's exit from Philadelphia came with it's fair share of noise, even partially drowning out the joy Eagles fans felt after the signing of 2014 NFL rushing champion DeMarco Murray. 2015 was the first year of Murray's career that he stayed healthy enough to play a full 16 games, so there's still plenty to address when it comes to his long-term health. However, if he proves durable in year one here in Philly, he could be the MAIN offensive piece to Chip Kelly's Super Bowl puzzle.
3) What will Tim Tebow actually bring to the table?
Tebow is currently in a battle with Matt Barkley for the team's emergency quarterback slot, but rumors are running rampant that Tebow will have a much more nuanced role with the team if he indeed sticks. Will he be a two-point conversion weapon? A special teams decoy? A strange skill-position hybrid? The summer will tell us a lot about just what Kelly envisions for the polarizing quarterback, especially if Tebow's arm still can't approximate NFL QB oomph.
Follow our Philadelphia Eagles team page for the latest Eagles news and rumors!
Back to the Philadelphia Eagles Newsfeed
Related Topics: Philadelphia Eagles, NFL, Eagles Rumors