According to the record books, 409 is once again 409...but real Penn Staters didn't need the NCAA to tell them that.
It isn't easy picking five games out of a list that long, and no matter what ends up making the cut, it's a virtual guarantee that there will be dozens of worthy contenders left out. Joe Paterno's 45 years as Penn State head coach can't be summarized in five games, but these were our personal favorites, which you'll have to remember are slightly biased because we weren't alive for the first half of Paterno's tenure. If you have other favorite games or memories you don't see on this list, add your own in the comments section!
5. September 25, 1982 (Penn State 27, Nebraska 24)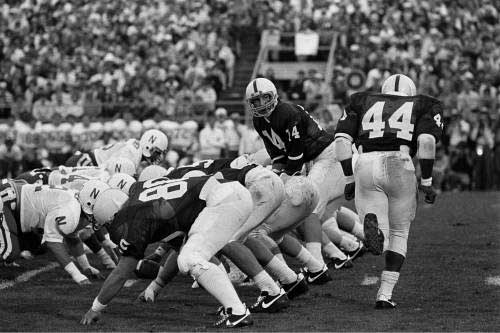 The only game on this list to have been played at Beaver Stadium, this was one of the most exciting and controversial wins in program history. The #8 Lions hosted the #2 Huskers in a nationally-televised battle royale, and the Lions came out victorious thanks to a highly controversial last-minute catch that Nebraska fans still maintain was out of bounds.
QB Todd Blackledge had led a 65-yard drive in the final minute with his team down 24-20 and no timeouts remaining. TE Mike McCluskey hauled in the controversial pass at the two-yard line with 13 seconds remaining, and while the Huskers screamed that he had been out of bounds, the referees disagreed. Blackledge found Kirk "Stonehands" Bowman in the end zone on the next play with four seconds left, and the rest is history.
4. The 1995 Rose Bowl (Penn State 38, Oregon 20)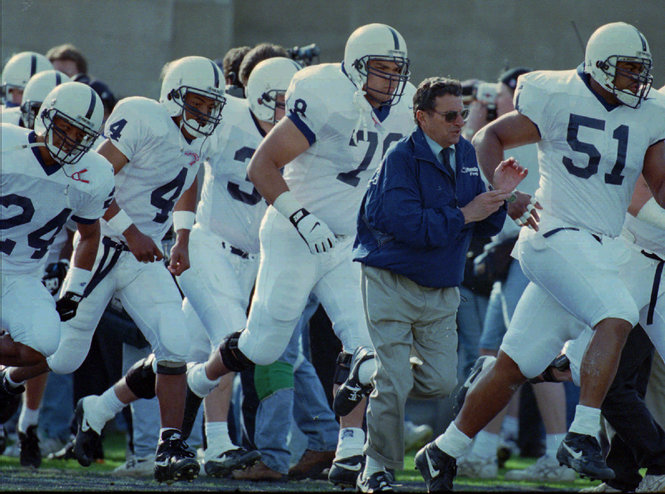 In just Penn State's second season in the Big 10, Paterno's Lions won the conference and made their first Rose Bowl appearance since 1923.
This win was the apex for one of the best Penn State teams in Paterno's career - running back Ki-Jana Carter and QB Kerry Collins were both Heisman finalists, and along with TE Kyle Brady, the three were all top 10 picks in that year's NFL Draft.
This game was much closer than the scoreline would indicate - the two teams were tied until midway through the third quarter, and the Ducks actually out-gained the Lions 501-430. Once again, though, the defense came riding in to save the day, with safety Chuck Penzenik reeling in a decisive interception and returning it deep into Oregon territory to help Penn State pull ahead.
3. The 2006 Orange Bowl (Penn State 26, Florida State 23 [3OT])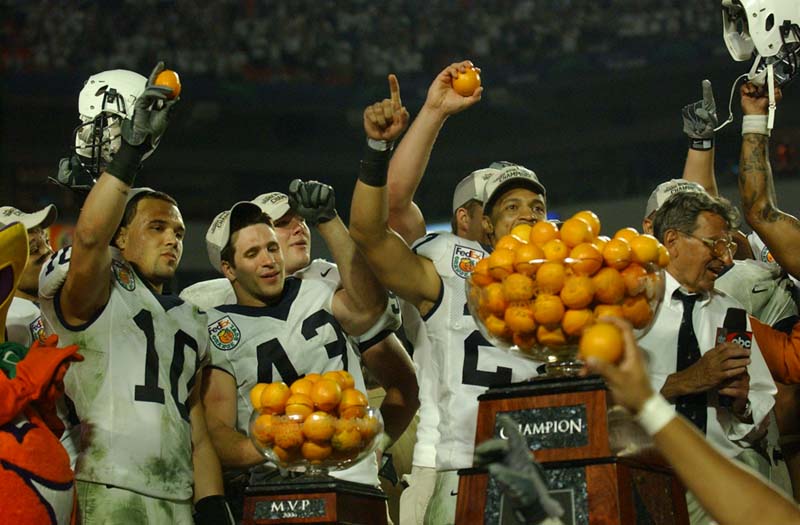 This game isn't just memorable because of what happened on the field - the circumstances surrounding it are a big part of the reason why fans remember it so vividly. 2003 and 2004 were Penn State's two worst back-to-back seasons in Paterno's tenure as head coach, and there were numerous calls for him to step down during the offseason leading into 2005.
Paterno responded with one of his best seasons, beating #18 Minnesota, #6 Ohio State and #14 Wisconsin to land a spot in the Orange Bowl against Bobby Bowden's Seminoles. QB Michael Robinson and RB Austin Scott led the charge as the Lions prevailed in triple overtime, ultimately winning on a Kevin Kelly field goal after FSU missed from 28 yards.
2. The 1983 Orange Bowl (Penn State 27, Georgia 23)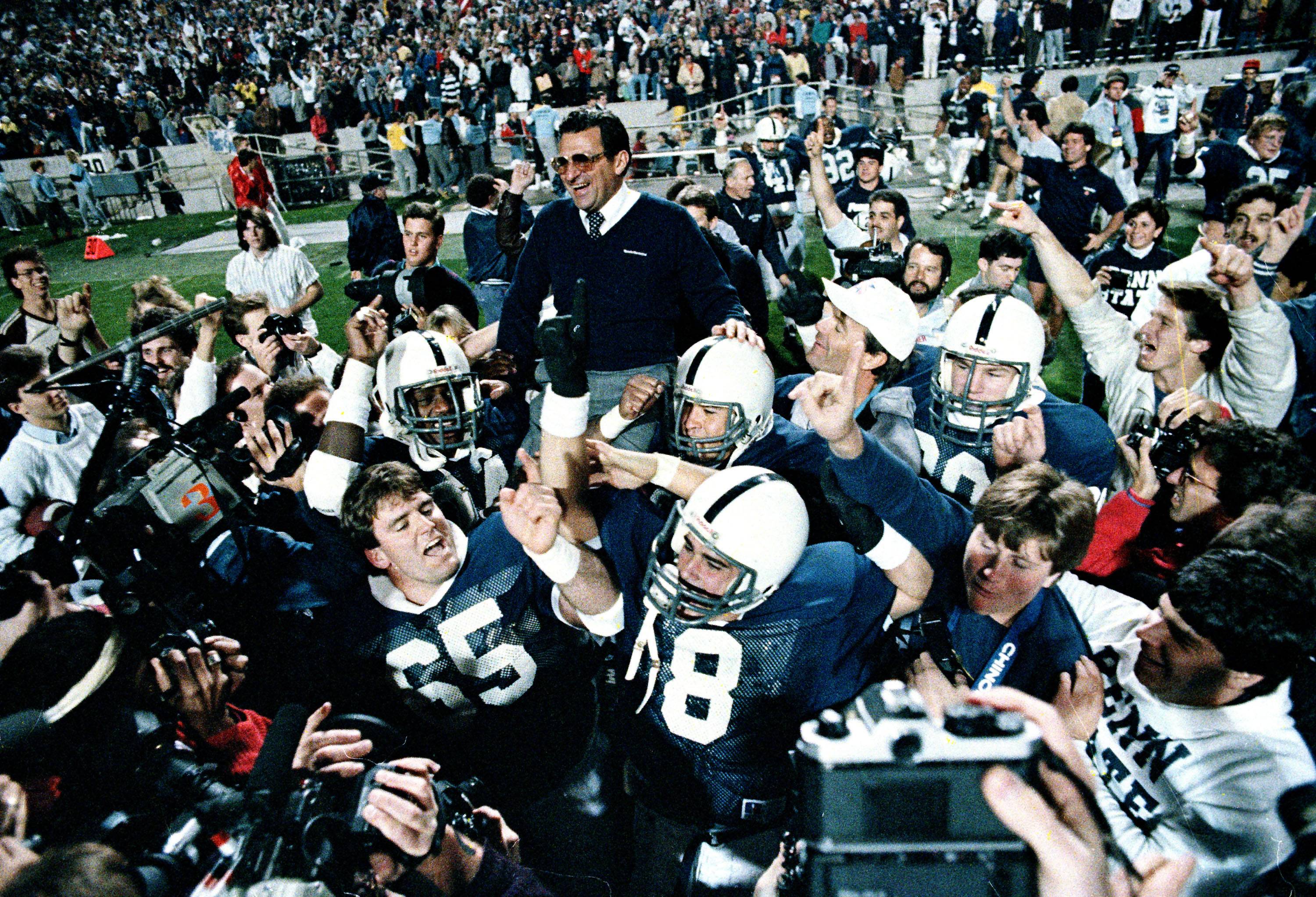 Paterno's first national championship, this Orange Bowl matchup saw the Lions contain legendary running back Herschel Walker and hold on for a surprising upset over the favored Bulldogs. While it didn't receive nearly as much media coverage or hype as Paterno's second title, the game is still a special memory for Penn State fans who had seen Paterno's Lions overlooked despite perfect seasons in 1968, 1969 and 1973.
This was also the final Penn State game for legendary Lions QB Todd Blackledge, who was taken 7th overall in the NFL Draft a few months later.
1. The 1987 Fiesta Bowl (Penn State 14, Miami 10)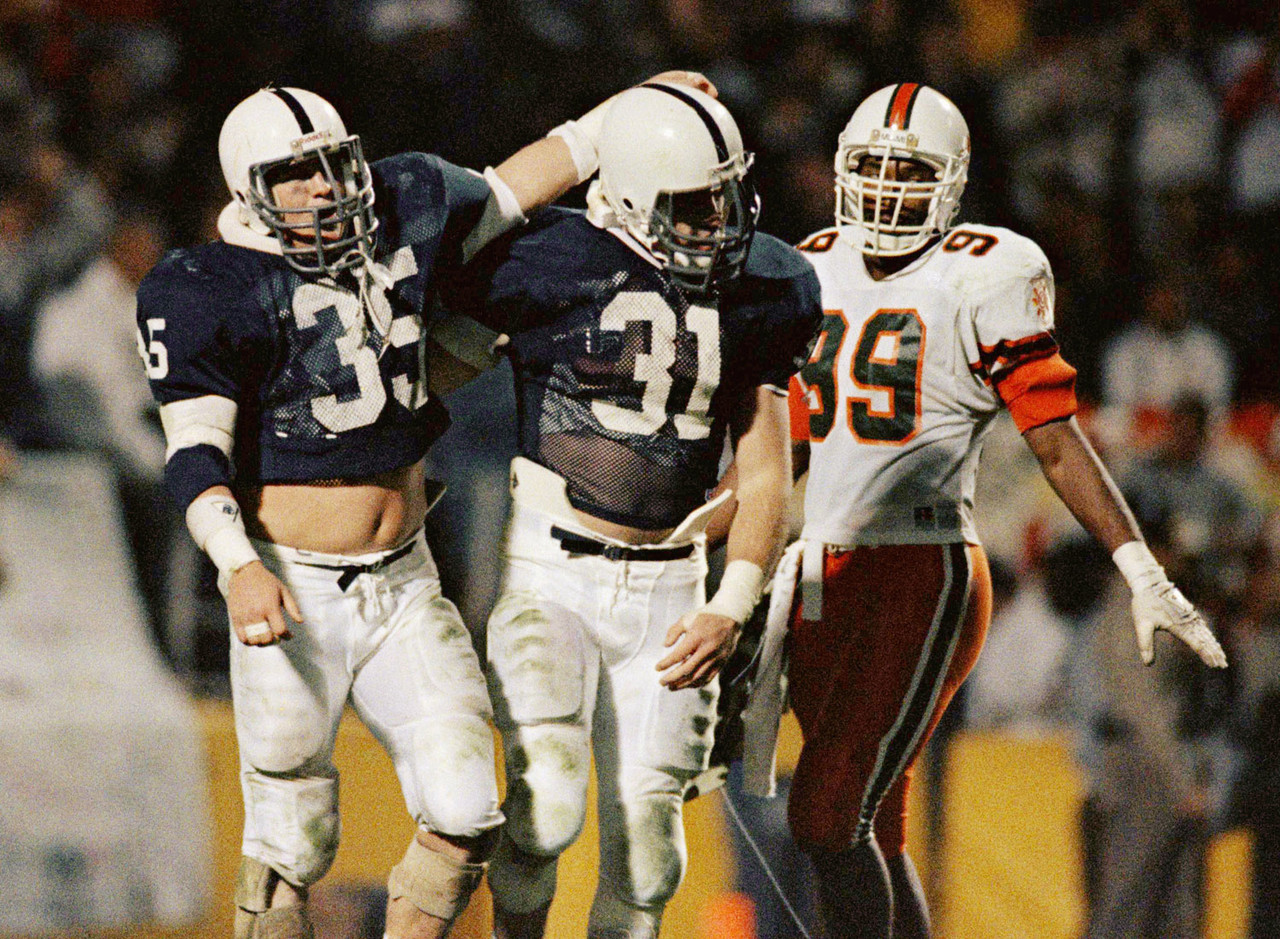 For many Penn Staters, this is the quintessential Joe Paterno game. The underdog, blue-collar Lions had struggled on offense during the regular season, but forced their way into the game thanks to a suffocating defense and an undefeated record.
Miami came in as massive favorites, and had outscored opponents 420-136 over the course of their regular season. QB Vinny Testaverde had won the previous year's Heisman, and future NFL legend Michael Irvin was his #1 receiver. The Hurricanes (who flew in wearing military fatigues) had bullied opponents into submission all year, but they were shocked to discover that Paterno's Nittany Lions were completely unfazed by their flash and swagger.
PSU linebacker Pete Giftopoulos put it best: "How are you going to intimidate a bunch of steel-town kids from Pittsburgh, Ohio, Pennsylvania? You just can't do that."
The media was right about one thing - Penn State's offense was outmatched. The Nittany Lions were outgained 445 yards to 162, but no one outside of Central Pennsylvania had counted on Penn State's defense doing what they did that day.
The Lions forced seven turnovers, picking off Testaverde five times (including on the decisive last-minute goal-line stand). Other than a second-quarter touchdown run, the Hurricanes were kept out of the end zone, and the defense came up big time after time. When the dust had settled, the Nittany Lions had pulled off an absolutely stunning upset, winning their second undisputed national title under Paterno.
MORE:
3 New Penn State Football Players Set To Make An Instant Impact In 2015
A Penn State Player Bragged About Getting A 'B' On His Anatomy Test. James Franklin Was Not Amused
Back to the Penn State Nittany Lions Newsfeed