Penn State football is undoubtedly on the come-up in 2015, with a special mixture of returning talents and new additions set to help the Nittany Lions rocket their way to the front of the national consciousness. Here's 4 Reasons Why Penn State Can Make The 2016 College Football Playoff.
1. The Growth Of Christian Hackenberg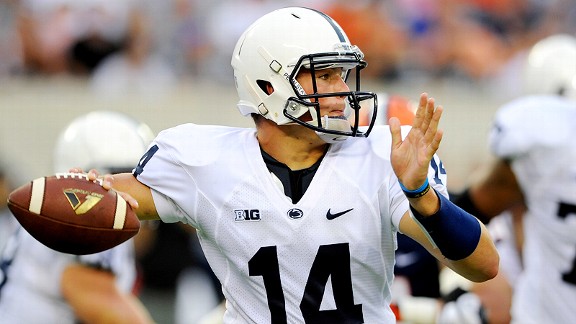 Hackenberg was the nation's top QB prospect when he came to State College, but he regressed significantly in 2014 after an encouraging freshman year. Hackenberg threw fewer touchdowns, more interceptions and saw his completion percentage slip from 58.9% to 55.8%.
A great deal of that is due to Penn State's issues on the offensive line. The Lions routinely failed to give Hackenberg the time he needed to make reads and work through his progressions, and while some missed reads and bad throws were on Hackenberg, fans can't expect him to excel without adequate protection. The good news? PSU has four 4-star offensive linemen coming in, including JuCo standout Paris Palmer, so the offensive line shouldn't be nearly as big of an issue in 2015.
Hackenberg now has two years of experience under his belt and has been a killer at points this offseason, so fans should expect to see a Heisman-level jump in his overall production.
2. Returning Starters

Penn State returns 16 of 22 possible starters from last year's team, most of whom should display some level of improvement after a year of experience and an increased familiarity with James Franklin's system. Penn State was one of the youngest teams in the country last year, and that inexperience proved to the squad's detriment down the stretch in multiple games. That won't be the case with a year of tempering and another rotation of spring and fall camps. The Nittany Lions are locked in and ready to go.
3. Defensive Continuity
Penn State's finished 29th in total defense (353.42 ypg) last year, but the true measure of their success was the fact that they tightened up even more with their backs against the wall, giving up just 18.6 points a game (7th in the nation). That was enough for defensive coordinator Bob Shoop to pick up a huge raise when LSU tried to steal him away.
This is the first time in half a decade that PSU will have continuity across multiple seasons from a defensive coordinator standpoint. Coupled with an exciting mix of returning veteran and top-tier prospects, Shoop's leadership could push Penn State to top-five marks in both of the aforementioned defensive metrics.
4. James Franklin
There are only a handful of coaches in the FBS that inspire the same devotion and attention to detail that Franklin does. Just look at spring and summer practices. Blue chip recruits don't just want to play for Franklin -- they want to play HARD for Franklin. His first year in Happy Valley was the definition of a trial period. With an influx of HIS guys and a valuable measure of continuity heading into 2015, we have no doubt he has the chops to coach this team with this talent level well into the national spotlight.
Follow our Penn State Nittany Lions team page for the latest Penn State football news!
Back to the Penn State Nittany Lions Newsfeed
Related Topics: PSU Football, Christian Hackenberg, Penn State Football, Penn State Nittany Lions, NCAA