We're closing in on the end of the 2016 college football recruiting cycle -- an exciting time for Pac-12 Football programs as they piece together the dynasties of the future. Before we look ahead to the incoming freshmen, we thought it'd be fun to take a look back at one of the most interesting recruiting classes from the conference's recent history. Let's get started with our Where Are They Now? The Top 10 Pac-12 Football Recruits From 2012.
(Overall 247Sports national recruiting ranking in parentheses next to team name)
Wright was kicked out of Bosco Prep in January of 2012 due to sexually explicit and racially charged tweets, but he's towed the line in Colorado and could be a sneaky 2017 NFL Draft selection.
9) CB Kevon Seymour -- USC Trojans (#46)
Seymour suffered an ankle sprain before this past postseason's Holiday Bowl, ending his career in Southern California prematurely. He finished has career with 126 tackles and three interceptions, and while he's fallen off some analysts' draft boards entirely, he could find himself as a late-round steal in the 2016 NFL Draft.
8) DT Ellis McCarthy -- UCLA Bruins (#43)
McCarthy's big year was 2013, when he made 31 tackles (two for a loss) while garnering the team's Most Improved Defensive Player Award. He sat behind Kenny Clark and Eddie Vanderdoes in 2014, but still made 21 tackles and posted three sacks. He declared for the 2015 NFL Draft, but went undrafted -- ultimately latching on with the Miami Dolphins' practice squad in 2015.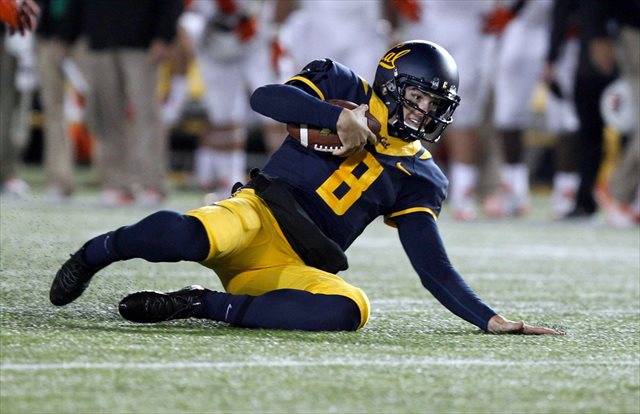 Jeff Tedford's firing was the first shoe to drop for Kline, who ended up getting outplayed by Jared Goff and replaced as the future of the program with Sonny Dykes at the helm. Kline transferred to Butte Community College for a year before moving on to Indiana State. He returned to Cal this winter to finish his degree, and graduation will give him a chance to apply for one more year of eligibility under the NCAA grad transfer rule.
6) ATH Devin Fuller -- UCLA Bruins (#36)
Fuller ended his UCLA career ranked 6th in the Pac-12 with 24.2 yards per kickoff return. He's fallen from NFL Draft darling to question mark due to ankle issues and a decrease in overall production over solid sophomore and junior campaigns.
5) WR Nelson Agholor -- USC Trojans (#31)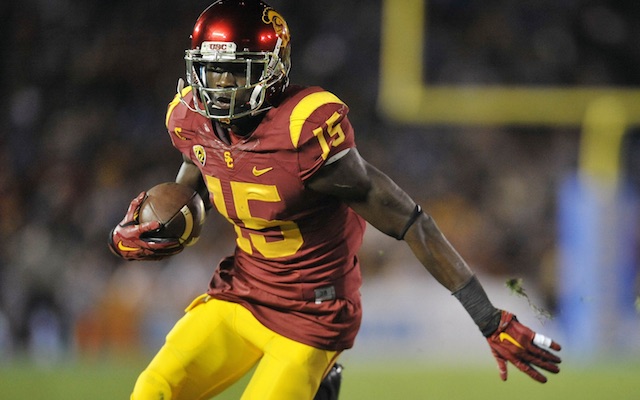 Agholor was an unquestionable star at USC, picking up second-team (2013) and first-team (2014) All-Pac 12 honors before declaring for the 2015 NFL Draft after his junior season. Picked #20 overall by the Philadelphia Eagles, Agholor struggled in his rookie season -- garnering criticism and "bust" whispers while catching just 23 balls for 283 yards and one score.
Seumalo enters the 2016 NFL Draft as Oregon State's top-rated pro hopeful. With projections landing anywhere from the third to fifth rounds, Seumalo's point-of-attack burst and technique has piqued several NFL teams' interest in the early pre-draft process.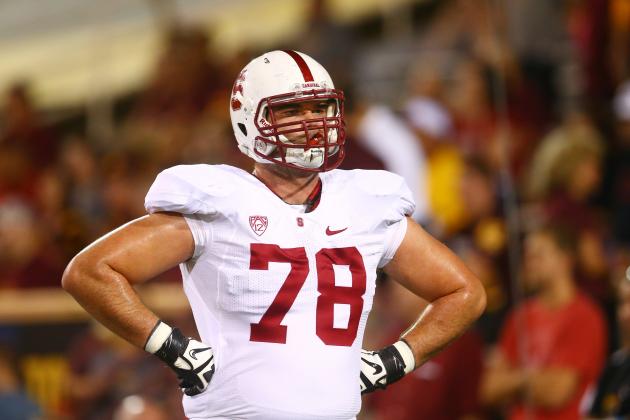 Murphy was a solid, if not spectacular offensive tackle for the Cardinal. However, his 6-foot-7 frame and versatility as a run blocker makes him a great middle-round fit for a team -- although, he'll likely have to switch to right tackle at the next level.
Thompson blew up the spot in Seattle, finishing his career with a stellar junior season which garnered him the Paul Hornung Award for the nation's most versatile player. Drafted 25th overall by the Carolina Panthers in the 2015 NFL Draft, Thompson had a solid season as the team's starting strong-side linebacker en route to an NFC Championship.
1) DE Arik Armstead -- Oregon Ducks (#4)
Armstead's freaking physical gifts papered over an up-and-down career at Oregon production-wise, as Armstead was taken #19 by the San Francisco 49ers in the 2015 NFL Draft. His impact was limited in 2015, but things are looking up with his old Oregon coach, Chip Kelly, now running the show.
Back to the Pac-12 Newsfeed
Related Topics: Arik Armstead, Pac-12 Football, Shaq Thompson