It's been a solid 2016 recruiting cycle for the Pac-12 so far, with four programs placing in the Top 18 of our overall FBS rankings for the period. Let's take a look at the Top 5 2016 Recruiting Classes In Pac-12 Football So Far.
5-Stars: 0
4-Stars: 5
3-Stars: 14
The four-star Chandler (AZ) pair of WR N'keal Harry and ATH Chase Lucas headline a rock-solid haul for HC Todd Graham that's heavy on skill-position players and offensive/defensive line standouts. Four-star Houston (TX) pro-style QB Dillon Sterling-Cole is the prohibitive favorite to become ASU's quarterback of the future.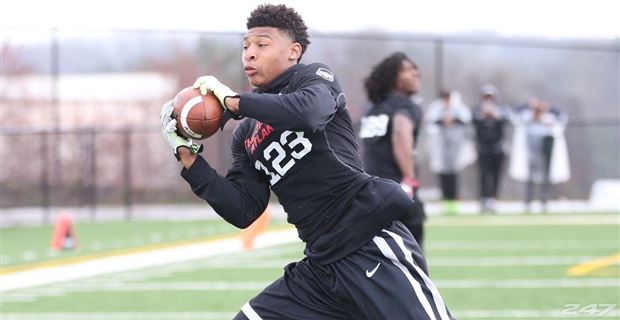 5-Stars: 0
4-Stars: 8
3-Stars: 11
Oregon has landed the #1 recruits in both Tennessee (four-star WR Dillon Mitchell) and Oregon (four-star OLB LaMar Winston). The Ducks' recruiting class is as balanced as any in the nation from a position standpoints and is also chock full of undersold talents on both the four- and three-star levels.
5-Stars: 0
4-Stars: 10
3-Stars: 5
USC has held strong in the wake of the Steve Sarkisian fiasco. This could easily have been a top-ten overall class or better without the drama, but they've still got four (!!) four-star wide receivers on the ledger, including #1 overall wideout Tyler Vaughns (La Puente, CA).
5-Stars: 0
4-Stars: 6
3-Stars: 13
LB Myles Jack may be leading an exodus out of Southern California, but HC Jim Mora has more than made up for it with a restock of high-end defensive talent. Four-star Los Angeles defensive end Breland Brandt has a chance to become an absolute superstar at the next level and a future first-round NFL Draft pick.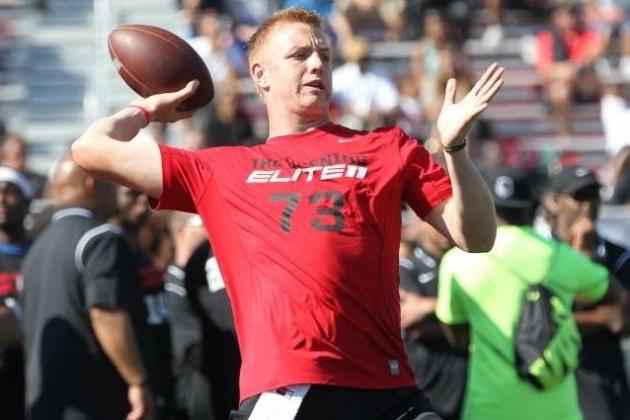 5-Stars: 0
4-Stars: 9
3-Stars: 9
Stanford HC David Shaw sure knows how to sell the program, even with the stringent academic requirements for admission. The Cardinal boast the only top-ten overall class in the conference, led off by Stanford's next aerial super duo -- four-star pro-style QB KJ Costello and four-star TE Kaden Smith. This haul is brimming with both potential and (nearly) guaranteed early-producers.
Back to the Pac-12 Newsfeed
Related Topics: KJ Costello, Tyler Vaughns, Pac-12 Football