The Pac-12 is full of teams loaded with talent, and most of the conference's stars are also the best players in country. Here are the five guys that have proven themselves to be the best of the best on the offensive side of the ball:
5) WR JuJu Smith-Schuster, USC Trojans Perhaps the most explosive player in the conference, Smith-Schuster has used his game-breaking speed to rack up 956 receiving yards and eight touchdowns through eight games this season. He's unlikely to move up much higher on this list because of the position he plays, but there's no denying the overall impact he has for USC.
4) RB Royce Freeman, Oregon Ducks
Freeman has played exceptionally well this season despite Oregon's struggles as a team, leading the Pac-12 with 1,109 rushing yards and 11 touchdowns. Opposing teams know Freeman is going to get the ball more times than not, but they still haven't been able to stop him his year.
3) RB Devontae Booker, Utah Utes The biggest reason for Utah's success this season, Booker gets the nod over Freeman because of that. He's rushed for 966 yards and nine touchdowns this year while also catching 32 passes for 282 yards. He also outplayed Freeman in Utah's 62-20 win over the Ducks.
2) QB Jared Goff, Cal Golden Bears Goff in undoubtedly the best quarterback in the conference, passing for 2,537 yards and 22 touchdowns, but he has also thrown a disappointing 11 interceptions. Cal is on a three-game losing streak, and Goff needs to find a way to snap that streak if he wants to avoid falling further down the list.
1) RB Christian McCaffrey, Stanford Cardinal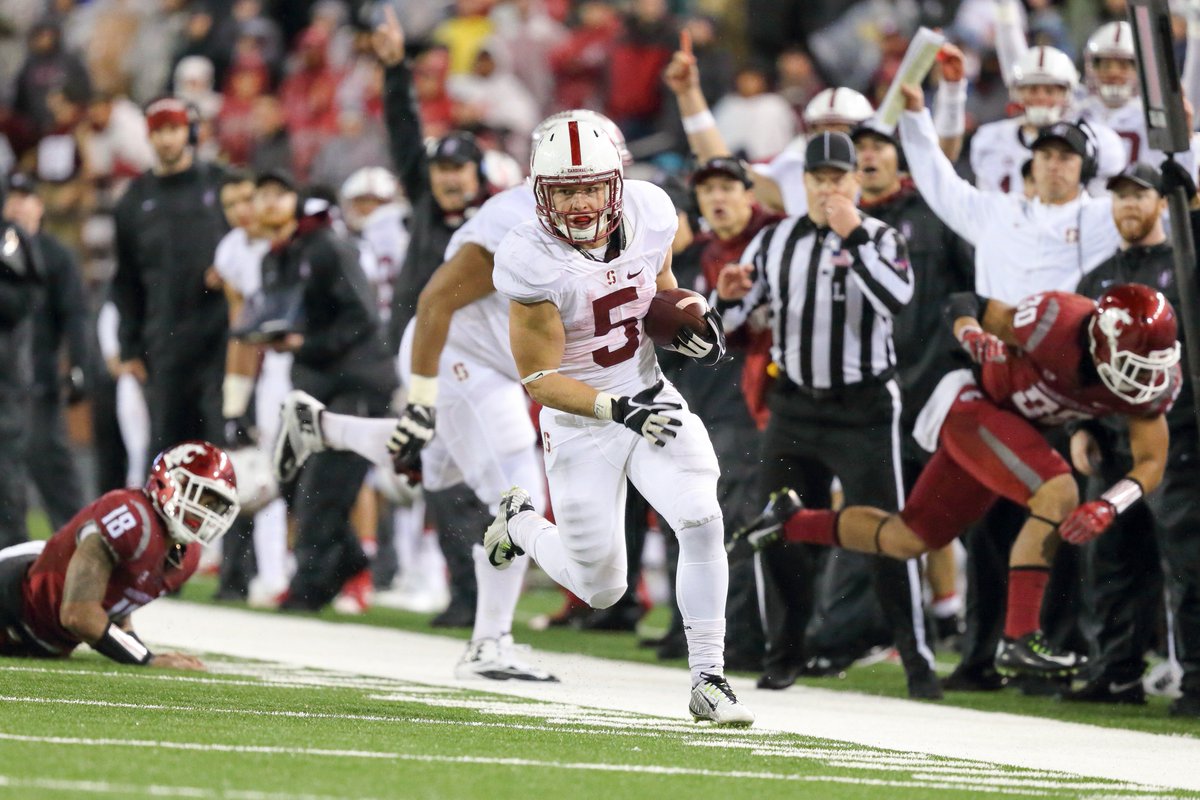 McCaffrey posted back-to-back 300 all-purpose yard games against UCLA and Washington, and while he was still solid in Stanford's 30-28 heart-stopper of a win over Washington State, he only gained 136 all-purpose yards serving as an effective decoy on offense.
Still, McCaffrey isn't a top-three Heisman contender for nothing. He already has 1,060 rushing yards and six touchdowns while adding 310 receiving yards and two more scores while leading the country in all-purpose yards.
Back to the Pac-12 Newsfeed
Related Topics: Utah Utes Football, Stanford Cardinal Football, NCAA Football, College Football, Christian McCaffrey, Jared Goff, Pac-12 Football, Devontae Booker, Cal Golden Bears Football, Royce Freeman, JuJu Smith-Schuster, USC Trojans Football, Oregon Ducks Football