Rarely has Pac-12 football been as deep and up for grabs as it is this year, with a handful of teams having a legit opportunity to use the conference as a springboard to the second-ever College Football Playoff (be forewarned -- three guys hail from the same program). These next five guys will play a huge role in deciding who makes it out of the Pac-12 alive. Here's our list of the 5 Best Players In Pac-12 Football for 2015.
Tuerk makes this list because he has the ability to plug in at tackle, guard or center based on injuries or the whims of the coaching staff. That malleability is made even more impressive by just how effective he is at plugging any gap he's assigned. He's a top-level NFL Draft prospect waiting to happen and a main reason why USC's offense will be so darn unstoppable this coming season.
4. CB/WR Adoree Jackson -- USC Trojans
Jackson could be #2 on this list by season's end. That's how impactful he'll have an opportunity to be lining up on both sides of the ball plus special teams in 2015. Jackson made 49 tackles, caught 10 passes for 138 yards and three touchdowns, and averaged 29.7 yards per kickoff return with two scores in 2015. He's the most versatile threat in the Pac-12 and is, by definition, a game-breaker.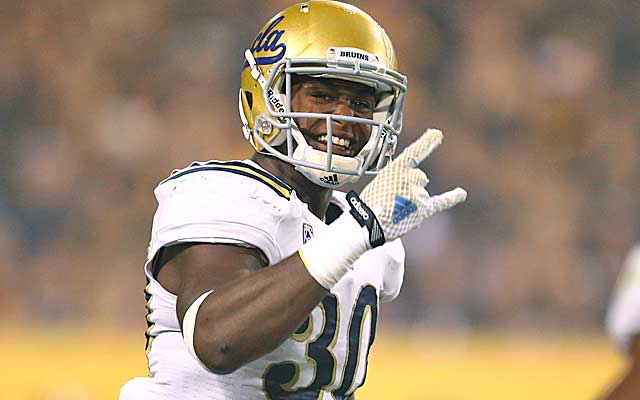 Jack takes over as the leader of UCLA's defense with Eric Kendricks off to the NFL and he's earned that designation. Jack amassed 88 tackles in 2014, keying UCLA's front seven attack while opening up space for other linebackers to drop back into pass coverage when needed. He's also an adept tailback option after running for 113 yards and three scores last year. An all-around beast, Jack is one of the main reasons why UCLA is a conference-title dark horse this year.
2. QB Cody Kessler -- USC Trojans
Kessler will be the engine that makes the Trojans go in 2015. USC's potential as a College Football Playoff contender rides on his arm. That's good news for the Trojans, as Kessler went full Arena Football League mode last season with 3,826 passing yards and 39 touchdowns in 13 games last year. Other quarterbacks around the nation have been getting more publicity as of late, but Kessler's a bona fide Heisman candidate with NFL potential written all over him.
We have Wright inked in as the best linebacker in the nation this year, bar none. He was largely overlooked on the recruiting trail, but he's paying back those who met him with indifference by becoming an unquestionable star out in the desert. Wright posted 163 tackles (!), 14 sacks (!!), and six forced fumbles last year (!!!). He's a one-man defense and a big reason why the defending division champs are a legit threat to end USC's dreams of becoming the Pac-12 South's next lords and rulers.
Back to the Pac-12 Newsfeed
Related Topics: USC Football, USC Trojans, Arizona Football, Pac-12 Football, Cody Kessler, Max Tuerk, Scooby Wright, Myles Jack, Adoree Jackson, UCLA Football