The Pac-12 is home to some of the best talent in college football, and the next five guys reinforced that fact this week. Here are the five best player performances in Pac-12 Football From Week 8.
5. Thomas Duarte, WR, UCLA
Duarte and fellow WR Devin Fuller both racked up over 100 yards, but Duarte had just a slightly better game. He caught 10 passes for a score and 141 yards. Duarte just beat out Cal QB Jared Goff for the last spot. 
4. 

JuJu Smith-Schuster, WR, USC
Smith-Schuster had a big game for the Trojans in their upset (well, according to the polls and not Vegas) win over Utah. He reeled in eight passes for 143 yards and a score. He gets bonus points for this play. 
Anyone else think it looks like Smith-Schuster dares that poor Utah CB to come get some? 
3. Josh Rosen, QB, UCLA
The true freshman QB had a monster game in the win over Cal. He completed 34 of 47 passes for 399 yards and three TDs. He has the makings of a future superstar that can put up numbers like this regularly. 
2. Christian McCaffrey, RB, Stanford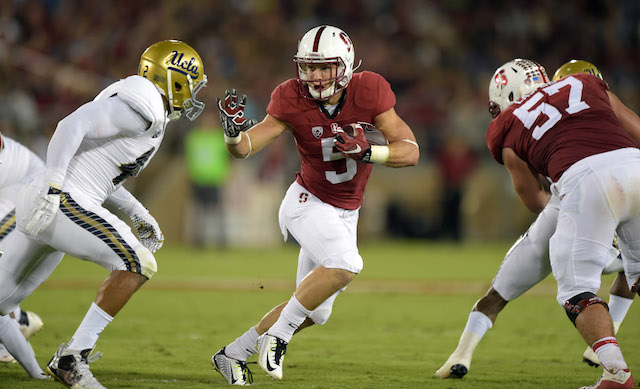 McCaffrey recording 109 yards and a TD on 23 carries looks good, but not spectacular at first. But add in 5 catches for 112 yards and a TD and it's obvious why McCaffrey is on this list. He's not getting the love that others are (because East Coast Bias), but only a few RBs are having a better season than McCaffrey. 
1. Luke Falk, QB, Washington State
Falk played how a Mike Leach QB is supposed to play. He had a monster game, completing 47 of 62 passes for 514 yards and 5 TDs. He was unstoppable against Arizona. Falk being No. 1 was a no-brainer this week.
Back to the Pac-12 Newsfeed
Related Topics: Josh Rosen, Christian McCaffrey, Luke Falk, Thomas Duarte, JuJu Smith-Schuster