Week 7 of the Pac-12 Football was full of great performances, both team and individual. While there are several players worth of consideration that just missed out, we've narrowed it down to the Top 5. Here are the five best Pac-12 player performances from Week 7. 
5. QB Travis Wilson -- Utah Utes
Wilson has grown into his role as "the guy" for a College Football Playoff caliber Utah squad. His stretch of 11-of-12 passing on two scoring drives helped propel the undefeated Utes to a 34-18 win over Arizona State.
4. WR JuJu Smith-Schuster -- USC Trojans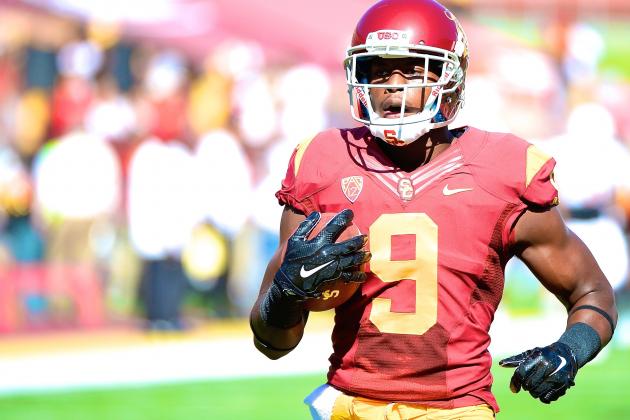 USC lost to Notre Dame 41-31 on Saturday night, but that was no fault of JuJu. He served as USC's big play fireworks show, catching six balls for 139 yards -- a day which included a 75-yard highlight reel TD reception off the arm of Jalen Greene on a gadget play.
Baker was the man in Arizona's 38-31 win at Colorado, posting 28 carries for 207 yards and two touchdowns. He was in full beast mode all night long, consistently extending drives and befuddling the Buffaloes.
Falk's stat line in the Cougars' 52-31 home win over Oregon State was BONKERS -- 39-of-50 passing, 407 yards and six touchdowns. WSU is a surprise at 4-2, and Falk is a big reason for their come-up this year.
McCaffrey powered Stanford into the College Football Playoff mix on Thursday, accounting for 369 total yards in the team's 56-35 win over UCLA -- the most by a non-quarterback this year. Stanford's championship hopes are strapped to the back of one of the nation's most gifted running backs.
Back to the Pac-12 Newsfeed
Related Topics: Luke Falk, Arizona Wildcats Football News, Jared Baker, Christian McCaffrey, Utah Utes Football News, Cody Kessler, USC Trojans Football News, Washington State Cougars Football News, Travis Wilson, Stanford Cardinal Football News