The 2015 college football season is just a couple of weeks away, but that's already old hat. We've already got our sights set on next year's National Signing Day and the programs which are separating themselves from the pack and cementing their status as future Pac-12 powers. Here's our list of the 5 Best 2016 Recruiting Classes In Pac-12 Football (So Far).
5-Stars: 0
4-Stars: 2
3-Stars: 14
Arizona's run to a Pac-12 South title last year as undoubtedly aided Rich Rodriguez's work on the recruiting trail the past few months. This isn't a star-studded haul by any stretch, but it's a solid top-30 class at this point with pro-style quarterback Devin Modster standing out as one of those three-star recruits who could grow into a four-star talent with weight room work and repeated reps. Also, keep an eye on four-star defensive end Josh Allen -- a 6-4, 260-pound beast who's going to be an instant game-changer for 'Zona on the pass rush.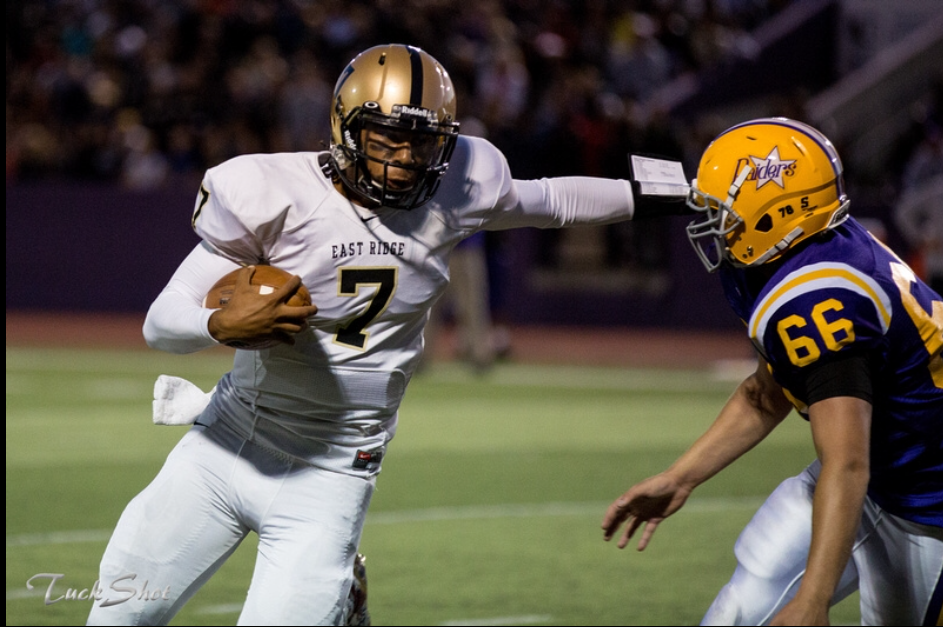 5-Stars: 0
4-Stars: 7
3-Stars: 6
Oregon is loading up on four-star gets, especially on the defensive side of the ball (5 of 7). However, it's four-star dual-threat quarterback Seth Green who has piqued our interest. Besides sharing a name with one of our favorite goofballs, he's a 6-4, 216-pound athletic freak who's going to do damage in the open field whether he's kept at quarterback or slotted at another skill position down the road. Right now, this is a borderline top-20 class overall. However, never count out the Oregon brand. Recent success and fantastic marketing has opened the doors to the homes of recruits that weren't accessible just a few years ago. This class is only going to get better with that factor taken into account.
5-Stars: 1
4-Stars: 5
3-Stars: 9
UCLA and USC account for the three five-star prospects currently committed to Pac-12 schools. UCLA's blue-chip get just happens to be the best weak-side defensive end in the class -- 6-4, 240-pound wrecking ball Oluwole Betiku. Alongside four-star (borderline five-) defensive end Breland Brandt, UCLA's pass rush and edge containment is secured for years to come. The other great thing about this class? UCLA has found freshman QB wunderkind Josh Rosen two dynamic four-star wideouts (Darian Owens, Dymond Lee) to play pitch and catch with next year as he rounds out into a potential (likely) Heisman Trophy candidate.
5-Stars: 0
4-Stars: 9
3-Stars: 6
Give kudos to coach David Shaw and his coaching staff for pushing this class into borderline top-ten territory. There are very few Power 5 schools (if any) that have as stringent of academic requirements as Stanford does, and yet they continue to haul in top talent at the four-star level. Of course, the biggest get here is coveted four-star (borderline five-) quarterback KJ Costello who chose the Cardinal over 15 other offers, including ones from USC, Florida State, Michigan, Notre Dame and Penn State. Costello is a plug-and-play coaching dream, with the NFL frame, pinpoint accuracy and smarts of a future superstar -- college AND NFL.
5-Stars: 1
4-Stars: 11
3-Stars: 4
USC's 2016 class takes on an entirely different complexion and urgency with the news that highly-touted freshman quarterback Ricky Town has decided to transfer out of Southern California. USC's top 2016 QB targets (KJ Costello, Shea Patterson) have already signed elsewhere, so we'll be interested to see if the Trojans stand pat with four-star dual-threat Matt Fink on board or try to flip someone. Other than that, this is another banner class for USC highlighted by versatile five-star linebacker Mique Juarez -- the perfect mixture of controlled violence and pass-coverage smarts for a program always on the lookout for the next front-seven anchor.
Back to the Pac-12 Newsfeed
Related Topics: UCLA Bruins, Oregon Ducks, USC Football, USC Trojans, Oregon Football, Stanford Football News, Arizona Wildcats, Arizona Football, Stanford Football, UCLA Football