Every Pac-12 football coach has been handed a clean slate heading into the 2015 regular season, but these next four guys may have a lot more to lose than others in the conference if the ball doesn't bounce their way the next few months. Here's 4 Pac-12 Football Coaches Who Could Be On The Hot Seat In 2015.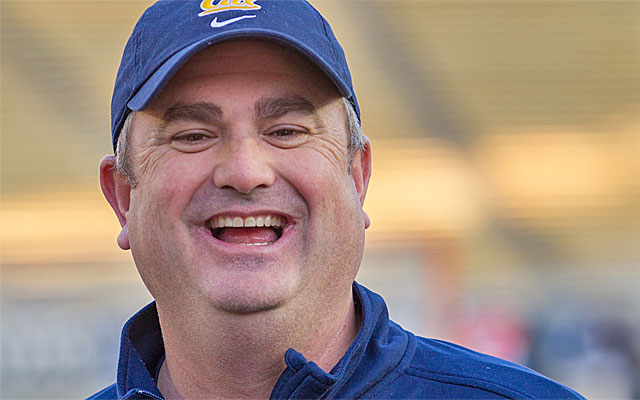 Dykes oversaw perhaps the most improved Power Five team in all of the country in 2014, but the fact remains that the defense was horriawful -- a calculated mix of unmitigated horribleness and distressingly awful suckitude. It would take two wins or less to bring out the pitchforks, and perhaps that isn't likely with criminally-underrated QB Jared Goff under center. This is a reach, mainly because the Pac-12 has a bunch of coaches safely entrenched in their jobs. We don't see it, but a 2015 implosion could change things.
There's two schools of thought here. On one side, Colorado's football program is in much better shape than it was before MacIntyre took the job despite regressing from four wins in 2013 to two in 2014. The Buffaloes boast 15 returning starters and found a top-shelf upgrade at defensive coordinator in Jim Leavitt, so things are looking up. However, Colorado has to contend with a STACKED pool of Pac-12 contenders this year and another bottom-feeding campaign (especially with the returning starter pool) could turn up the heat a few notches. Leach was treated like a demi-god in Pullman when he was hired in 2012. Expectations skyrocketed after he led the Cougars to a bowl game in 2013, which makes the 2014 duck fart extremely disconcerting. After the season, Leach fired defensive coordinator Mike Breske and brought in Alex Grinch, a first-time DC. If that doesn't jumpstart a porous defense, Leach may complete a full circle from savior to pariah within the span three years on the job. Sarkisian has found himself in hot water following his antics at a USC pep rally. Sarkisian said he mixed medication and alcohol at the event and will seek treatment, even though he doesn't believe he has a drinking problem. However, he might have an employment problem in the near future. There are growing rumors Sarkisian will be fired for the incident, as boosters and alums aren't happy with his actions. 
We're not sure just what to think just yet, but USC does have options if they decide to go the termination route. Keep your finger on the pulse in Southern California.
Follow our Pac-12 Football page for more conference news and rumors!
Back to the Pac-12 Newsfeed
Related Topics: Washington State Football, USC Football, USC Trojans, Mike MacIntyre, Mike Leach, Sonny Dykes, Steve Sarkisian, Stanford Cardinal, Stanford Football