The Orlando Magic announced today that they signed guard/forward Patricio Garino from the Austin Spurs for the remainder of the season, and his agency tweeted out a picture of him signing the contract.
The only problem? Look at the the whiteboard in the background:
Vamossss Pato !!! poniendo el gancho ÉXITOS !!! #nba pic.twitter.com/AkP01Szn6v

— Carlos Prunes (@CP_PRUNES) April 3, 2017
Yes, that's right - it appears that Carlos Prunes, the Director of GP Sports Argentina, accidentally leaked Orlando's free agency and trade targets for the offseason. Here is the full list of names that were on the whiteboard, via reddit.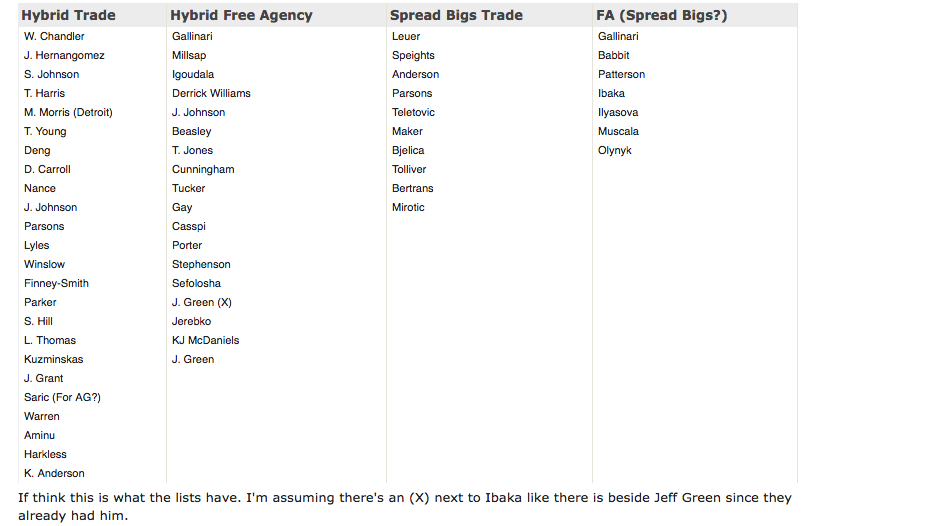 These appear to be only the forwards and stretch big men the Magic will be targeting, but there is also one notable scenario in play from the list.
Next to Dario Saric's name, the Magic have written a "For AG?" note - as in Orlando being interested in trading star forward Aaron Gordon to the Philadelphia 76ers for Dario Saric. Nothing tangible between the two teams has happened yet, and we don't know if the Sixers are interested in such a deal, but we can infer that the Magic will likely try to approach the topic this offseason.
It looks like the Magic may want to be smarter about where they put sensitive information like this.
Follow our Orlando Magic news page for all the latest Magic news!
Back to the Orlando Magic Newsfeed
Related Topics: NBA News, Magic News