Ed. note: Chat Sports has conducted interviews with prominent Duck bloggers and writers from several different websites to help preview the upcoming season, which will be published in a series on our Oregon Ducks news page. Up next: what can stop the Ducks this year?
Which units pose the biggest questions marks for the Ducks this season? Who are some young players you're looking for to step up into those roles?
Dale Newton, DuckStopsHere.com (Bloguin)
The offensive line has to find two new starters at guard, but coach Steve Greatwood rotates his linemen throughout the year to build depth, and Oregon won a number of blowouts last year, so subs like Andre Yruretagoyena and Hamani Stevens have had time to develop and should prove ready.
At receiver, the Ducks haven't had a true go-to target since Jeff Maehl left after the 2010 season, and the hope is holdovers like senior Josh Huff, junior Keanon Lowe and sophomore Bralon Addison can morph into a more productive unit. With quarterback Marcus Mariota continuing to blossom, the potential is there for the Ducks to throw more in 2013, provided the wideouts can rise and fire.
Justin Phillips, AutzenZoo.com (Fansided)
Running back is of course the biggest question mark, with the loss of Kenjon Barner. But the star of Oregon's 2013 recruiting class is running back Thomas Tyner. He could be the starter by the time Pac-12 play starts. Of course, De'Anthony Thomas is always a threat wherever he is on the field. I see him as more of an all around, everywhere type of player. Defensive end and the secondary could pose some issues, but nothing major.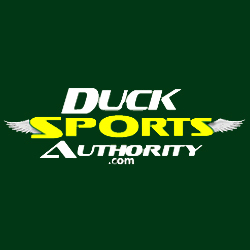 Scott Reed, DuckSportsAuthority.com (Rivals)
The guard spots have some holes to fill, with a ton of experience lost. Nick Cody and Carson York were both long-time starters that went down with injury. Former JUCO players Ryan Clanton and Kyle Long stepped in and played very well for Oregon after York and Cody went down, but they both graduated as well.
There is great anticipation that Hamani Stevens will step into one of those roles, but also fighting for the two deep will be players like Andre Yruretagoyena and Mana Greig. Cameron Hunt, a true freshman could make some noise at this spot and could very well end up on the two deep; he has that kind of talent. He is the only 2013 signee on the offensive line that we project to see any game action. We expect the other four to redshirt in 2013.
Other roundtable questions:
A National Championship on the Horizon?
Depth chart battles to look out for
How big of an opportunity did the Ducks miss last year?
New year, new coach. All about Mark Helfrich
Back to the Oregon Ducks Newsfeed