Ed. note: Chat Sports has conducted interviews with prominent Duck bloggers and writers from several different websites to help preview the upcoming season, which will be published in a series on our Oregon Ducks news page. Up first: final prediction; how do you see the Ducks season playing out?
What's your final prediction for the Ducks this season? What's their record and bowl result? Please explain a few of the key games.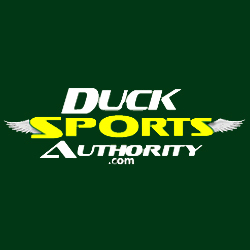 Scott Reed, DuckSportsAuthority.com (Rivals)
Aside from the two "rivalry" games, Oregon State and Washington, there is only one key game this season. Early betting lines have the Ducks as double-digit favorites in 11 of 12 games. The second lowest number is a 16-point spread against Arizona on the road. The only game closer than that is Stanford on the road, where Oregon is the early 4-point favorite. The Ducks will get some early game challenges from teams like Tennessee and UCLA, but are expected to win by 20-plus in those games.
The Stanford game will be much tighter. Right now, based on what each team returns and how the structure of each team is comprised, we are expecting Oregon to make a run at an undefeated season and a berth in the final BCS National Championship game. The "worst case" scenario involves another 11-1 season and a berth as an at-large BCS team.
Dale Newton, DuckStopsHere.com (Bloguin)
The schedule sets up really well for the Ducks; very similar to the title run of 2010 in that they open with five manageable games before an October 12th confrontation with a dangerous Washington squad in newly-renovated Husky Stadium.
Since going 5-7 in his debut season, Steve Sarkisian has had three identical records of 7-6 in Seattle. The Dawgs have lost to Oregon nine times in a row after dominating the rivalry for three decades, but this year the purple and gold boast an improving defense coupled with an explosive, veteran offense that the best tight end in the conference in Austin Sefarian-Jenkins. Sark has more weapons than he's ever had, and the Huskies are ravenous for a season-spoiling upset of the Ducks in their tenth try.
Provided Helfrich and company survive that, they're likely to be 7-0 for an October 26 showdown in Autzen against defending PAC-12 South Champion UCLA and Brett Hundley. That could be a matchup of top ten teams, but if it's not, Oregon has a November 7 rematch with Stanford in Palo Alto. The Cardinal are a consensus top-five team under David Shaw, and many analysts pick them to face one of the country's heavyweights in the National Championship Game.
If Oregon keeps Marcus Mariota healthy, finds a productive and effective rotation at running back and inside linebacker, maintains the discipline in preparation and day-to-day focus of the Kelly era, anything is possible for this group in 2013.
Helfrich seems to be a capable manager and delegator. The unfolding of the season will show whether he can find the nerve and motivational skills that made Kelly so exceptional. He's inherited the fastest and most athletic team in Oregon history.
But there are a lot of ways to lose a football game. Expectations are so high among fans that anything less than 12-1 would be an utter failure, and most expect the Ducks to be in Pasadena on January 6th, not for the Rose Bowl on the 1st.
Yet past seasons have clearly shown us all that the heartbreak of almost can come with any bounce of the football, graze of the wrist on sodden turf, or donk off the right upright.
If pressed to answer, I think the Ducks slip a little this year. 11-2, with two stumbles in season, maybe Washington and Stanford. Everything has to break right to be undefeated, and that rarely happens.
Justin Phillips, AutzenZoo.com (Fansided)
For Oregon the non-conference schedule is no problem. I circle one date on the calendar. November 2nd at Stanford - that game could very well be for the de facto Pac-12 Conference championship.
Another game to watch is the October 12th matchup in Seattle with Washington. It's been an interesting series between these two, and Husky quarterback Keith Price would love to get a marquee victory for the program in his senior year - he would be talked about for years to come. But then again the Huskies have lost to the Ducks for a decade straight.
Final result? I'm not big on predictions...Oregon does have the talent to get to the BCS National Title or any BCS game. the 100th Rose Bowl would be cool. A game against Texas A&M would be phenomenal.
Other roundtable questions:
Potential stumbling blocks for the Ducks this year
Depth chart battles to look out for
How big of an opportunity did the Ducks miss last year?
New year, new coach. All about Mark Helfrich
Back to the Oregon Ducks Newsfeed