Ed. note: Chat Sports has conducted interviews with prominent Duck bloggers and writers from several different websites to help preview the upcoming season, which will be published in a series on our Oregon Ducks news page. Up next: what can be expected from new head coach Mark Helfrich?
What can you tell the world about Mark Helfrich? How is he different than Chip Kelly and how will that show on the field, if at all?
Justin Phillips, AutzenZoo.com (Fansided)
Oregon's Mark Helfrich may not be the offensive mind that his predecessor was, but he is a good communicator, and that may be his best quality. He was the perfect candidate to take over after Chip Kelly. He will not be the play caller for Oregon this season, but will be involved - Offensive Coordinator Scott Frost will call the plays. Helfrich also admitted that he hasn't been on the sideline for a game in quite some time, so that will be a new experience. He also brought in some assistant coaches that will certainly help the program to the next level - wherever that might be.
Dale Newton, DuckStopsHere.com (Bloguin)
Mark Helfrich is far from a Chip Kelly clone. Helfrich is laid-back and affable. He is an Oregon native whose father and uncle both played at Oregon. The hope among fans is that the Ducks got a guy with deep roots in the state who can extend and maintain the fabulous success established by Kelly, Phil Knight, and coaches Bellotti and Brooks before him.
Helfrich isn't an acknowledged football genius like Kelly, but he's plenty smart. He graduated with a degree in Biology at Southern Oregon, where he set school records for passing yards and touchdown passes. He was accepted at two medical schools before going into coaching, and had success running passing attacks at Boise State and Arizona State before coming to the Ducks as Chip Kelly's offensive coordinator in 2009.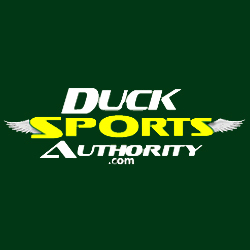 Scott Reed, DuckSportsAuthority.com (Rivals)
The biggest difference between Chip and Mark is personality. Chip is the quintessential Northeast guy... he was extremely confident, and many misinterpreted that as arrogance; to me, he just knew what he knew and felt strongly about what he knew. Mark is a little bit quieter and a little more personable to those on the West Coast who have a different lifestyle, he will seem more "friendly" to the media. On the field, they are both fiercely competitive and driven. Helfrich comes from more of a passing background, and there is some expectation that the offense will move closer to balance this year, but that remains to be seen. I expect the aggressiveness on 4th down to be similar. 4th down calls were not simply a "guts" call, there were specific planned instances which the coaches knew would result in "going for it" and Helfrich was heavily involved in that planning.
Other roundtable questions:
A National Championship on the Horizon?
Potential stumbling blocks for the Ducks this year
Depth chart battles to look out for
How big of an opportunity did the Ducks miss last year?
Back to the Oregon Ducks Newsfeed