Ed. note: Chat Sports has conducted interviews with prominent Duck bloggers and writers from several different websites to help preview the upcoming season, which will be published in a series on our Oregon Ducks news page. Up next: the depth chart; what are some of the key battles to look out for?
What do you see as a few of the hottest position battles to look out for heading into camp? Who do you expect to win those jobs?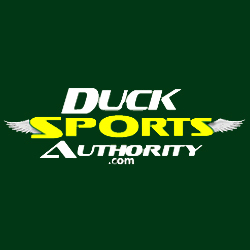 Scott Reed, DuckSportsAuthority.com (Rivals)
The hottest position battle will be at the two linebacker spots vacated by the graduation of Michael Clay and Kiko Alonso. They were the top two tacklers for the team last season and their mentality, leadership and production will be a key component for the Ducks to replace this year.
There are some intriguing newcomers like JUCO transfer Joe Walker and highly sought after Torrodney Prevot that may step in and see some action in their first season, but we expect Derrick Malone and Tyson Coleman to eventually win the roles with Rodney Hardrick, Joe Walker and Rahim Cassell fighting for the two deep spots behind them.
Dale Newton, DuckStopsHere.com (Bloguin)
The Ducks have to replace 225 tackles at linebacker after the graduation of third overall draft pick Dion Jordan, 2nd-round draft pick Kiko Alonso and free agent selection Michael Clay. It's the biggest challenge on a defense that returns 8 starters and led the nation in interceptions last season.
Junior college transfer Joe Walker had an excellent spring, and the Duck coaches think they have a find in Walker, who wasn't heavily recruited coming out of high school due to a shoulder injury. Two of the Ducks best reserve linebackers, Tyson Coleman and Derrick Malone, who had 34 and 41 tackles last season, sat out the Spring Game with injuries. Linebacker coach Don Pellum needs one or both of them to get healthy and make an impact this fall.
On offense, Oregon has to reload the machine and replace Kenjon Barner. The Ducks averaged 49.6 points per game last season, but there's a question about how effective De'Anthony Thomas can be as a lead back at 5-9, 176. That leaves hard-running sophomore Byron Marshall and sensational true freshman prospect Thomas Tyner battling for the bulk of the carries. Tyner has dazzling speed, 10.38 in the 100 meters.
Look for Marshall and Tyner to become the Smash and Dash of the Oregon attack, with Thomas to used in a role similar to what Reggie Bush had in the 2004 USC Trojan squad, lining up in various places to confuse the defense and create mismatches in space.
Justin Phillips, AutzenZoo.com (Fansided)
On Offense, with the exception of quarterback and one wide receiver (Mariota and Huff), the battles are pretty wide open. One to watch would be running back. I know that newcomer Thomas Tyner will have his opportunities early in the season, either as a starter or significant rotation player. The coaching staff will be sure to get the playmaker on the field.
On defense I don't really see anything set in stone. With the departures of Michael Clay and Dion Jordan there will be a big battle at linebacker. Watch for senior Avery Patterson to bounce back there coming off a pretty bad leg injury last year.
Other roundtable questions:
A National Championship on the Horizon?
Potential stumbling blocks for the Ducks this year
How big of an opportunity did the Ducks miss last year?
New year, new coach. All about Mark Helfrich
Back to the Oregon Ducks Newsfeed