Ed. note: Chat Sports has conducted interviews with prominent Duck bloggers and writers from several different websites to help preview the upcoming season, which will be published in a series on our Oregon Ducks news page. Up next: could Oregon have won the National Title last season?
It's difficult to imagine a scenario where Oregon played Alabama in the National Title game last season, but if that had happened, do you think the Ducks could have won?
Justin Phillips, AutzenZoo.com (Fansided)
With Oregon and their speed I believe they can play with anyone. Alabama's defense was one of the best in the country last year - with the exception of the game with Texas A&M and Mr. Manziel. Still, with Oregon's talent and speed I believe they could have beaten Alabama.
Scott Reed, DuckSportsAuthority.com (Rivals)
While I will not project who would have won, there are plenty of scenarios where Oregon could have won. The offense was really clicking in the Fiesta Bowl and there was enough depth on the offensive line to play strong against the Alabama defense. Texas A&M showed that it could be done. The Oregon defense last year was better than statistics showed... mainly because the team was ahead by 35-plus points by the second quarter in the majority of their games and let a lot of players deep on the bench play. The starting unit on defense was one of the best in the nation. In fact the defense led the nation in interceptions with 28 picks last year.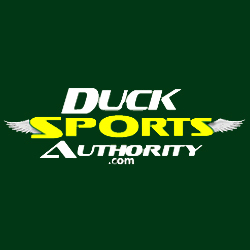 Dale Newton, DuckStopsHere.com (Bloguin)
The Crimson Tide would have been a challenging confrontation for Oregon, representing their third try against the mighty SEC in the Chip Kelly era. Since it never happened, any answer is speculation. Nick Saban and his staff would have tried to make it a physical game, destroying Oregon's rhythm in the Zone-Read game with penetration on defense, pounding the Ducks defense behind their mammoth offensive line with bruising tailbacks Eddie Lacy and T.J. Yeldon, punishing Nick Aliotti's secondary with play action when they tried to cheat up to stop the run.
Oregon would have needed big games from Barner and Mariota to upset Alabama. Kelly would have had to go against tendency and vary the offensive plan for a big game, maybe testing the secondary with intermediate passes and tight end Colt Lyerla off plays that look like the Ducks Read-Option and bubble screen game.
Nick Saban's team had trouble with Johnny Manziel and Texas A&M, a spread-option team that beat them in Tuscaloosa earlier last year. On the other hand, Saban has an enviable record with a month to prepare for an opponent, winning 3 of the last 4 Crystal Footballs.
Simulate it in EA Sports NCAA College Football, and 2012 Alabama probably beats 2012 Oregon 58 times out of a 100. But one game, one time on a neutral field, who knows. Maybe they'll get a chance to settle that one this January in Pasadena.
Other roundtable questions:
A National Championship on the Horizon?
Potential stumbling blocks for the Ducks this year
Depth chart battles to look out for
New year, new coach. All about Mark Helfrich
Back to the Oregon Ducks Newsfeed