The Oklahoma Sooners were a trendy College Football Playoff pick in 2014 after reeling off four-straight victories to start the campaign. However, a mess of injuries and inconsistency bit the Sooners after their bye, as Oklahoma stumbled to a 4-5 record over its last nine and a gut-punch 40-6 bowl loss to Clemson.
Bob Stoops' crew heads into the 2015 campaign looking to erase the memories of 2014's season-ending skid, but can they? Here's 4 things Oklahoma football needs to do in 2015 to become an elite program again.
1. Fully Realize Its Defensive Potential
The bad news? Oklahoma gave up an average of 38.8 points per game in its five losses in 2015.
The good news? Mike Stoops' defense ended up in the top half of the conference in most statistical categories including yards per play (5.14, third), points per drive (1.67, third) and third down conversion defense (38.1, fourth).
There's plenty of returning blue-chip defensive talent to sing about in Norman. However, that won't mean anything if the secondary turns into Swiss cheese again at random points.
2. Go All-In With The Air Raid Offense
Offensive coordinator Lincoln Riley's job is clear -- bring back the Air Raid offense that led to an era of dominance for the program in the late 2000s. Oklahoma's losses in 2014 were defensive nightmare factories, but they were also partly due to a passing game that didn't have enough oomph to sling its way down the field. Whether it's Baker Mayfield, Trevor Knight or someone else leading the offense, Riley must get them prepped and ready to air it out at any and all times.
3. Samaje Perine Must Run Roughshod Over The Big 12 There's many pretenders to the throne, but Perine is undoubtedly the best sophomore running back in the nation heading into 2015. That's was a 1,713-yard, 21-touchdown freshman campaign will do for your on-field stock. The Air Raid is crucial to Oklahoma's offensive success, but so is an epic sequel to Perine's already legendary first year in Norman. Not only will he open up weapons on the edges if he goes berserk again, he'll also wear down front sevens and turn opposing pass rushes into tentative messes.
4. Beat Baylor AND TCU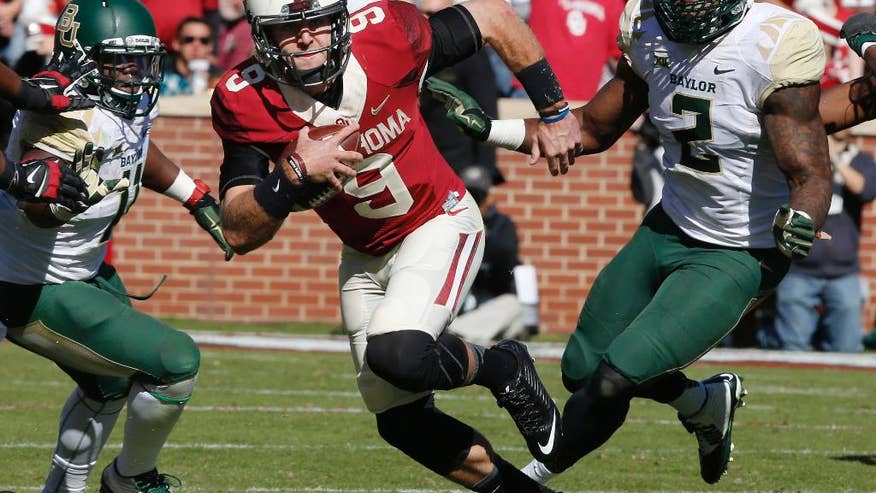 The Kansas State, Oklahoma State, and Clemson losses were tough pills to swallow. However, the way to reassert dominance in the Big 12 is to upend Baylor and TCU in back-to-back November clashes before Bedlam in Stillwater on November 28th. TCU's a trendy College Football Playoff pick and Baylor's still loaded with offensive weapons, so taking down the would-be kings of the conference in two weeks' time would be a resounding statement of intent for the Sooners' bid to return to elite status.
Follow our Oklahoma Sooners team page for the latest Oklahoma football news!
Back to the Oklahoma Sooners Newsfeed