There are plenty of changes taking place inside the Oklahoma football program this offseason, but there's still a boatload to look forward to when it comes to the 2015 season. How much you say? Here are 4 Reasons Why Oklahoma Will Win The Big 12 This Year.
1) A youth movement in the receiving core
Oklahoma's new air raid offense is going to be challenge without a cache of proven receivers to work with, but there's a bevy of young talent to go along with senior Sterling Shepard that will make whoever sticks as starting QB very happy. Keep your eye on Dede Westbrook. The Blinn transfer is both fast and extermely elusive, and he's got a big chance to be the team's go-to home run threat going forward.
2) A loaded backfield
Having reigning Big 12 Freshman of the Year and single-game rushing record holder Samaje Perine in the backfield is fantastic enough, but there's not much of a drop-off behind him either. Joe Mixon has all the tools to be a featured back. Alex Ross and Daniel Brooks are both more than serviceable as change of pace backs. If the passing game needs time to transition to the air raid, this is a great running game to lean on.
3) Dominant defense Oklahoma was inconsistent on defense during the second half of the season, but the return of Eric Striker, Zack Sanchez, and Charles Tapper should solidify this unit as one of the best in the country. Bob Stoops knows what to do with a talented defense, which will be key in slowing down the high-powered offenses in the Big 12.
4) Starting fresh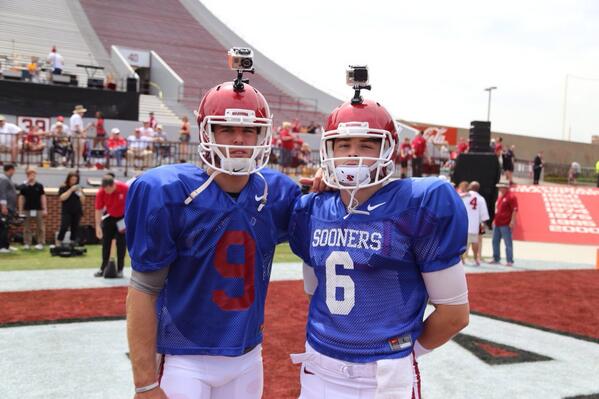 Oklahoma went 4-5 after a blazing 4-0 start to the 2014 season, turning College Football Playoff Dreams into a frustrating mess of inconsistency on both sides of the ball. That's the bad part. The good part is that the Sooners have options at quarterback (Trevor Knight, Baker Mayfield, etc.), a great rushing game, a defense dotted with impact-caliber players. 2014 was tough, but we all know that the Sooners never stay down for too long.
Follow our Oklahoma Sooners team page for the latest Oklahoma football news!
Back to the Oklahoma Sooners Newsfeed
Related Topics: Oklahoma Football, Big 12 Football, Oklahoma Sooners, NCAA