The Early Signing Period was a success for the Oklahoma Sooners and they hold the No. 7 recruiting class in college football. Their work is far from over because recruiting the 2018 class isn't done with traditional signing day just around the corner on Feb. 7. The top three recruits Oklahoma has signed are OT Brey Walker, CB Brendan Radley-Hiles, WDE Ronnie Parker, but the Sooners' work isn't done. Here are three other currently uncommitted prospects they can still sign:
If you're a true Oklahoma Sooner football fan, prove it! Give Oklahoma Sooners by Chat Sports a Like on Facebook and a #BoomerSooner!
Michael Thompson, DT
Odds Sooners Sign Him: 50%
Thompson is the Sooners' top priority at this time in the recruiting world. The four-star tackle is from St. Louis, MO and he is a monster of a man at age 17, standing 6-foot-3, weighing 290 pounds. It's a coin toss between the Sooners and his home state team Missouri. He has the upside to be one of the top defensive tackles in college football once he settles into a college.
Tank Jenkins, OG
Odds Sooners Sign Him: 80% 
Oklahoma had one of the best if not the best offensive lines in college football a season ago and are looking to strengthen this position with four-star offensive guard Tank Jenkins from Montgomery, AL. He is ranked as the 11th best guard recruit in the country. He will likely sign with the Sooners, but there are still other schools in the mix with Auburn and Lousiville.
Moro Ojomo, DT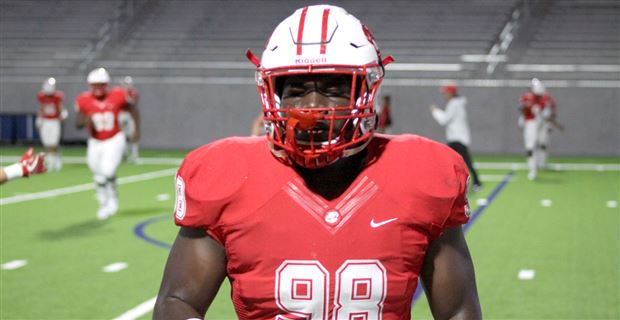 Odds Sooners Sign Him: 20% 
The Sooners want to improve in the trenches and have been targeting three-star defensive lineman Moro Ojomo from Katy, TX. He is ranked as the 29th best defensive tackle recruit in the country. Other schools competing for his services including Texas and Texas A&M. However, he has roots in Texas and Horns 247 writes that he is "trending to Texas."
FOLLOW: Mitchell Renz is the Senior Writer & On-Air Host at Chat Sports. Check out his article archive and live videos on Chat Sports Facebook page. Please follow him on Twitter @MitchellRenz365. 
Back to the Oklahoma Sooners Newsfeed
Related Topics: Michael Thompson, Tank Jenkins, Moro Ojomo, Oklahoma Football News, Oklahoma Football Recruiting News, Oklahoma Football, Oklahoma Football Recruiting, Oklahoma, Oklahoma Football Recruiting Rumors