The Notre Dame Fighting Irish looked like they were going to be in position to make the inaugural College Football Playoff halfway through the 2014season, but the Irish lost five of their last six games. They did manage to end their season on a high note, beating LSU in the Music City Bowl, and they're hoping to carry that momentum into next season.
Here are three reasons why Notre Dame will make the College Football Playoff this season: 
1) Malik Zaire's upside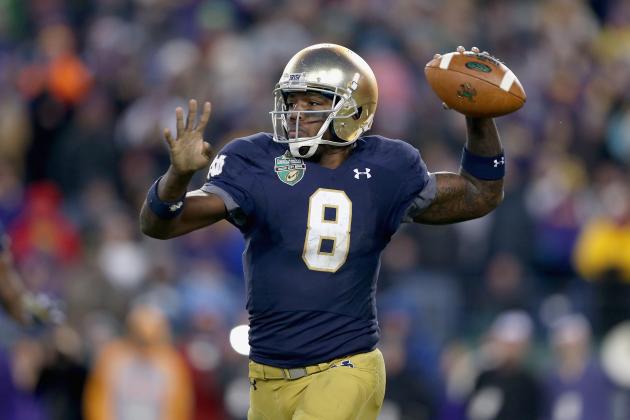 Everett Golson will be playing his final year of eligibility at Florida State, meaning Malik Zaire will be taking over the starting quarterback role. He does have experience as he split time with Golson in the Music City Bowl, and he showed off his terrific rushing ability. If he can utilize that athleticism and make smart decisions in the passing game, Zaire could be a dark horse Heisman candidate.
2) Improved receiving core 
Corey Robinson, Chris Brown and Amir Carlisle have yet to put together consistent seasons for the Irish, but their collective talent is still enough to push this group over the top and into the rarefied air of the elite units in college football. If one, two, or all three can emerge in a big way in fall camp, starting Zaire's job gets that much easier.
3) Defensive improvement
Notre Dame ranked 75th against the pass and 72nd against the run this season, both of which are in the bottom half of the country - a long fall from where this defense was when the Irish went to the BCS National Championship Game in 2012. However, this unit returns 10 starters, meaning they should be vastly improved in 2015.
Follow our Notre Dame Fighting Irish team page for the latest Notre Dame news and rumors!
Back to the Notre Dame Fighting Irish Newsfeed
Related Topics: College Football Playoff, Notre Dame Fighting Irish, Notre Dame Football