The North Carolina Tar Heels square off against the Duke Blue Devils for the first time this season tonight, hoping to snap their recent losing streak against their in-state rival while keeping their place atop the ACC. Most matchups in this heated series are close, but this one appears to be a mismatch. Here are three reasons why UNC will beat Duke tonight, and have a pretty easy time doing it.
3) Duke's road troubles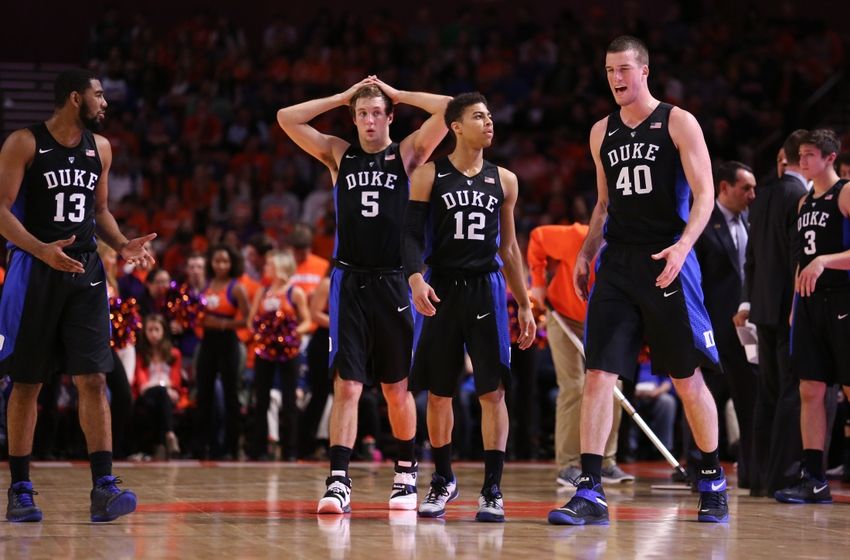 The Blue Devils seem to have turned their season around and are ranked for the first time in three weeks after a four-game winning streak, but all of their big wins have come at home. Duke has struggled away from Cameron Indoor Stadium all season, posting just a 6-4 road mark - including a 1-4 record against teams currently projected to make the NCAA Tournament. Duke also hasn't beaten UNC in Chapel when they're not ranked in the top 10 since 1958 (23 straight losses), so there's that. 
Expect Duke to struggle again tonight in the Dean Dome.
2) Ability to guard Duke's stars
Brandon Ingram (17.2 ppg) and Grayson Allen (20.6 ppg) account for 46 percent of Duke's offense, and if just one of them struggle, there's no way Duke wins this game. Luckily for Carolina, they have plenty of versatile athletes and good defenders they can put on them. Joel Berry, who leads UNC in steals, will likely start the game on Allen, who has a tendency to turn the ball over at a high rate. Allen probably won't be completely shut down because of how good he is offensively, but Berry's pressure will cause him to cough up the ball several times, allowing Carolina to get some easy buckets while getting Duke out of their offensive rhythm.
As for Ingram, the Heels will use several different defenders on him to keep him off balance. If UNC can limit these two to 30 points combined or less, they'll draw first blood in the season series.
1) UNC's inside domiance
I've written plenty about UNC's inability to shoot from the perimeter, but their capability to dominate the paint on both sides of the floor will be the ultimate difference in this one. The Heels have a stellar front line in Kennedy Meeks, Brice Johnson, and Isaiah Hicks, and all three should have their way against a Duke team that's incredibly weak on the interior. 
The Blue Devils have a short six-man rotation that features just one big man in Marshall Plumlee. He'll spend most of the game defending Meeks, meaning Johnson and Hicks will likely be guarded by either Ingram (who is 190 lbs) or Matt Jones (who is 6'4"). Talk about a mismatch.
UNC leads all major conference schools in points in the paint, and that strength should propel them to an easy victory against a team as inept at defending it as Duke.
Back to the North Carolina Tar Heels Newsfeed
Related Topics: Matt Jones, ACC Basketball, Duke Blue Devils Basketball, NCAA Basketball, Grayson Allen, Joel Berry, Brandon Ingram, Brice Johnson, Kennedy Meeks, Isaiah Hicks, College Basketball, North Carolina Tar Heels Basketball