The North Carolina Tar Heels have dominated their way to the Final Four, posting double-digit wins in each of their first four matchups in the NCAA Tournament. Now comes an All-ACC matchup against the Syracuse Orange, a team UNC has already beaten twice this season. Though it's hard to beat the same team three times in a season, that's not the case here. Here are three reasons why North Carolina will beat Syracuse and advance to the National Championship Game:
3) Marcus Paige's re-emergence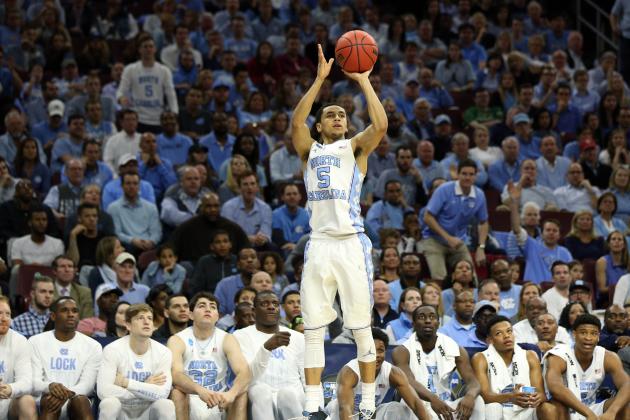 Remember when Joel Berry II was UNC's best guard all season? Marcus Paige has quickly broken out of his year-long shooting slump at the right time, going 13/27 from three-point range in the NCAA Tournament. That's HUGE for a team that has struggled considerably from long distance all season. Paige has virtually erased that weakness with is hot streak, and if that continues, no one will be able to challenge UNC.
2) Brice Johnson, zone killer
Johnson has been the most dominant player in college basketball this month outside of Buddy Hield, becoming the first player since Blake Griffin to put up three 20-point, 10-rebound performances in a single NCAA Tournament. There's a reason he's a first-team All-American, but more importantly this weekend, is the reason why UNC will have so much success against Syracuse's patented 2-3 zone.
The key to beating Syracuse's zone is to get the ball into the high post to collapse the defense, then either kick the ball out for an open three, pass the ball to the baseline man for a layup, or shoot that mid-range jumper. Johnson is a 6'10" athlete who fits that mold perfectly. His mid-range jumper is deadly, and he's an excellent passer for a big man. Expect another big, big night from Carolina's best player.
1) Size advantage
Johnson leads the best big man rotation in the sport, and Syracuse simply doesn't have an answer for Carolina's firepower. Their zone is designed to take away the paint, but they'e been unable to do that so far this year. UNC's quartet of bigs (Johnson, Kennedy Meeks, Joel James, Isaiah Hicks) scored 51 combined points againt Syracuse in their first matchup, then combined for 36 points in limited minutes on senior night. 
Why so much success? Syracuse doesn't have a single rotation player over 6'8". Think that might be a problem? Yeah, me too.
Back to the North Carolina Tar Heels Newsfeed
Related Topics: NCAA Basketball, ACC Basketball, Syracuse Orange Basketball, 2016 NCAA Tournament, Brice Johnson, College Basketball, North Carolina Tar Heels Basketball, Marcus Paige