The regular season has run its course and the field has been narrowed to 16 teams. The highly-competitive field has been dominated by the Blackhawks and Kings in recent years, but a new crop of teams have risen to the top of each conference this season. Regardless of whether or not we'll see a newly crowned Stanley Cup Champions, the eventual winner will have to escape the opening round first. Buckle up, boys and girls - the NHL Playoffs have arrived. Let's take a look at the opening round matchups:
Eastern Conference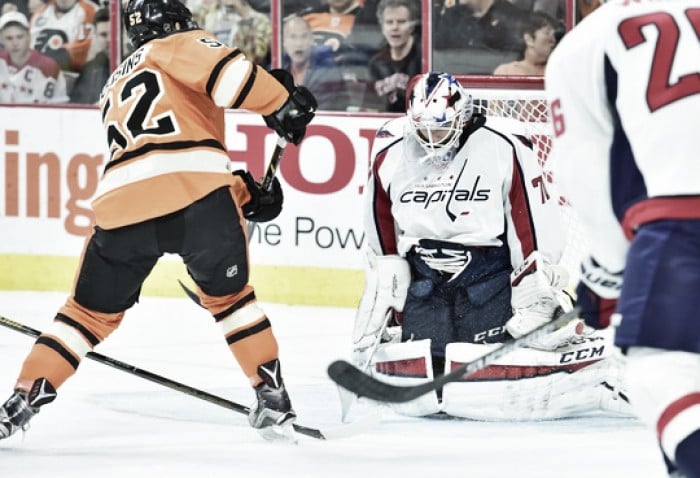 Washington Capitals vs. Philadelphia Flyers
The President's Trophy winning Washington Capitals have smashed their way to a 120 points finish atop the NHL standings. The acquistion of top-six forwards T.J Oshie and Justin Williams (and, to a lesser extent, fourth-line center Mike Richards) kicked the offense into overdrive this season, and the Caps finished with the best goal differential in the league (57) and second-best goals for-and-against numbers (248 and 191, respectively). Braden Holtby tied Martin Brodeur's single-season wins record on Saturday while Alexander Ovechkin netted his 50th goal of the season, making him just the third player to accomplish that feat seven times.
But the Flyers are not to be overlooked, mind you. Philadelphia bested Washington in two of the team's four meetings this season and came roaring back into the playoff picture the last two months. Wayne Simmonds kept scoring in bunches and Steve Mason found his rhythm to the tune of a 10-4-3 record to close out the final month and change of play. 
How Washington wins: 
They've been the toughest team all season and there's no reason to think the Caps will slow down now. Besides, they have Justin Williams on the roster, who practically guarantees a Game 7 victory if things get to that point. And then there's the emergence of Evgeny Kuznetsov, whose 57 assists and 77 points are good for fourth and ninth place in the league, respectively. Ovechkin's 50-goal season bodes well, too; five times he's reached that milestone and seen playoff action in the same year. Four of those times, he averaged better than a point per-game. If the Caps bring their A-game, this one should be theirs.
How Philadelphia wins: 
A physical brand of hockey and a little bit of puck luck will be necessary for Broadstreet to see the light of second round playoff day, but if they get too physical they play into the Caps' hands; Ovechkin's league-leading 19 power play goals are a force to be reckoned with, so discipline will be of the essence. Mason will also have to match Holtby's stellar play across the ice - the Flyers netminder has turned in save percentages of .920 or better in eight of his past 11 outings, and will have to continue his second-half season renaissance if Philadelphia is to stand a chance. One final, fun fact: a heavy load for the man between the pipes often means an early round exit, and Holtby has been a workehorse for several seasons straight now. Take that as you will.
Winner: Washington (seven games)
Will the NHL's best team really be pushed to the brink by a gritty group from the City of Brotherly Love? You bet. The Flyers are a never-say-die kind of squad with the tenacity to go toe-to-toe with anyone in the league. Sit back and watch the fireworks.

Pittsburgh Penguins vs. New York Rangers
A midseason coaching chance spurred Sidney Crosby and the Penguins on to some of the best hockey the NHL has seen in recent memory. Though Pittsburgh will be without Evgeni Malkin to start the series, Phil Kessel and his sudden ability to find the back of the net again pose a serious threat to a Rangers squad that will be without Ryan McDonagh for, at the very least, the opening game. He'll likely miss more than that, which is a massive blow to a blueline that's already in tatters. The Rangers might have the uphill battle here, but it's worth remembering that they've knocked the Penguins out of the playoffs the last two years.
How Pittsburgh wins:
Taking more (and better) shots under head coach Mike Sullivan been a boon for a team that started the season at 20th in Corsi-for percentage. They now rank second in that category. Crosby has been held off the scoresheet just once since March began and has 58 points in 44 games since the start of the calendar year, and paired with Kessel, who has had five multi-point games in the last month, it's obvious that Pittsburgh's torrid offensive production is the key to victory. Can an already weak Rangers defense who will be forced to give Brady Skjei playoff minutes really stop that?
How New York wins:
If Rick Nash finally decides to earn his paycheck in the playoffs and Henrik Lundqvist stands on his head, the Blueshirts have a fighting chance. Plus, Pittsburgh's top two goaltenders are out still out with concussions. And though Marc-Andre Fleury resumed skating Monday, he's not yet slated to start between the pipes. If the Rangers can impose an early series lead by exploiting the unproven Jeff Zatkoff, they have a chance.
Winner: Pittsburgh (seven games)
The Pens might find themselves in a hole early on, but Fleury's return will prove the tipping point as the offense buries an inept Rangers defensive corps.

Florida Panthers vs. New York Islanders
On the backs of a young offensive corps and a few wiley veterans, the Panthers have managed a postseason berth for just the fifth time in franchise history. Heck, they've only advanced past the first round of the playoffs once, when they were bested by the Avalanche in the 1996 Stanley Cup Final. First up is an underachieving Islanders squad that certainly has more potential than they've shown for most of the year. But this Brooklyn-based team has plenty of fight in them, and that hard-nosed style of play matches up well against the inexperience that surrounds most of the Florida roster.
How Florida wins:
While employing a living legend certainly doesn't hurt, the Panthers are so much more than Jaromir Jagr. Aleksander Barkov's breakout season has been a treat to witness, and with 59 points in 66 games, the future is bright for the 20-year old. Veteran netminder Roberto Luongo has posted a sterling .922 save percentage on the season, the fourth time he's hit that mark in his career. It seems that all the pieces have finally fallen into place in Sunrise, FL, and while youth can be an issue in April, the services of Jagr and captain Willie Mitchell will put to rest any qualms that naysayers might have about postseason leadership. It still doesn't feel right to type this, but the best team in the Atlantic Division is one of the strongest top-to-bottom squads in contention this year and is the kind of team that can make a deep run. And with Jaroslav Halak still sidelined for the Islanders, they'll have to lean on Thomas Greiss. While he's compiled a 23-11-4 line this season, he's only ever seen action in one postseason game, and this time of year can be a killer for inexperienced goaltenders.
How New York wins:
If Greiss does come to play, though, watch out. Jack Capuano's boys will come out firing with a physical presence and try to control the pace of the game. This matchup will go New York's way if it can play patient hockey and force the youthful Florida to make mistakes. The Islanders haven't won a playoff series since 1993, so this will be a hungry team with plenty to prove and a history to restore.
Winner: Florida (six games)
Jagr will single-handedly carry this team on his 44-year old back if need be. There's still some magic left in his tank, but the young members of Florida's top-six should supply enough firepower to close this one out.

Tampa Bay Lightning vs. Detroit Red Wings
For the 25th consecutive season, Detroit has joined in the quest for the Cup. The Wings face the defending runners up and though the Bolts' injured reserve has looked more like a makeshift grave the past few weeks (Steven Stamkos is out with a blood clot and Anton Stralman will be sidelined a few more weeks with a fractured leg) this team is still considered the favorite. Tampa Bay, usually reliant on an electric offense, will have to lean on the play of goaltender Ben Bishop, whose .926 save percentage and 2.06 goals-against average this season are both career highs.The Red Wings will look to Jimmy Howard between the pipes, whose skillset is still valuable though he's struggled at times this season.
How Tampa Bay wins:
If the Triplets Line of Nikita Kucherov, Tyler Johnson and Ondrej Palat finds its rhythm then Detroit might be in for a long series. Kucherov's 66 points led the team and he hit the 30-goal mark for the first time in his young career. Ondrej Palat finished with 20 points in his last 19 games, and Tyler Johnson bounced back from a miserable start to the season to record 22 points since the All-Star break. This line must recapture the last postseason's magic to make up for the loss of Stamkos and take advantage of a goaltender that's looked past his prime for the better part of the last two seasons. Minimizing the effect of losing their key defensive and offensive weapons is a must.
How Detroit wins:
Pavel Datsyuk announced last week that his days are numbered at the NHL level, so you know he'll bring his A-game. So too must Howard and a ragtag roster that backed into the playoffs in the final weekend of the regular season. The Lightning's long list of injuries mean that the Red Wings have the advantage in matching up personel, and they'll have to be wary any time the Triplets hit the ice. Getting out to an early lead in these games will go a long way for Detroit, too; its Corsi-for while ahead on the scoreboard this year is the third best in the league, and that 50.33 puts the Wings in the company of just four teams that managed to be on the right side of 50 this season.
Winner: Tampa Bay (seven games)
Kucherov will fill Stamkos' skates and keep the offense rolling, while Bishop will out-duel Howard to win in seven games. Wait, something here feels familiar...
Western Conference

Dallas Stars vs. Minnesota Wild
After winning six consecutive games over a 10 day period March 19-29, the Wild have limped into the playoffs with five-straight losses. This is the biggest mismatch of the playoffs on paper by a mile - Minnesota was the only team to reach the postseason this year that didn't amass 90 points in the standings, while Dallas topped the strongest division in hockey - as well as the Western Conference - with 109.
How Dallas wins: 
I'm tempted to say "because they're really good" here, but I'll spare our readers the sass and actually do my job. The Stars are the highest scoring team in the league, rank third in Corsi-for and Corsi-for close, and have generally dominated opponents, ranking third in goal differential as well. After missing the last 10 games with an Achilles injury,Tyler Seguin skated at practice Monday, and though his status is still up in the air for Game 1 the point-per-game center's imminent return is a huge boost to an already-impressive offense. Devan Dubnyk's .886 save percentage in April and Minnesota's general unwillingness to actually win a game make this Dallas' series to lose.
How Minnesota wins: 
If last season's Devan Dubnyk shows up, we might be in for a thriller. But even a miracle from "The Dube" won't be enough - bottom six production will be crucial if the Wild wish to take this series the distance and find a way past. That starts with guys like Nino Niederreiter, who has been held off the scoresheet for the last five games. If they can pepper the goalie combo of Antti Niemi and Kari Lehtonen - whose .905 and .906 save percentages rank 41st and 43rd, respectively, among NHL goalies that have played at least 25 contests - then the Wild have a chance to push this one the distance in a high-scoring brawl of a series.
Winner: Dallas (five games)
The Wild don't have the offensive capabilities to make the Stars pay for lack of goaltending, and Dubnyk can't hold off Jamie Benn, Jason Spezza, and (hopefully for Dallas) Tyler Seguin.

St. Louis Blues vs. Chicago Blackhawks
This is the fifth consecutive postseason excursion for the Blues, who have been knocked out in the first round each of the past three seasons. They draw the Blackhawks, whose three Stanley Cups in six years is the closest thing to a modern dynasty you'll find in the salary cap era of the NHL. These two teams met in the opening round of 2014 when Chicago bested St. Louis in six games, and with Chi-town's recent playoff experience many experts are expecting a similar outcome. That is, unless Brian Elliott has anything to say about it. The goaltender's .930 save percentage in 42 games played is the best mark in the show, and his streak of three consecutive shutout performances in March are proof that this man can carry a series on his own.
How St. Louis wins:
Vladimir Tarasenko and Alexander Steen are the only Blues with 50-plus points on the year (though Jaden Schwartz and Paul Statsny would have likely eclipsed that mark with ease had health not been an issue for the two), so defense and goaltending will have to win the day for the Notes. Home ice advantage gives them the edge, as does Chicago's struggles down the stretch - an 8-6-4 record from March on in included two overtime losses to St. Louis. And if this healthy Blues squad can contain Patrick Kane and Artemi Panarin, who have accounted for 30 percent of the Blackhawks' points this season, then this series could prove to be the one that finally lifts St. Louis out of postseason mediocrity.
How Chicago wins:
The top two lines and change on this roster are among the most playoff-seasoned in the league, which is a massive intangible perk this time of year. If the Blues defense can't stymie the Russian-American combo punch that Chicago employs on its first line, and Brian Elliott's game isn't at the same level it has been all season, Chicago will walk right through St. Louis. This has been Kane's season, and it will be up to him to see the offense through a tough, first round test against a divisional rival.
Winner: St. Louis (seven games)
Even though they hold home-ice advantage, picking the Blues is a pretty big upset. But if they can ever find a way to get it done, it will be now, a season that's seen stout defensive and goaltending play coupled with the emergence of an offensive superstar in Tarasenko. This is the riskiest of all the opening round picks you'll see in this list.

Anaheim Ducks vs. Nashville Predators
A fourth consecutive first place finish in the Pacific Division crowned a spectacular season-save for the Anaheim Ducks, who were all but roasted around December but compiled a 34-10-5 record following the holiday break. Nashville outlasted the Wild to secure the first wild card spot and have done so by allowing the least amount of shots per game (27.3) this season. This should be a spectacular battle of the defenses.
How Anaheim wins:
Truth be told, it's not quantity, but rather quality for the Ducks when it comes to its offensive output. The Ducks rank but 12th in 17th in goals and shots per-game, respectively, but they pick their battles well and tend to play a more methodical brand of hockey than most, as evidenced by the second-best Corsi-for in close (read: one-goal or tied) contests this season. By controlling play, big names like Corey Perry, Ryan Getzlaf, and Ryan Kessler are able to find the back of the net at a rate that suits them, keeping snipers like Ryan Johansen and Filip Forsberg from getting the number of chances to which they are accustomed. Anaheim's top ranked power play and penalty kill are obvious factors as well, and if the Ducks can control the series tempo and exploit Pekka Rinne's weak play, they should make short work of the Preds.
How Nashville wins:
Rinne needs to be better. His .908 save percentage this season is nearly a full point below the league average, and despite a good stretch in February and March, Carter Hutton has outplayed his veteran counterpart. It makes sense, then, that the Preds have leaned heavily on their top-four defensemen to limit attempts and keep opponents at bay. Nashville tallied 60 total goals in its final 19 contests, which comes out to a full 0.43 more goals per game than they've averaged all season. The Preds play extremely well from behind, too, and rank second with a 59.32 Corsi-for percentage in those situations. Anaheim also relies heavily on special teams play and actually carries a negative goal differential at even strength, which plays into Nashville's hands. But the offensive key is converting high-danger shots, perhaps the weakest aspect of Anaheim starter John Gibson's game. Gibson's save percentage in those high-danger situations is a concerning 80.6 percent. If the Predators can stay out of the box and rack up the scoring chances, they can pull of a major upset in the first round.
Winner: Anaheim (five games)
Rinne will be better, but not enough to make the difference. These Ducks are out to prove they can get it done in the playoffs and it's hard to see this Predators team being the ones to spoil it for them this season.

Los Angeles Kings vs. San Jose Sharks
This series looks to have all the makings of a modern classic: two West coast rivals with different DNA but similar records, duking it out for the right to keep the season alive. The Kings rely on Jonathan Quick and a mobile blueline to edge opponents in low-scoring contests, while the Sharks play well in transition and boast the fourth-highest scoring offense and third-best power play in the league. Defensive standouts Drew Doughty and Brent Burns don't have much in common either, the former a clean-cut positional standout, the latter a hybrid player with 75 points to his name this season that looks like he's never been within five miles of a barbershop.
These two franchises tend not to get along, so expect a surge in physical play to open the first few contests. Look forward to low-scoring affairs, too, as both of these teams allow an average of less than 28 shots per-game, a distinction held by only one other squad in the NHL.
How Los Angeles wins:
Los Angeles comes in with much more playoff knowledge, not to mention the 2012 and 2014 Stanley Cups under its belt. Veteran Jonathan Quick has the advantage over former-backup Martin Jones, though that's not to say Jones hasn't been good. He actually maintains the same save percentage (.918) as his counterpart, and new San Jose acquisition James Reimer bests both of them (.922). But the Kings will be dictating how this series is played, and will likely find a few more high quality scoring chances along the way as they've laid claim to the best Corsi-for percentages in every possible scenario. Possession being one of the highest quality indicators of future success, the Kings would be a good bet to make another run at the Final this season.
How San Jose wins:
The Sharks need to use physical play to draw penalties from an undisciplined Kings squad, as power play time will favor the Sharks greatly in this matchup. Now that Marc-Edouard Vlassic is at full strength, the Sharks blueline will get quite the boost. Vlassic's career-best 39 points (in only 67 games, no less) this season have been a godsend to a defense that at times this year has seemed to consist only of Brent Burns. If Jones can match Quick in the blue ice, Joe Thornton can continue to mine his old-man scoring ability, and the Sharks can keep the possession at least somewhere close to 50/50, then this series is a toss up.
Winner: Los Angeles (six games)
The rich get richer. The Kings are playoff royalty for a reason, and it would be wise to expect them to move one step closer to joining the Blackhawks as a modern day dynasty.
Back to the NHL Newsfeed
Related Topics: Roberto Luongo, Marc-Andre Fleury, Patrick Kane, Ryan Kessler, Sidney Crosby, Stanley Cup, NHL Playoffs, New York Islanders news, Florida Panthers news, Anaheim Ducks news, Pekka Rinne, Pittsburgh Penguins news, Tampa Bay Lightning news, San Jose Sharks news, Minnesota Wild news, Jonathan Quick, Philadelphia Flyers news, Jaromir Jagr, Stanley Cup Playoffs, Devan Dubnyk, Wayne Simmonds, Ryan Johansen, John Gibson, Ryan McDonagh, Steve Mason, Evgeny Kuznetzov, NHL Opening Round, Stanley Cup Final, Brent Burns, Ryan Getzlaf, Joe Thornton, Corey Perry, Artemi Panarin, Detroit Red Wings News, Jamie Benn, Los Angeles Kings news, Alexander Ovechkin, New York Rangers, Tyler Seguin, Chicago Blackhawks news, Henrik Lundqvist, Nashville Predators news, St. Louis Blues news, Washington Capitals news, Evgeni Malkin, Dallas Stars news