Welcome to the third edition of What's Going Downey, my NFL Draft/NFL focused column for Chat Sports. In this week's column, I've got a a long rant on Deshaun Watson, some updates on NFL Free Agency, the latest on Joe Mixon, Jourdan Lewis and several other draft prospects. I've also got an interview with FanSided's Peter Panacy and, as promised, compare EDGE rusher prospects to meats/fish/etc. 
The goal of this is to have a longer piece each week, focused on the NFL Draft. If it does well (read: gets views), it will remain a weekly article. In terms of content, I'll have some type interview each week with an athlete/media person, questions I'll answer from social media, updates on my Draft Big Board or a new mock draft and a section I'm calling "Downey's Dozen." That will consist of 12 things from around the NFL/NFL Draft that I want to discuss. I'll also conclude with something funny/stupid. Probably the latter. 
Here's what we have on tap in this column:
An updated Big Board
Downey's Dozen (a look at the NFL & NFL Draft) 
A Q&A with Peter Panacy of Niner Noise
Q&As from Facebook and Twitter
I Know Takes, I Have The Best Takes
That's the five section breakdown, and there's plenty of information in each one. So, my hope is you all enjoy this column and hopefully read it each week. In next week's edition (since this version is written and coming out early in free agency), I'll go much more in-depth with winners, losers and more. We'll get to some free agency stuff, but check out the Chat Sports App for more in-depth stuff. With all that out of the way, let's get started. 
Updated Big Board
It's been a busy week (when isn't it busy?), with March Madness and NFL Free Agency. But I did find the time to update my the Top 70 of my big board. It's far from finalized, and the players outside the first two rounds (the Top 70 happened to match up with the player's I've given at least a Round 2-3 grade) still need a ton of work. I'll have a finalized big board before the draft, but it's a bit of a mess so I don't want to make it public quite yet. Perhaps I'll have a version of it for next week, but no promises.  
Downey's Dozen
Each week, I'll have 12 thoughts, comments, observations or whatever from around the NFL/NFL Draft. This shouldn't be a surprise, but this week's focuses heavily on NFL Free Agency and various draft tidbits. 
1. Deshaun Watson's Terrible Ball Velocity
The ball velocity numbers from the NFL Combine are in and they aren't pretty for Deshaun Watson. 
Ball velocity numbers (MPH) from the Combine:

60 - Mahomes
59 - Webb
56 - Kizer
55 - Trubisky, Evans
53 - Peterman, Kaaya
49 - Watson

— Dane Brugler (@dpbrugler) March 10, 2017
This is one of those threshold drills, testing how hard and fast a QB can throw the ball. A higher number doesn't mean more success, although it is a good indication of arm strength. But the threshold number for this drill is 55 mph and Watson doesn't even come close. Since 2008, two QBs have had success with numbers below 55: Dak Prescott and Tyrod Taylor. But both players had an asterisk, as they had minor shoulder issues. Watson has no shoulder issues and 49 is an stunningly low figure. I've had Watson as my No. 3 QB in this bad class, behind DeShone Kizer and Mitch Trubisky. I love Watson's intangibles, but those won't matter too much if you don't have a strong arm and aren't accurate (right, Tim Tebow?). With the awful velocity numbers, which help explain Watson's rainbow throws, he's closer to Patrick Mahomes on my board than the top two guys. 
2. Jourdan Lewis' Domestic Violence Charge
I had Jourdan Lewis as a round two player on my big board, but he's fallen in a big way this week. He's been charged and accused of assaulting his girlfriend. While Lewis, in a since deleted tweet, implied the accusation was fake, it's a bad thing for his draft stock. I'll wait to pass judgment until we get more information, but it's tough to spend a high pick on a player accused of beating his girlfriend. Of course, NFL teams have proven time and time again they'll overlook off-the-field worries if a player can help them win. If Lewis' case isn't resolved before the draft, he'll be in for a big slide and teams will remove him completely from their board. 
3. Joe Mixon Will Be A High Pick 
I'm not ready to buy the buzz that Mixon will be a first round pick, I do think he goes on Day 2. Mixon is a first round talent and at least the third best RB in this year's class. But his off-the-field issues will (and should) remove him from the board of some teams. But talent always wins out, as we saw with Tyreek Hill in last year's draft. Let's not forget that Hill choked and punched (in the stomach and face) his pregnant girlfriend. But once Hill started balling in the NFL, that was mostly forgotten. Sadly, the same will be true with Mixon. 
4. Sidney Jones' Achilles
The Washington Huskies CB was a likely/potential first round pick, but that's no longer the case after he tore his Achilles at his pro day. The video of the injury is below. 
VIDEO: Sidney jones going down with a leg injury at @UW_Football pro day #komonews pic.twitter.com/qIrGni82dq

— Paul KOMO sports (@Paul4KOMOsports) March 11, 2017
Jones knew what happened right away. He's still a very talented corner and a team that's patient and willing to have Jones miss the 2017 season could be rewarded in 2018. I think he ends up going in Round 3 or Round 4 and that's where he is on my board after the injury. Still, there is some risk involved. Achilles injuries aren't easy to return from. With that said, there is still a chance he's able to play next year, but he'd need some really good post-surgery news. I'm expecting a redshirt year for Jones. 
5. Mike Williams' 40 Time
Clemson held its pro day this week, and Williams posted a reported 4.50 (ish) 40-yard dash. Of course, there's been a debate about if that hand-timed 40-yard dash is accurate. Some claim Williams ran closer to a 4.60 on their watch. That brings up a major problem with pro days: the speed times are often disputed (which explains the often-used rule of thumb of adding .1 to all pro day times). Sometimes that works, other times it doesn't. The film says Williams does have some speed issues and he's likely somewhere in between that 4.6 and 4.5 number. Perhaps this is another indication that there's a tendency to put too much stock into 40 times. It matters, but does the .05 second difference really matter in the end? Isn't the tape more important? Ultimately, Williams' Pro Day will likely confirm what you want to believe about Williams. For me, he's the top WR in the class, although Western Michigan's Corey Davis isn't far behind. 
6. #PFAMock17
If you follow me on Twitter, you probably saw me tweet a few times about the #PFAMock17. Long story short, it was a Twitter mock draft with me playing Rams GM. I've got my picks as the Rams (before the Kayvon Webster and Lance Dunbar pickups) below. 
Rd. 2, Pick 37: CB Teez Tabor, Florida
Rd. 3, Pick 69: C Pat Elflein, Ohio State
Rd. 4, Pick 108: EDGE Dawuane Smoot, Illinois (Trade Up)
Rd. 4, Pick 141: DT Elijah Qualls, Washington
Rd. 5, Pick 149: WR Amara Darboh, Michigan
Rd. 6, Pick 189: RB Jeremy McNichols, Boise State
Rd. 7, Pick 234: OT Chad Wheeler, USC
My first three picks focused on filling massive needs and I think I did that very well while getting value. I surprised myself by moving up for Smoot, but the value was too good for me. The rest of the picks were pure BPA. 
7. Safety Class
The corner and edge rusher class is rightfully getting plenty of love this year. But this year's safety class is damn good too. Jamal Adams (LSU) and Malik Hooker (OSU) are both Top 10 prospects for me. Jabrill Peppers (Michigan) has a first/second round grade and is a top 25 guy on my tentative board. Budda Baker (Washington), who could slide a bit because of his size, his a Top 32 guy. Obi Melifonwu (UConn) and Justin Evans (Texas A&M) are top 50. Desmond King (Iowa) is a safety for me and both King and Marcus Williams (Utah) have Top 60 and round two grades. Then there's Eddie Jackson (Alabama) and Marcus Maye (Florida) who are round 3 guys, and that might be too low for them. That's 10 safeties in the Top 100. That's rare. Plus, there's Air Force's Weston Steelhammer, the best named player this year. 
8. Marshawn Lynch And The Raiders?
The big rumor today is the Raiders' interest in retired RB Marshawn Lynch. I've got a BUNCH of details over here, but there is an actual chance of this happening. 
9. DeMarcus Ware Retires
Speaking of retirement, I'm going to miss watching DeMarcus Ware play. He's calling it a career, although he did have offers. I would have loved to see him return to the Cowboys for one more year, but if he says retiring is the in the best interest of his future, it's the right move. He's a sure-fire Hall of Famer and I'd like to see him retire as a Cowboy. 
10. NFL Free Agency's Biggest Winner
I'm talking about teams here, not players. And the biggest winner for me is clearly the Tampa Bay Buccaneers. They were in a similar position as the Oakland Raiders last year and made some quality moves. Getting WR DeSean Jackson at 3-years, $33.5 million isn't that terrible and he fills a need. SS J.J. Wilcox at 2-years, $6.25 million was a solid pickup, even if I don't like bringing Chris Conte back. And landing DT Chris Baker for just 3-years, $15.75 million was the best move made so far. I love what the Bucs are doing and they're going to be a popular playoff pick next year. 
11. NFL Free Agency's Biggest Loser
Again, this about a team. And the biggest loser is the Washington Redskins. Yes, getting Terrelle Pryor on a cheap prove-it deal and adding S D.J. Swearinger on a fair contract were solid moves. But the Redskins have regressed back to the D.C. Drama. Between firing Scot McCloughan (more on that here) and the issues with Kirk Cousins, the Redskins are a mess. Oh, they also let Baker leave, while replacing him with Stacy McGee and Terrell McClain. Both players are lesser options and were overpaid. Even worse, they cut Ricky Jean-Francois for what may have been his questioning of the front office. The Redskins are dysfunctional right now and it might get even worse.
12. EDGE Rushers As Meat/Fish/Etc 
As promised, this week I'm comparing the top 10 edge rushers in this year's draft class to meat/fish/etc. After all, edge rushers are the focal point of any good defense (or meal, in this case). Also, I have Solomon Thomas of Stanford listed as a DL on my board, so he's exempt. If he were included, he'd be the bacon of this year's draft class. 
12a. Myles Garrett, Texas A&M: New York Strip Steak
Listen, Cleveland. Don't mess this up. You've got an unlimited budget on a company dinner. Get the damn strip steak and enjoy it!
12b. Derek Barnett, Tennessee: Chicken 
The knock on Barnett is that his production at Tennessee won't translate to the NFL. But like Chicken, I think he's going to be a very reliable player in the NFL. Not a star, but productive. 
12c. Charles Harris, Missouri: BBQ Ribs
This one should be pretty obvious too. Ribs can get a bit messy and Harris needs some work, but they're main course options. 
12d. Takkarist McKinley, UCLA: Salmon
When you don't cook salmon, you're in for a bad time. But when you grill it on top of sliced lemons, it's amazing. UCLA figured out something similar once they moved McKinely to the outside of the line this year. 
12e. Taco Charlton, Michigan: Carne Asada
I don't need an explanation for this one, right?
12f. Carl Lawson, Auburn: Turkey
Turkey is a damn good option, especially when there are mashed potatoes too. Lawson's injury issues hurt his stock, but if he can stay healthy, it could be great for the team that picks him. 
12g. Tim Williams, Alabama: White Castle Sliders
I think you all get this one too. 
12h. T.J. Watt, Wisconsin: Sausage
Wisconsin has some damn good sausage and Watt has the potential a really good edge rush. He's not as good as his brother, but he's still talented. And yes, this is a cheese-filled sausage. 
12i. Ryan Anderson, Alabama: Roast Beef
Anderson isn't the best pass rusher from Alabama this year, so I think Roast Beef is a quality pick. It's a good meat and it won't let you down, but you're not going to be bragging about eating Roast Beef often. 
12j. Jordan Willis, Kansas State: Salami
The most underrated of the deli meats is Salami. It frequently gets overlooked, much like Willis. 
Interview with Peter Panacy of Niner Noise
This week, I'm joined by Peter Panacy, the site expert of FanSided's Niner Noise. Peter has been a guest on a previous Chat Sports Live Mock Draft show and he was kind enough to do a question and answer for the column. With the Niners among the more active teams in free agency, the timing seemed perfect to bring on a 49ers' expert. 
Chat Sports: The Niners have been very active so far in free agency. What do you make the over-arching plan from John Lynch's regime?
Peter Panacy: The 49ers were very active in free agency, and they needed to be. But the overall point of this free-agent draw wasn't to bring in the best and most-expensive player at each position. Instead, the Niners loaded up on blue-chip players who would be notable improvements over what was on the roster a year ago. 
As Ian Rapoport said on KNBR 680 the other morning, "the 49ers improved their middle class." That's the approach, and it's probably the right way to go.
Chat Sports: What are the move(s) you like the most by the 49ers?
Peter Panacy: Honestly, I like the Brian Hoyer move. Sure, he's not a franchise-saving quarterback. And the 49ers aren't going to tab him to be THE guy for the next three-plus years. But he has familiarity with Kyle Shanahan already and knows the system. Plus, journeymen quarterbacks have to work hard to stick around in the league for a long time. Hoyer has done that. And he's played notably well when given the opportunity. What makes this important is he'll act as a mentor for whoever the Niners decide will be their next franchise guy.
Chat Sports: I'm on board with you there; I liked adding Hoyer. Are there any moves you aren't a fan of so far?
Peter Panacy: The Malcolm Smith deal wasn't particularly great. I know he's a tackling machine, but Smith struggles in coverage. What's a tackle when you've given up nine yards on the play? I get he understands defensive coordinator Robert Saleh's scheme, and that will help. And he's certainly an upgrade over what San Francisco had previously. But a big one? No. 
Chat Sports: You're the GM for the 49ers during the NFL Draft. Which player are you taking at #2 and which other ones do you consider? 
Peter Panacy: I recently mocked Stanford's Solomon Thomas to the Niners at No. 2. Thomas would be an upgrade over Arik Armstead right now, although I'm not sure you want to give up on the latter just yet. Still, you can move Thomas all along the defensive line, and that helps. 
If not Thomas, I'm still intrigued by Alabama linebacker Reuben Foster. The shoulder injury is a concern, and his actions at the NFL Scouting Combine were a bit weird. But heck, worse things have happened, and I'm sure we can all think of a few. 
An ACC scout friend of mine is working to convince me Clemson's Deshaun Watson is worth the No. 2 pick. I'm not totally on board with that yet, mostly because of value, but I wouldn't mind seeing Watson in a Niners uniform.
Chat Sports: The Niners need a franchise option at QB. Which of the QBs would you prefer? This can be in the first round, in the later rounds or just overall.  
Peter Panacy: Related above, Watson wouldn't be a bad choice. The guy has continuously proven doubters wrong and probably will do so again at the pro level. Sure, there are questions about his scheme fit and ability to be a pure pocket passer. But that could describe 80 percent of college quarterbacks now.
If not Watson, I still like Patrick Mahomes out of Texas Tech. But one player I'm sleeping on is Cal's Davis Webb. Given a chance to develop properly, he could be something special.
Questions And Answers
Now we've got the questions and answers section. If you want a question featured, tweet them at me or post them on Facebook. I'll grab at least one each week from the Chat Sports Live videos we do. It's a shorter version this week. *Some of the questions are slightly edited for clarity and/or spelling.* 
From Bill Carroll on Twitter:
@WhatGoingDowney Which DB/RB/WR in this draft class is going to become a Matthew Slater-type All-Pro special teams guy?

— Bill Carroll (@elevenbravo138) March 15, 2017
This is a great question, Bill. I don't spend much time on special teamers (I only have so much time to devote to prospects), but I think Brandon Wilson from Houston could be that key special team contributor. He's not the best "Wilson" from Houston; that's CB Howard Wilson. But Brandon Wilson has a knack for making plays on special teams, namely missed field goals. He can be a gunner and even a return man for an NFL team. Maybe he's not an all-pro, but I suspect Wilson will be able to find a role in NFL. 
From Hunter Marx on Facebook: Who do you think Is the best fit for John Ross and who do you think will draft this speedster?
I think the best fit would have been the Tampa Bay Buccaneers, but the signing of DeSean Jackson means they don't need that vertical threat. I think the Titans make a lot of sense right now. They need WR help and lack a true deep threat. I think he makes sense for the Titans' second first round pick. I still have worries about Ross' injury history and route-running, but you can't teach that kind of speed. 
From James Ellis on Facebook:  Will WR Calvin Johnson come out of retirement to sign with New England Patriots after speaking with Belichick this week?
No. Megatron isn't coming out of retirement. And I'm not sure where you're getting the speaking with Belichick part. That sounds like Fake News. 
From Shawn Mirhosseini on Facebook: Why haven't the Cowboys done anything? smdh
Well Shawn, the Cowboys did sign Nolan Carroll and guys like Stephen Paea, but that doesn't overcome the losses of Brandon Carr, Morris Claiborne, Barry Church, J.J. Wilcox and Terrell McClain. So I totally understand the feeling that the Cowboys haven't done much. They've become worse on defense, especially in the passing game. But money is really tight right now for the Cowboys. They have only $8 million or so in cap space and they still need to extend Zack Martin and sign their draft picks. So wait until next year, when the Tony Romo contract comes off the books in a major way and the Cowboys have more money to spend. Until then, the Cowboys will continue to try to build through the draft. 
From Ross Simon on Twitter:
@WhatGoingDowney question for the mailbag: is Big Ben celebrating GBD?

— ((Rev. Ross Simon)) (@RossSimonSays) March 16, 2017
For those that have no idea what GBD is, it stands for Green Beer Day. It's a day of drunkness at Miami University, where Ross, Ben Roethlisberger and myself went to school. It's exactly what you think it is: green-colored beer all day long, often starting before the sun is up. I'd click the link if you want more information on a Miami tradition, but I suspect that Big Ben didn't celebrate this year.
I Know Takes, I Have The Best Takes
At the end of each column, I'll try to close with something non-NFL related and on the more light-hearted/funny side. This week, I'm talking about the 2017 Chicken Tender Tournament.
For starters, he's the results of the bracket.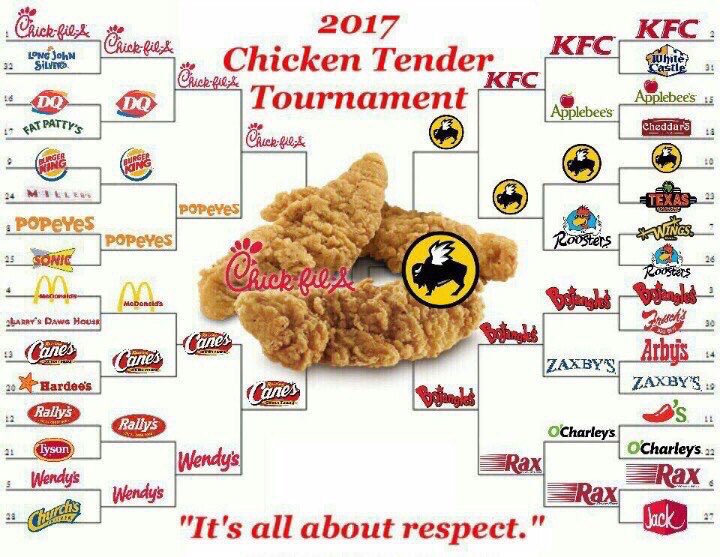 The whole thing was started by Twitter user JP_Flash25. Now before you start ripping JP for the results, it was based on a Twitter poll he did. So a shoutout to JP for doing the whole thing, but that doesn't mean this is right. I've got my thoughts on various results/seeding below.
Popeyes seems underseeded as a No. 8 seed, but it did advance as far as it was supposed to. KFC as a No. 2 seed is a surprise. You'd think they'd be the No. 1, but so be it. 
'll be honest, I've never had Rax Roast Beef, even though it's based in Ohio. So I'll give that one a pass. But in general, the right side of the bracket seems weak compared to the stacked left. 
I'm truly stunned that KFC was bounced by Buffalo Wild Wings and that BWW's made the title game (losing to Chick-fil-A). I think the voters in this bracket forgot this was a chicken TENDER Tournament. Sure, Buffalo Wild Wings has cheap wings with solid sauces, but they're also low-quality and not tenders. 
The true winner of this bracket should have been Raising Canes. I think the lack of name recognition hurt Canes in the end, but there isn't a better chicken place in the nation. Remember, this is the Chicken Tender Tournament. Raising Cane's is the rightful winner and it's sad the voters didn't see it that way. 
Back to the NFL Newsfeed
Related Topics: NFL Rumors, NFL Draft News, Deshaun Watson, NFL News, NFL Draft Rumors, 49ers News, 49ers Rumors, 2017 NFL Draft