With the NFL season now over, everyone has turned their full attention to the offseason. While the NFL Draft is on the horizon, free agency is the immediate priority. NFL teams are already hard at work getting their key free agents resigned, while also hoping a few big names find their way to the open market. Players like Tony Romo are expected to be available via trade, but because they won't be free agents, they are not included on this list. Here are the top nine free agents available this offseason, and where they are likely to sign.
9) WR DeSean Jackson - Los Angeles Rams
The Redskins already have just under $116 million in salary cap commitments for next season, and they're going to have to designate another $20 million plus to re-sign quarterback Kirk Cousins (more on him later). That means someone else has to go, and that will likely be Jackson. 2016 first-round pick Josh Doctson will be fully healthy next year, and Pierre Garcon is expected to be cheaper to re-sign. That said, there will always be a market for a game-breaking deep threat like Jackson. With former Redskins offensive coordinator Sean McVay taking over the Rams head coaching job, and with their need at wide receiver, bringing Jackson in makes a lot of sense.
8) CB Stephon Gilmore - New Orleans Saints
Gilmore has demanded top cornerback money from the Bills in seeking an extension with the team, but Buffalo quickly shot that down. As such, Gilmore will try to get that contract on the open market. He's very unlikely to get the top-tier money he is seeking, but another team will likely give him more than what the Bills will. The Saints are trying to make the most of the closing window with Drew Brees, and with their defense continually in the dumps, they will spend to add an impact player like Gilmore.
7) OLB Melvin Ingram - Baltimore Ravens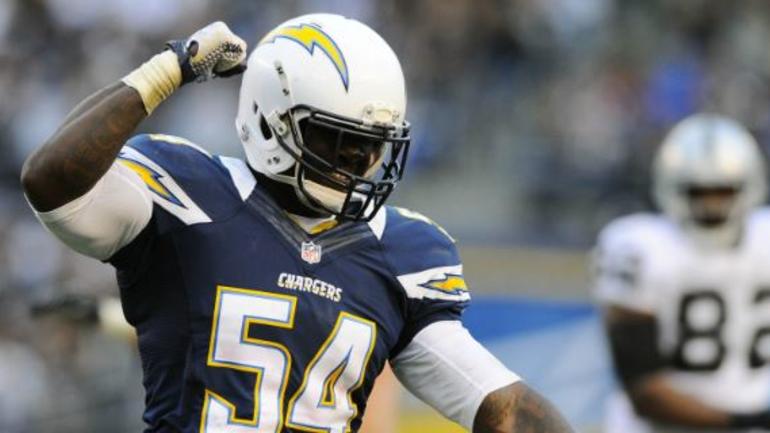 The Chargers have plenty of cap space, so on paper, it looks like he'd be a easy bet to join the team in Los Angeles. However, this year's Joey Bosa holdout highlighted the front office's shrewd style when it comes to negotiating big contracts, and Ingram is going to explore the open market to see how much he can get. Enter the Ravens, who are looking for an upgrade off the edge.
6) OLB Chandler Jones - Arizona Cardinals
Arizona acquired Jones from the Patriots before the season started, and they didn't make that trade for Jones to be a one-year rental. They'll do everything they can to re-sign him, even it that means prioritizing him over Calais Campbell and risking Campbell signing elsewhere.
5) WR Alshon Jeffery - Tennessee Titans
Chicago is in full-on rebuilding mode, and after franchising Jeffery last year, the Bears are unlikely to use the tag on him again - and they're also unlikely to give him the high-priced contract he'll demand on the open market (in part due to his four-game suspension this season for violating the league's performance-enhancing drug policy). Still, he's an elite red zone threat and a very good wide receiver at just 26 years old.
Tennessee has a bunch of money to spend and need to give Marcus Mariota a go-to receiver. Jeffery is the perfect option for them.
4) DT Kawann Short - Carolina Panthers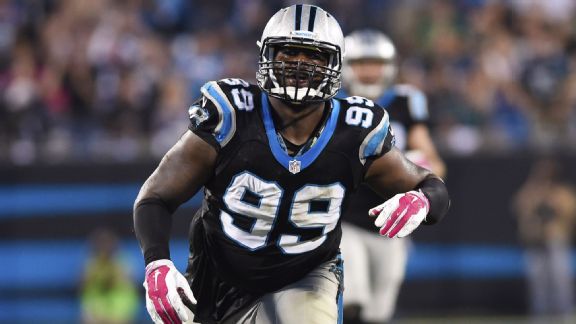 Short is due a big pay raise this offseason, and Carolina intends to franchise tag him if both sides can't agree to a long-term deal. Short has indicated that he may hold out and not sign the franchise tag tender, yet after the Panthers pulled the tag from Josh Norman last offseason, he may be quicker to sign it. Either way, Carolina will likely do whatever they can to bring Short back.
3) QB Kirk Cousins - Washington Redskins
Bottom line, Cousins will be back in Washington next year. The two sides are trying to work out a long-term deal, and the Redskins will tag him for the second straight year if a deal can't be reached. Cousins has also said he will also play under the franchise tag again. 
2) FS Eric Berry - Kansas City Chiefs
Berry played under the franchise tag in Kansas City last year, and after failing to reach a contract extension with the Chiefs, said he "doesn't feel comfortable" playing under the franchise tag again next year. That means he'll test the open market, but the Chiefs won't let arguably their biggest star get away.
1) RB Le'Veon Bell - Pittsburgh Steelers
Bell has gone on record saying that he wants to be paid like the NFL's best running back, which isn't an undeserved demand. That said, Pittsburgh has been somewhat resilient to the idea of giving him a long-term deal because of his injury history and because of how the position has been devalued over the past decade. But they aren't letting him get away. The Steelers will use their franchise tag on him.
Back to the NFL Newsfeed
Related Topics: DeSean Jackson, Le'Veon Bell, Stephon Gilmore, NFL Rumors, Kirk Cousins, Eric Berry, NFL News, Melvin Ingram, Chandler Jones, Alshon Jeffery, Kawann Short