We're approaching the stretch run of the NFL season already and several coaches already know they are coaching for their jobs for the remainder of the season. A big win or two can take one of these coaches off the list, while a few other coaches could find themselves on it if their teams struggle. So, which teams could be looking for a new head coach this offseason? Here are the six that are the most likely to fire their coach:
6) Chicago Bears - John Fox
Fox knew that he was entering the 2017 season on the hot seat after the Bears posted a disappointing 3-13 record last season. Expectations for Chicago are lower as they are clearly in rebuild mode, but Fox needs to show that this team is moving in the right direction if he wants to ensure his return to the franchise next season - and that's not happening. He'll be back if Mitch Trubisky starts to turn things around, but probably won't if this team continues to look flat.
5) Cleveland Browns - Hue Jackson
We knew the Browns were going to struggle this year. However, they've already let many opportunities for wins slide through their fingers and haven't shown much progress in Year 2 under Jackson. Yes, the Browns have a poor (although young) roster and have acknowledged that they're in for a long-term rebuild. However, they're also a franchise that usually fires their coach after a year or two (they've done that for the past decade), and Jackson is feuding with the front office. Jackson isn't supposed to win a bunch of games right now, but that doesn't mean he's done a good job. 
4) Tampa Bay Buccaneers - Dirk Koetter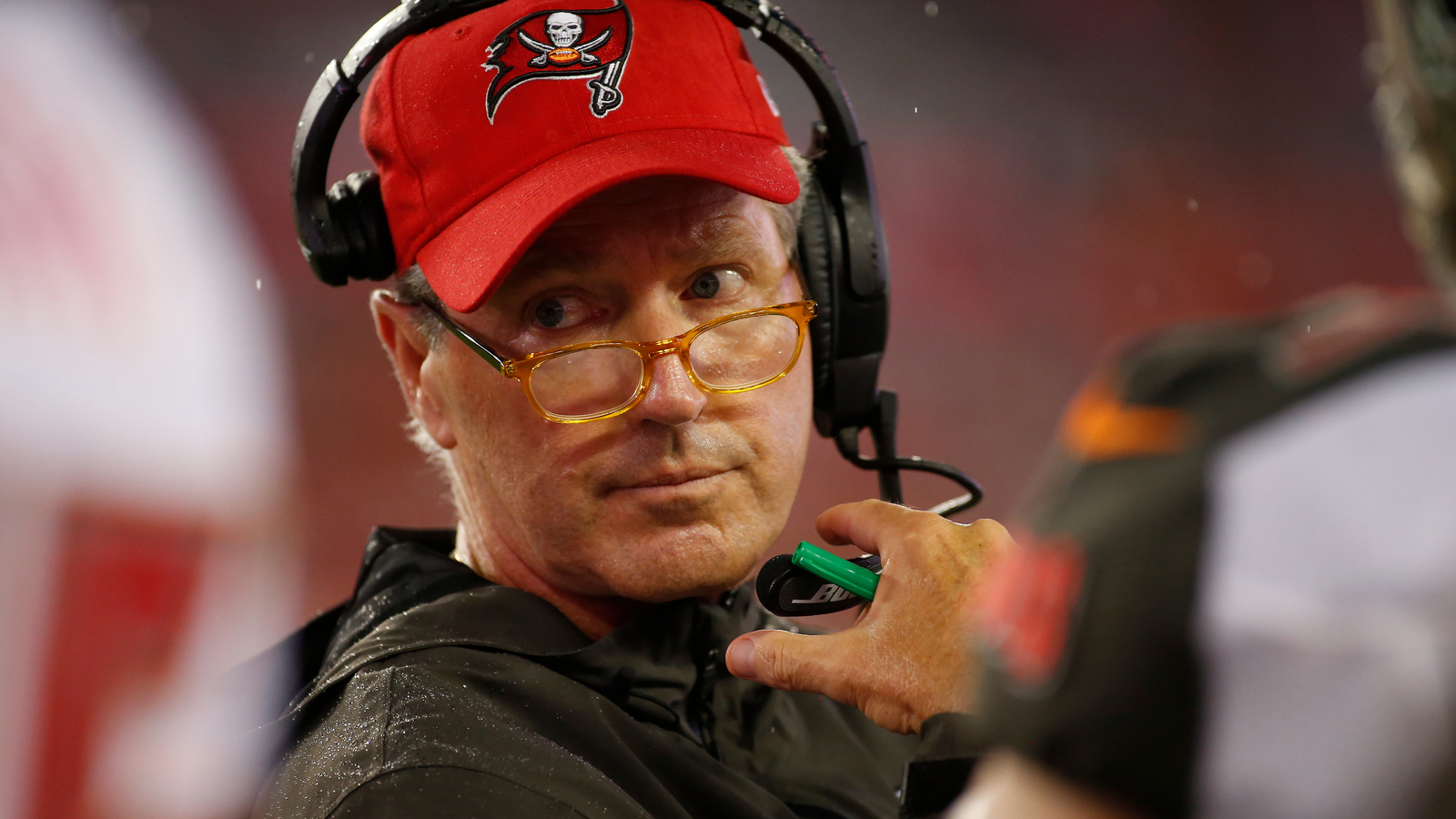 So far, the Dirk Koetter experiment has been a disaster in Tampa Bay. The Bucs were nearly a playoff team last year, but they look totally outcoached this year on their way to a 3-6 record. There's talent - this team was expected to make the playoffs - but the Bucs coaching staff has been subpar and have lost the trust of some of the players. Tampa knows they have a limited window to contend and want to make the most of it. That means potentially firing Koetter.
Need a new NFL Podcast? Chat Sports has you covered with NFL Daily:
3) Cincinnati Bengals - Marvin Lewis
This has to happen this year, right? It's really incredible how Lewis has escaped the chopping block each of the last three years, especially after finishing 6-9-1 last season - and a 3-6 record this year is not helping his case. Lewis is in the final year of his contract, so owner Mike Brown - who didn't want to spend the money to get rid of Lewis early - won't have to buy him out. Lewis will last through the season, but the Bengals might finally make a change.
2) Indianapolis Colts - Chuck Pagano
Pagano is the first of two locks to be fired at the end of the season. He started the year in the top spot after owner Jim Irsay reportedly chased Jon Gruden this past offseason, and the Colts were already plotting to replace Pagano. The Colts might be 3-6, but those wins are over terrible teams and Indianapolis won't have Andrew Luck this year. The Colts are likely to have double-digit losses, which will be more than enough to cost Pagano his job.
Are you a fantasy football fan? Then check out The Fantasy Football Rumors Podcast! 
1) New York Giants - Ben McAdoo
McAdoo is a disaster. The year started with expectations of winning the NFC East, but now, the Giants are 1-8 and players look like they've quit while McAdoo can't even answer questions like "what did you tell your team at halftime?" This trainwreck will (thankfully) come to a halt sooner rather than later.
Check out our NFL page for more NFL rumors or download the Chat Sports App!
Back to the NFL Newsfeed
Related Topics: NFL Coaching Rumors, NFL News