The 2016 NFL Draft is still months away, but that doesn't mean we can't take a look at the top QB prospects. Teams like the Houston Texans, New York Jets, Cleveland Browns, Dallas Cowboys, Philadelphia Eagles, San Francisco 49ers, and Chicago Bears could all look to add a QB this offseason. If you're a fan of one of those teams, or just of the NFL Draft, this list is perfect for you. While there are many QB prospects that could be drafted, we've narrowed it down to the top six. It's not a great QB class, and it wouldn't be surprising to see only a few QBs go in the first three rounds. With that in mind, here are our The Top 6 QBs In The 2016 NFL Draft: 
6. Cardale Jones, Ohio State
Jones' stock dropped after returning to Ohio State for another season, as he lost the starting job. He didn't look that great in his final season, but he wasn't in the ideal offense. He has great size and arm strenght, and there are surely a few teams and coaches out there that think they can get the most out of him. He's very raw, but does have some potential. He reminds me of Logan Thomas, although he's a better passer than Thomas was coming out of Virginia Tech. 
5. Connor Cook, Michigan State
Cook is playing in a pro-style system at Michigan State, which will help him. He strikes me as a solid game-manager at the next level, but his accuracy wasn't great last season. There's a slim chance ge could sneak into the second round, but will more likely be a Day Two pick, or even early on Day 3. There are questions about his leadership ability. For more on the NFL Draft, download the Chat Sports Android and iPhone app. 
4. Christian Hackenberg, Penn State There won't be a more polarizing QB in this year's draft. Hackenberg has every single tool teams look for in a franchise QB. However, he's struggled in his last two years at Penn State with accuracy and turnovers. His numbers are hurt by playing behind a terrible offensive line that failed to give him any time in the pocket. Hackenberg is the perfect example of beauty being in the eye of the beholder. Some teams will love him and some teams will hate him. It only takes one team to pull the trigger and Hackenberg could be off the board by the end of Day Two. 
3. Paxton Lynch, Memphis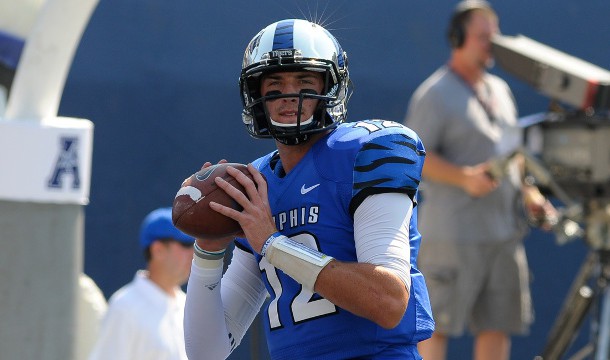 Lynch made his name known following an upset win over Ole Miss. That game forced everyone to take a closer look at Lynch, and he's a talented QB. He has incredible size and great arm strength. He can make every NFL throw and hasn't committed many turnovers. He's an underrated runner too, although his down finish to the year hurt his stock. Lynch should be a first round pick, but appears to be stuck behind the next two QBs on this list. There will be a bit of a learning curve for Lynch, but he could turn into a franchise QB. 
2. Carson Wentz, North Dakota State
Wentz was once an unknown prospect for those that weren't true draft nuts. But his stock is on fire, thanks in part to a strong Senior Bowl showing. He's now likely to be a first round pick, and could very well be the first QB taken. Wentz was the top FCS QB and has the raw ability to develop into a franchise QB. He's got the size and arm strength, but does need to be coached up. His hype train is already at full speed. 
1. Jared Goff, Cal The No. 1 QB is still Goff. He struggled at times this season, but Goff carried the Cal offense all year long. He's a bit of a gunslinger, which gets him into trouble with turnovers. However, he makes plays and has the size, arm strength and accuracy NFL teams want. He needs to add a bit more weight, although he's not as thin as Teddy Bridgewater. Goff doesn't run much, but can move in the pocket. He reminds me of Matt Ryan, and I'm far from the only one. I'm a big fan of Goff and I'd be shocked if he wasn't a first round pick. 
Back to the NFL Newsfeed
Related Topics: Paxton Lynch, Christian Hackenberg, Cardale Jones, Carson Wentz, Jared Goff, Connor Cook, NFL Draft, 2016 NFL Draft