There has been a general shortage of NFL rookies who can come in and make an immediate impact on their new teams, but several first-year players are already making their names known around the league. Here are the 10 that have been the best so far this season, according to Pro Football Focus and their grading system:
10) Joey Bosa, DE, San Diego Chargers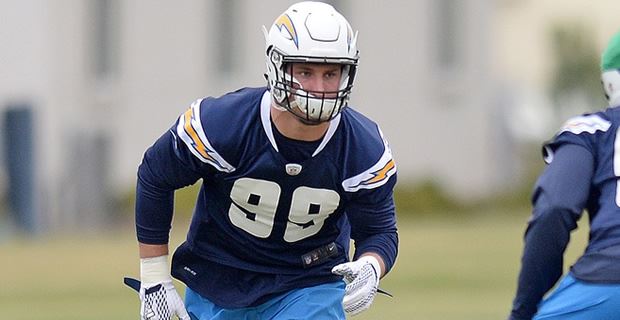 PFF: "It only took Joey Bosa 27 snaps in his NFL debut to put up the highest-graded game from any rookie defensive lineman this season. The grade wasn't earned against a less-talented opponent, either, as he took Raiders veteran LT Donald Penn to task multiple times. Bosa recorded two sacks, a hit, and four pressures in 20 pass-rushing snaps. If that becomes the norm from here on out, he'll be challenging for a top-three spot on this list sooner rather than later."
9) Kyler Fackrell, OLB, Green Bay Packers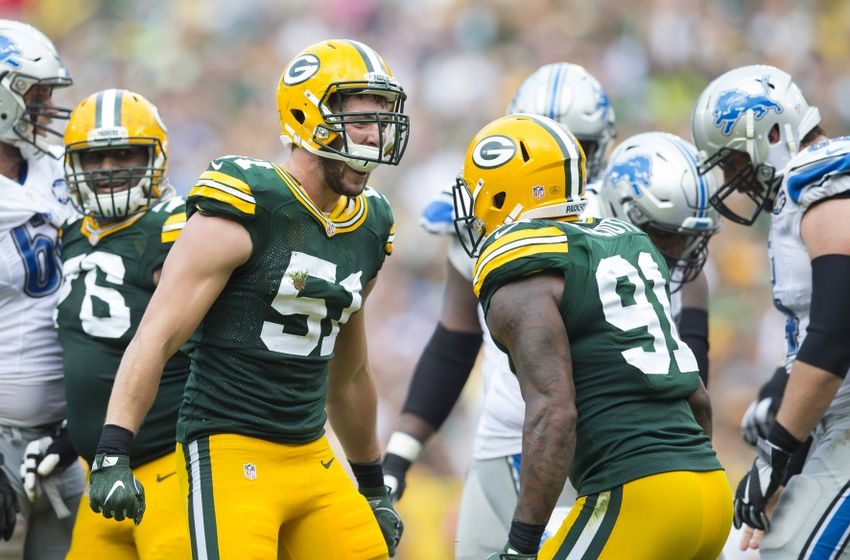 PFF: "Kyler Fackrell continues to be an effective third-down pass-rusher, and after recording his highest-graded game of the season against the Giants, the former Utah State standout finally makes this list. Fackrell's 15.1 pass-rushing productivity mark on 44 pass-rushing snaps puts him at fifth among qualifying outside linebackers—and only 1.5 points behind Broncos OLB Von Miller."
8) Tavon Young, CB, Baltimore Ravens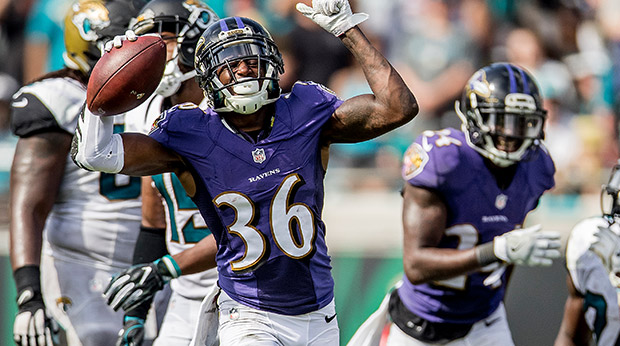 PFF: "Tavon Young was playing in sub-packages the first four weeks of the season before finally getting the start against Washington, where he maintained his high level of play. His 0.62 yards per coverage snap are better than the likes of Seahawks CB Richard Sherman and Broncos CB Chris Harris Jr. at this point."
7) Ezekiel Elliott, RB, Dallas Cowboys
PFF: "Almost the unanimous preseason favorite to win Rookie of the Year, Elliott got off to a slow start before coming on strong with 412 rushing yards over the past three weeks. His vision and explosiveness are everything people thought they'd be coming out of Ohio State. This weekend's matchup against the Packers' No. 1-ranked run defense should be a nice test for the rookie."
6) Brian Poole, CB, Atlanta Falcons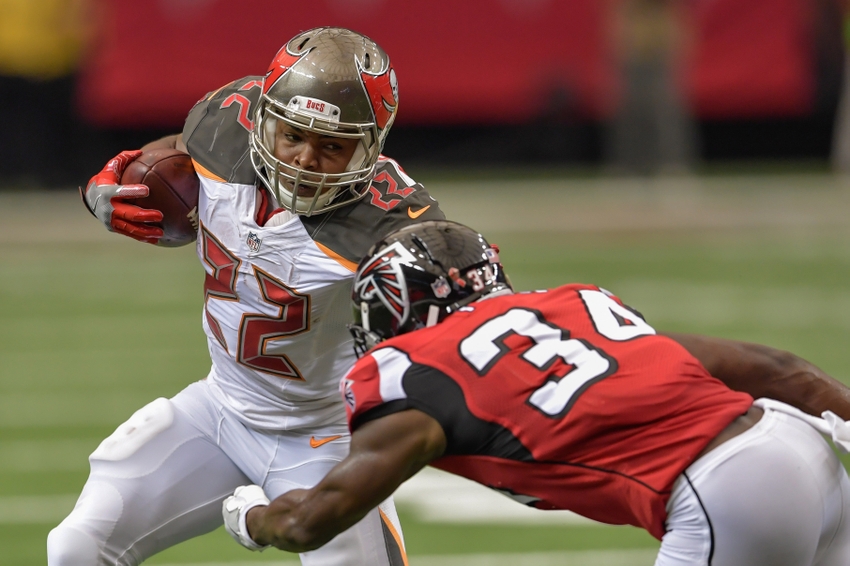 PFF: "Undrafted free agents, whether consciously or subconsciously, never seem to get the benefit of the doubt in the arena of public perception. When are they going to justify everyone's preconceived notions of their talent? For Poole, it's looking like that day may not come this year. He's the Falcons second-highest graded corner behind Desmond Trufant, and is among the top 10 cornerbacks league-wide in yards per coverage snap surrendered."
5) Cody Whitehair, C, Chicago Bears
PFF: "Yet another rookie where you can disregard his inexperience, Whitehair is already playing at a level that's among the best centers in the NFL. He's now the sixth-highest graded center in the league after dominating the Colts' front on Sunday. On runs directly through the A-gaps this year, Bears running backs are averaging 6.8 yards per carry."
4) Jack Conklin, RT, Tennessee Titans
PFF: "Jack Conklin finally started to show those pass-protection flaws that everyone was worried about coming out of Michigan State. Against Cameron Wake, the Tennessee right tackle couldn't quite adjust to his speed, resulting in Conklin's lowest grade of the season, albeit still only slightly-below average. For the year, Conklin is the third-highest graded right tackle in the NFL."
3) Rashard Robinson, CB, San Francisco 49ers
PFF: "Forget rookies—out of all of the cornerbacks in the NFL, no one has given up fewer yards per coverage snap than Rashard Robinson (0.33). In 94 snaps, he's been targeted nine times and allowed a grand total of 31 yards on four receptions. Those numbers are out of this world for a first-year DB. He finally moved into a starting role the past two weeks, and has shown no signs of slowing down."
2) Dak Prescott, QB, Dallas Cowboys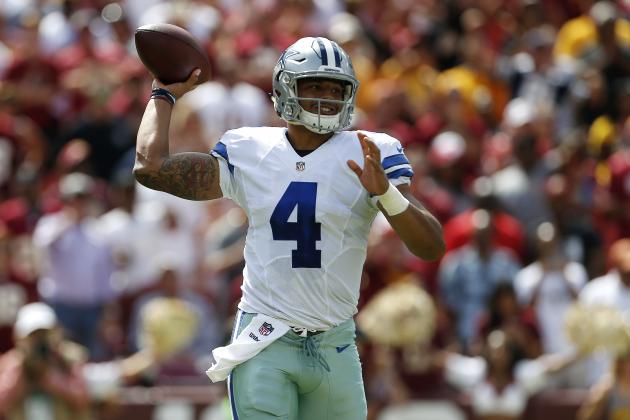 PFF: "With each passing week, Dak Prescott goes from a nice fill-in to possibly still the starter when Tony Romo returns. If you're looking for obvious flaws to point out in the rookie's, game they are few and far between at this point. The biggest knock would have to be his deep passing, where he's only been accurate on two of nine attempts 20+ yards downfield. That has been offset, though, by his impeccable decision-making, as Prescott's one turnover-worthy throw is the fewest of any starter in the league."
1) Carson Wentz, QB, Philadelphia Eagles
PFF: "Carson Wentz finally threw an interception in the Eagles' first loss of the season, but once again, the good seemed to outweigh the bad. Wentz had a couple of other ugly, off-target throws, but those have been very rare exceptions until this point. The Eagles' quarterback would still have a completion percentage of 60.0 on the year even if you threw out every pass he's thrown under 10 yards downfield. Through four games, at least, we're witnessing something truly special from this rookie."
Back to the NFL Newsfeed
Related Topics: Jack Conklin, Joey Bosa, Dak Prescott, Ezekiel Elliott, Carson Wentz, Bears News, Cody Whitehair, Chargers News, NFL News, Falcons News, Cowboys News, Titans News, Rashard Robinson, 49ers News, Eagles News, Tavon Young, Brian Poole, Kyler Fackrell, Packers News, Ravens News