Young wide receivers are making as big of an impact in the NFL as ever, as shown by young stars like DeAndre Hopkins, Amari Cooper, Jarvis Landry and Odell Beckham Jr., and there are plenty of current college players ready to join them next year. Here are the top five wide receiver prospects for the 2017 NFL Draft:
5) K.D. Cannon, Baylor Bears
A perfect fit for Baylor's offense, Cannon posted 50 catches for 868 yards and six scores. Those numbers fell from 58/1,030/8, although Baylor's injuries at QB played a major role in that. With Corey Coleman in the NFL, Cannon is now the No. 1 wide out for the Bears. He's not the biggest guy, but he will be a legitimate deep threat at the next level.
4) Corey Davis, Western Michigan Broncos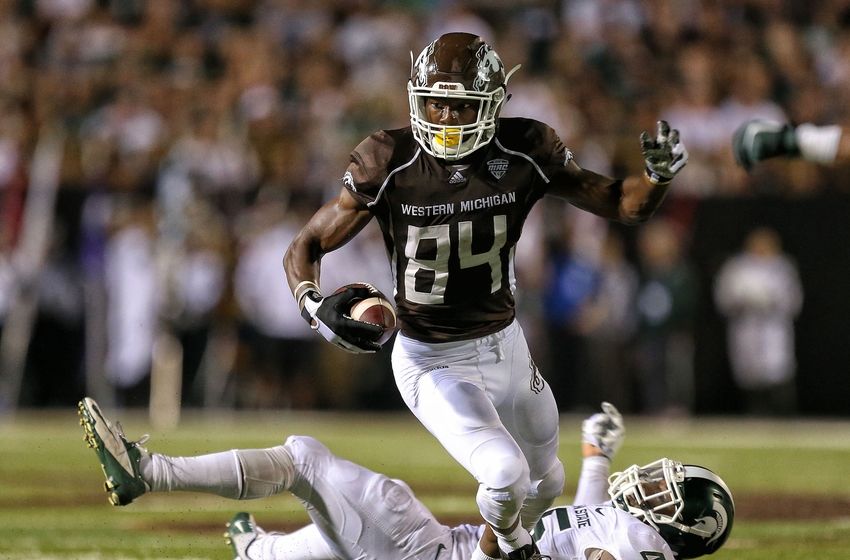 Davis doesn't have elite speed, but he has everything else you could want in a receiver. At 6'3" and 215 lbs, he has elite size to go along with excellent ball skills, and is perhaps the best route-runner in the country. You may not hear a lot about him because he plays at Western Michigan, but you will soon enough.
3) Mike Williams, Clemson Tigers
Williams had a scary neck injury last year, and that could be an issue going forward. If he checks out medically, he'll be a first rounder. Clemson's coaches put him in the same class as Sammy Watkins, Martavis Bryant and DeAndre Hopkins, and it's easy to see why. He has game-breaking speed at 6'3" and 225 lbs, and he's a threat to score any time he touches the ball.
2) JuJu Smith Schuster, USC Trojans
Smith-Schuster is the kind of dynamic athlete that gives him superstar potential. He has very good size at 6'2" and 215 lbs to go along with that athleticism, but most importantly, he's a football player - not an athlete that is trying to play football. Smith-Schuster is an excellent route-runner with superb hands.
1) Malachi Dupre, LSU Tigers
The top receiver prospect in the class of 2017, Dupre has been limited in college because of LSU's poor quarterback play - but don't hold that against him. At 6'3" and 190 lbs., he has catching ability and athleticism that has people in Baton Rouge comparing him to Odell Bechkam Jr. Though he may not be that good, Dupre is an athletic freak that will be a game-breaker in the NFL.
Back to the NFL Newsfeed
Related Topics: Mike Williams, LSU Tigers Football, Baylor Bears Football, NFL News, K.D. Cannon, Malachi Dupre, JuJu Smith-Schuster, USC Trojans Football, 2017 NFL Draft, Corey Davis, Clemson Tigers Football, Western Michigan Broncos Football