We often hear about the best quarterback-wide receiver duos in the NFL, but having a great quarterback and great running back is actually more indicative of a team's success. Having reliable players who can control both phases of an offense usually leads to wins. As such, here are the top QB-RB combos in the NFL:
7) Tyrod Taylor, LeSean McCoy - Buffalo Bills
There are questions about Tyrod Taylor's future in Buffalo, but he has proven to be a capable starter, throwing for over 3,000 yards with 17 touchdowns and just six interceptions on the year. Add in his rushing ability (580 yards, six touchdowns) with LeSean McCoy's (1,257 yards, 13 touchdowns), and you have the most dangerous rushing duo in the league.
6) Russell Wilson, Thomas Rawls - Seattle Seahawks
Rawls has missed most of the season due to injury, but when healthy, he has proven to be the ideal running back for Seattle's system. Russell Wilson has also emerged as one of the game's elite quarterbacks, and is often relied on to carry the entire offense.
5) Carson Palmer, David Johnson - Arizona Cardinals
Yes, Carson Palmer has struggled this season with 13 interceptions, but he is still on pace to throw for over 4,000 yards for the fourth time in the last five years. Then there's David Johnson, who has quietly been the second-most dominant running back in the entire league, picking up 1,233 yards and 16 touchdowns on the ground with 841 receiving yards and four more scores.
4) Matt Ryan, Devonta Freeman - Atlanta Falcons
Ryan is the favorite to win his first MVP award and leads the league in quarterback rating, along with being third in passing yards, completion percentage and touchdowns. Freeman has been as good as ever as well, and is set to rush for over 1,000 yards for the second straight season while splitting time with Tevin Coleman.
3) Tom Brady, LeGarrette Blount - New England Patriots
Tom Brady needs no introduction - we know he is one of if not the best quarterback in NFL history. However, they make this list because Blount has had a career year, rushing for 1,110 yards while leading the league with 17 touchdowns.
2) Dak Prescott, Ezekiel Elliott - Dallas Cowboys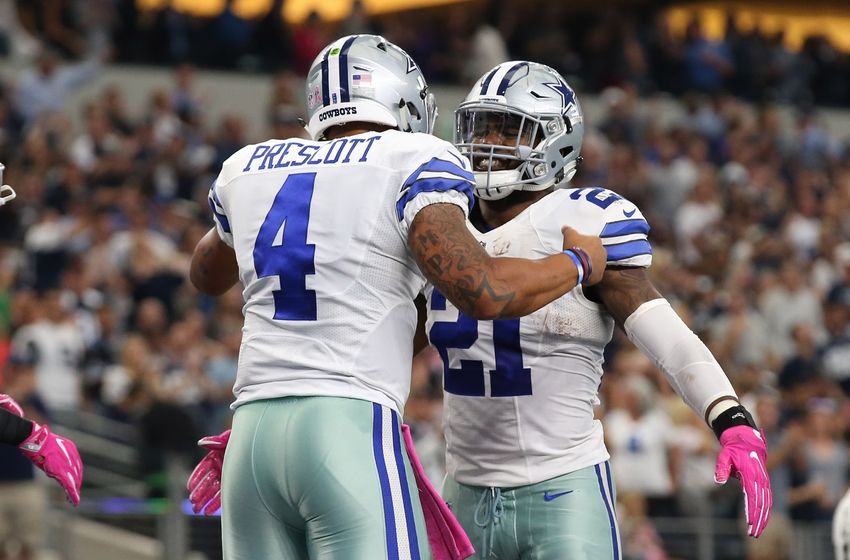 These two rookies have carried the Cowboys to the best record in the NFL, so it's no surprise to see them on this list. Elliott leads the league in rushing (1,631 yards) as a rookie, and is nearly 400 yards ahead of second place (Le'Veon Bell). As for Prescott, his stats may not blow you away, but he has only thrown four interceptions and has tied the rookie record for most wins in a season.
1) Ben Roethlisberger, Le'Veon Bell - Pittsburgh Steelers
You could arguably put Prescott and Elliott in this top spot, but Roethlisberger and Bell deserve it. He has thrown for 3,819 yards with 29 touchdowns this season, and has proven throughout his career that he can win games by himself - which Prescott has yet to do (doesn't mean he can't, he just hasn't as a rookie). As for Bell, he's the NFL's second-leading rusher with 1,268 yards despite missing the first three games of the season.
Back to the NFL Newsfeed
Related Topics: Devonta Freeman, Le'Veon Bell, Matt Ryan, Tyrod Taylor, Thomas Rawls, Bills News, Steelers news, LeGarrette Blount, David Johnson, NFL News, Tom Brady, Russell Wilson, Ezekiel Elliott, Cardinals News, Falcons News, Cowboys News, Carson Palmer, Dak Prescott, LeSean McCoy, Seahawks News, Patriots News, Ben Roethlisberger