Quarterback is the most important position in football, so it's no surprise when top-level players receiver record-breaking deal after record-breaking deal. However, teams have been giving those huge deals to mediocre quarterbacks in fear of getting worse at the position - and are now stuck with some of the worst contracts in the NFL. Here are the five worst quarterback contracts by value in the league:
5) Brock Osweiler, Houston Texans
Houston gave Osweiler a four-year, $72 million deal with $37 million guaranteed over the first two seasons of the contract - despite him starting just seven games in his career. Now, Osweiler was respectable in the games he started, but that's still a HUGE gamble on a guy with little experience and a 48.8 QBR. He could easily take himself off this list with strong play, but for now, he sits here.
4) Jay Cutler, Chicago Bears
Cutler is owed over $18 million on average over the next five years, and his inconsistency and tendency to turn the ball over makes this a bad contract for Chicago. First off, he has only led his team to the playoffs one time in his 10-year career. Cutler has also developed a bit of an injury problem, as he hasn't played a full 16-game season since his first season with the Bears in 2009. He's not making as much money as some of the other guys on this list, but his unproven track record and unreliability make it a bad deal.
3) Matthew Stafford, Detroit Lions
Stafford is owed nearly $45 million over the next two seasons, and he certainly has the numbers to back it up - however, the wins are lacking. He has only led Detroit to the playoffs twice, and has yet to win a playoff game. His numbers and play were also aided by playing alongside Calvin Johnson. Now that he's gone, Stafford's job will only get tougher.
2) Joe Flacco, Baltimore Ravens
Flacco is due an average of $25.1 million over the next six years, a huge chunk of money for a player that hasn't been anything more than an average quarterback since winning the Super Bowl. According to Pro Football Focus, Flacco had the worst quarterback rating of any QB who had 400 dropbacks, and there are several major plateaus he hasn't reached that are troubling. He has never thrown for 4,000 yards, has never thrown more than 27 touchdowns in a season, and has never thrown less than 10 interceptions in a season. None of that seems to deserve "elite" money.
1) Colin Kaepernick, San Francisco 49ers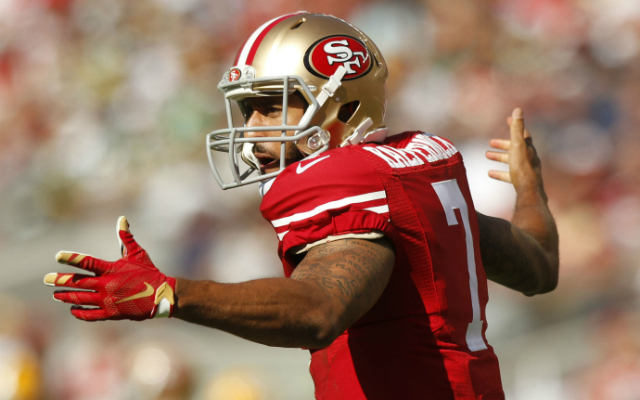 No surprise here. Kaepernick lost his starting job to Blaine Gabbert last season, and there's a good chance he may not get it back this year - even though he seems to be the perfect fit for head coach Chip Kelly's offense. His play has steadily declined since his breakout season in 2012. The 49ers are paying Kaepernick an average of $19.1 million over the next five years, and though they can cut their losses by releasing him after the season, it's still a lot of money to pay for who PFF says was the least accurate quarterback in the league.
Kaepernick no longer has a positive impact on his team - and he'll still make top-level quarterback money.
Back to the NFL Newsfeed
Related Topics: Joe Flacco, Ravens News, Lions News, Bears News, NFL News, Matthew Stafford, Jay Cutler, Colin Kaepernick, 49ers News, Brock Osweiler, Texans News