The NFL Draft is just a month away, and plenty of rumors are already flying around about who will be drafted where. Most of those rumors are centered around the quarterback position, as a few teams are looking for the future face of their franchise. Here are the top five quarterback prospects in the draft - and where they will be drafted:
Carson Wentz - Cleveland Browns (Round 1, Pick #2)
Despite playing at North Dakota State and the Browns signing Robert Griffin III this offseason, they are locked into drafting Wentz to be their quarterback of the future. Wentz is a proven winner, capturing four straight national titles during his four years at NDSU, has elite size (6'6", 235 lbs), good arm talent, and is used to running a pro-style offense. Head coach Hue Jackson and the entire front office are enamored with him, making him the pick.
Jared Goff - Philadelphia Eagles (Round 1, Pick #8)
Eagles owner Jeffrey Lurie and head coach Doug Pederson have not been shy about their intentions to draft a quarterback this year, and if Goff falls to them at No. 8, they would be more than happy to take him. Goff has been heavily linked to the 49ers with the No. 7 pick, but San Francisco's intentions to keep Colin Kaepernick mean they'll pass on a quarterback in the draft. He would be the quarterback of the future while learning behind Sam Bradford.
Paxton Lynch - New York Jets (Round 1, Pick #20)
New York hasn't been able to re-sign starting quarterback Ryan Fitzpatrick this offseason because they don't want to meet his $16 million per season asking price, and since they have "little to no faith" in Geno Smith, they're looking to find someone that can start. Lynch is still raw as a prospect, but he would be the best guy available with their pick. Don't be surprised to see the Jets trade up to land a quarterback, whether it be Lynch, Goff, or Wentz.
Connor Cook - Denver Broncos (Round 2, Pick #63)
Unlike the rest of these teams, Denver might need to pull the trigger a round earlier because of where the Broncos are picking. While John Elway might have concerns about Cook's accuracy, but Cook would fit in the Broncos' run-first offense. The Broncos likely wouldn't ask Cook to start right away, although Denver is one of the few places he probably could start and find success his rookie year.
Dak Prescott - Buffalo Bills (Round 3, Pick #80)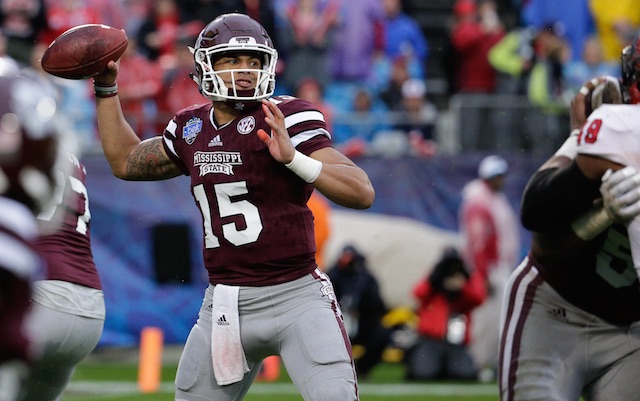 Buffalo is another team looking for their quarterback of the future instead of someone to start day one, and they're really high on Prescott as a mid-round pick. A vastly improved passer, head coach Rex Ryan loves Prescott's leadership skills, physicality and mobility. They'll draft him with the hope he can sit, learn and take over for Tyrod Taylor in a few years.
Back to the NFL Newsfeed
Related Topics: Paxton Lynch, Dak Prescott, Carson Wentz, NFL Draft News, Jared Goff, Browns News, Broncos News, NFL News, Connor Cook, NFL Draft Rumors, Bills News, Eagles Draft News, Jets News