We're already seven weeks into the NFL season, and playoff contenders are already starting to separate themselves from the pack. On the flip side, there are also a few teams that have bottomed out and are competing for the top pick in the draft instead of a postseason spot. Here are the five worst teams in the NFL right now:
5) Baltimore Ravens Yes, the Ravens are just 1-6 on the season, but all have come by one possession or less - and they had the ball with less than two minutes left in all six games. Quarterback Joe Flacco is making due without any offensive weapons, but the defense is keeping them in games.
4) Houston Texans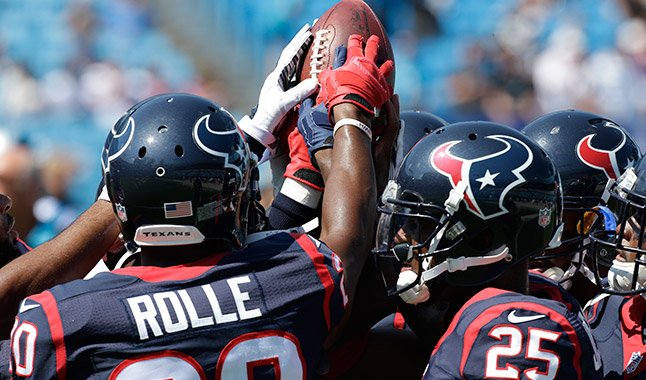 The Texans are simply a trainwreck. Star running back Arian Foster is out for the season with a torn Achilles, superstar defensive end J.J. Watt leads a defense that has been one of the worst in the league, and they just released Ryan Mallett, their backup quarterback. The only thing Houston has going for them is the fact they play in the worst division in football.
3) San Francisco 49ers
The 49ers were legitimate Super Bowl contenders just two years ago when the made the NFC Championship Game, but they've fallen to the bottom of the league very quickly. The defense hasn't fully recovered from losing Patrick Willis, Justin Smith, Aldon Smith, and Chris Boreland, quarterback Colin Kaepernick has been absolutely awful, and head coach Jim Tomsula seems like he's in over his head. They're just in a downward sprial it doesn't look like they'll climb out of anytime soon.
2) Detroit Lions
Detroit does have Matthew Stafford under center and one of the league's premier receivers in Calvin Johnson, but they don't have much else. The Lions sport the league's worst rushing attack and a defense that rnaks in the bottom four in the league - not a recipe for success.
1) Tennessee Titans
Quick - name one player on the Titans not named Marcus Mariota. See, that took you a second, didn't it?
Tennesse does have a few nice players on their roster, but they really lack any true difference-makers. Even in the AFC South, the worst division in the league, the Titans should be underdogs in the rest of the games they play this year.
Back to the NFL Newsfeed
Related Topics: Joe Flacco, Calvin Johnson, JJ Watt, Ravens News, Houston Texans, Jim Tomsula, NFL News, Matthew Stafford, Colin Kaepernick, 49ers News, Lions News, Arian Foster, Ryan Mallett, Titans News, Marcus Mariota