The NFL is first and foremost a business. Ask any borderline NFL talent on preseason cut days. They'll tell you just how fickle the game can be and how a career can be changed in an instant for the worse. On the other side of the spectrum are these 16 guys, who have solidified themselves as the very best in the game:
16) Carson Palmer, QB, Cardinals
Palmer is the major reason for the Cardinals emergence as one of the best teams in the NFL. He set career marks last season in passing yards with 4,671 and TDs with 35 while completing 63.7 percent of his passes. He got some deserved MVP consideration, and will likely get the same in 2016.
15) Marcus Peters, CB, Chiefs
Teams didn't seem to fear Peters last season, which was a mistake. He broke up a league-high 26 passes and intercepted eight, matching the Bengals' Reggie Nelson for the most in the NFL. Peters still has some growing to do and isn't a perfect corner, but there's no way to ignore his incredible season - as a rookie, no less. Expect him to be dominant in 2016. 
14) Odell Beckham Jr., WR, Giants
Beckham can make the circus catch better than anyone else in the world, but he continues to show that he's one of the best all-around receivers in the league. His speed was deadly before, and how that he has become an elite route-runner, he has become virtually unguardable. Once he gets more consistent, he'll be the best wideout in the league.
13) Tyron Smith, OT, Cowboys
I wanted to show the offensive line some love, and Smith graded out as the top linemen on ProFootballFocus. He's the best left tackle in the NFL and is great in the pass and run game. Linemen don't get much love, but they are incredibly important. Smith just beat out the likes of Joe Thomas and Marshall Yanda for this spot. 
12) Luke Kuechly, LB, Panthers
Kuechly is one of the best LBs in the NFL and well deserving of this spot. Despite missing time with a concussion, Kuechly still racked up 118 tackles, two forced fumbles, a fumble recovery and four picks in 2015. The Panthers defense is incredibly talented, and Kuechly's ability and leadership at MLB is a major reason for that. 
11) Rob Gronkowski, TE, Patriots
Gronk is arguably the most dominant offensive weapon in the league, as his combination of size, speed and skill has yet to be matched by any single defender. Even though he constantly demands double and triple teams, Gronkowski still caught 72 passes for 1,176 yards and 11 touchdowns last season - in just 15 games.
10) Josh Norman, CB, Redskins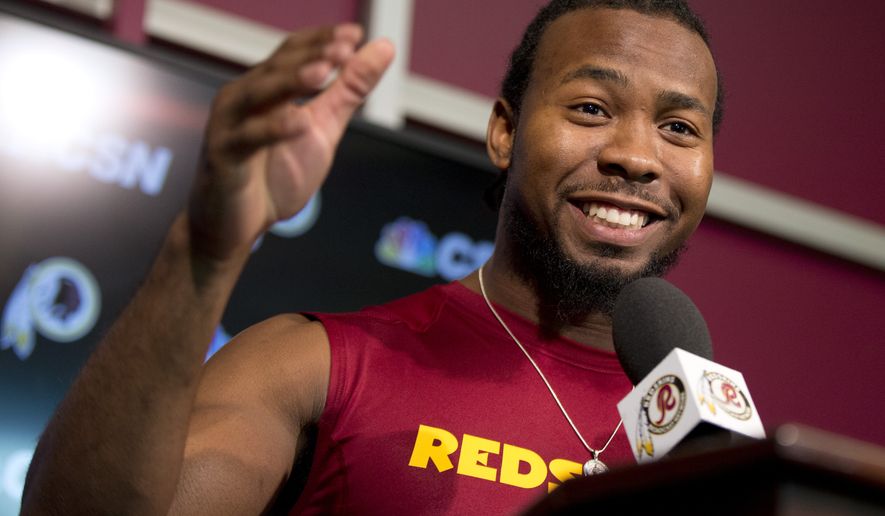 Norman showed his ability early in the season, picking off four passes in the first four games. Teams pretty much stopped targeting him after that, but teams still felt his impact. Norman will be tested again now that he's out of Carolina's system, but he's one of the few true lockdown corners in the NFL. 
9) DeAndre Hopkins, WR, Texans 
Hopkins posted an impressive 111 catches for 1,521 yards and 11 TDs. He was targeted 192 times and essentially was the Texans' passing attack in many games. While plenty of WRs put up great numbers, Hopkins gets the nod over them because opposing teams knew the Texans were going to throw it to Hopkins and still couldn't stop him. 
8) Aaron Rodgers, QB, Packers
Rodgers has largely been overshadowed by Carolina's Cam Newton and New England's Tom Brady over the last year, but don't start underestimating Rodgers or taking his greatness for granted. No one else in the league has his deadly combination of smarts, arm strength and accuracy, all of which kept a depleted Packers offense among the best in the league. Now that his weapons are fully healthy, watch out for another record year in 2016.
7) Antonio Brown, WR, Steelers
Despite injury issues at QB, Brown managed to catch 136 passes for 1,834 yards and 10 scores. A fantasy player's dream, Brown was the best WR in the NFL this year. It's fair to wonder if the Steelers-Broncos playoff matchup would have turned out different had Brown played. 
6) Adrian Peterson, RB, Vikings
Even though Peterson missed the entire 2014 season, he was still the best back in the NFL in 2015. He led the league in rushing with 1,485 yards and 11 touchdowns, averaging 4.5 yards per carry. There's no reason to think he's going to take a step back next year, and as long as he's humming along and running over defenders, the Vikings can beat anyone on any given night.
5) Tom Brady, QB, Patriots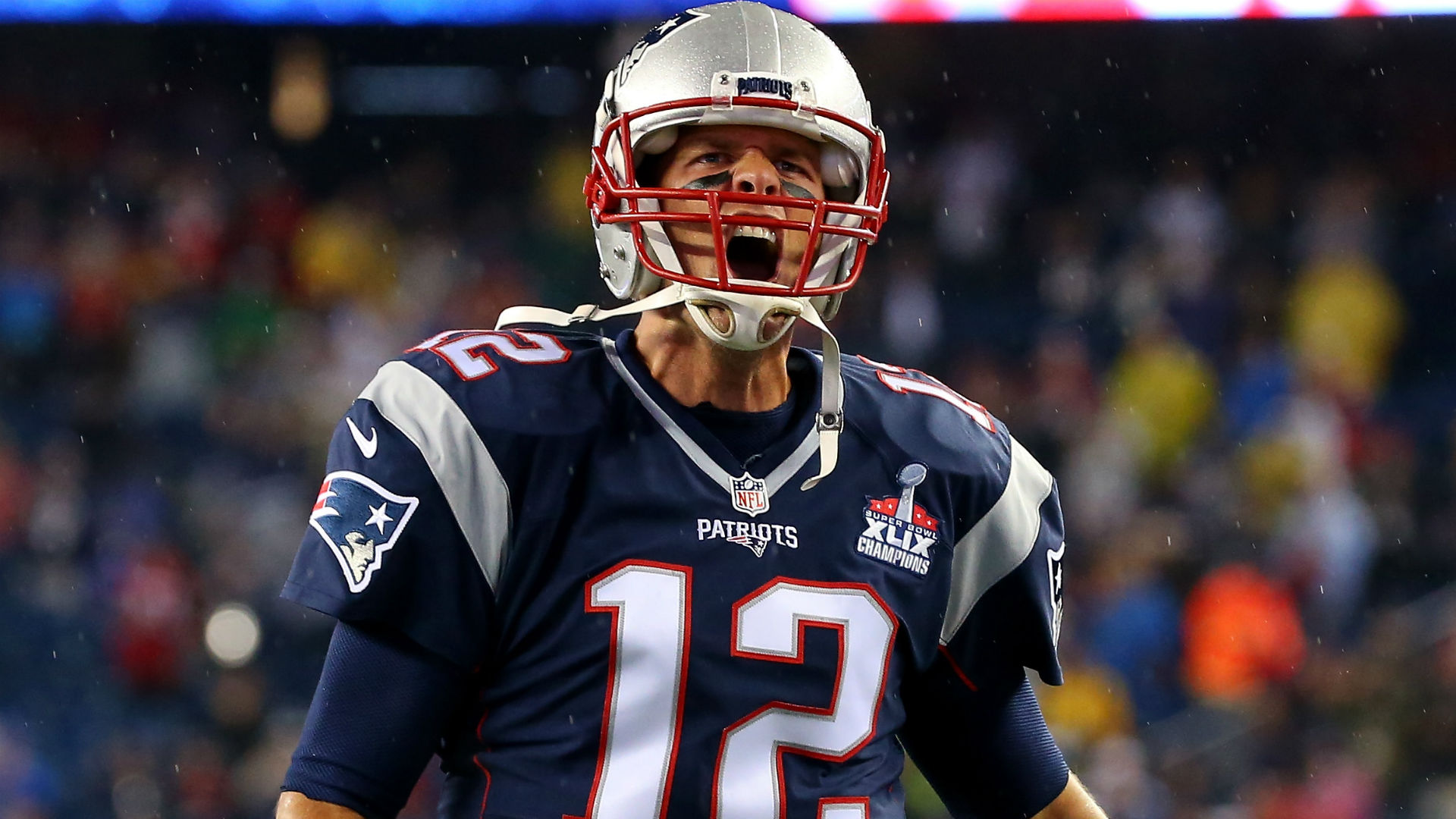 Of course Brady was going to make this list. He put together yet another impressive season, completing 64.4 percent of his passes for 4,770 yards and 36 TDs - he even added three short rushing TDs. Brady had a great season and there isn't much separation between Brady and the rest of the players ahead of him. 
4) J.J. Watt, DE, Texans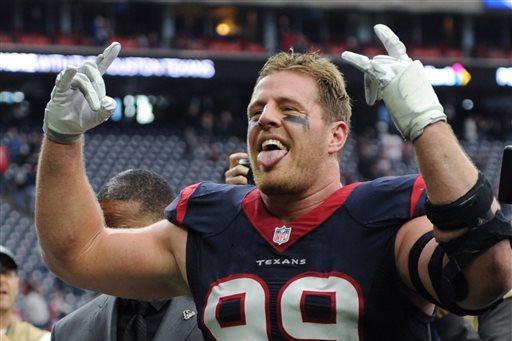 Another year and another great effort by Watt. He's one of the best defensive players in the league and his appearance shouldn't be a surprise. Watt wasn't quite as great as last year, but still recorded 17.5 sacks and 29 tackles for loss. He had a wonderful season, but two other defensive players rank ahead of him. 
3) Khalil Mack, OLB, Raiders 
Mack was so good last season, he made the AP All-Pro team at defensive end and linebacker - the first player in league history to do so. He racked up 77 tackles, 15 sacks and 23 tackles for loss. Mack is only going to get better and is a already at superstar status. 
2) Aaron Donald, DT, Rams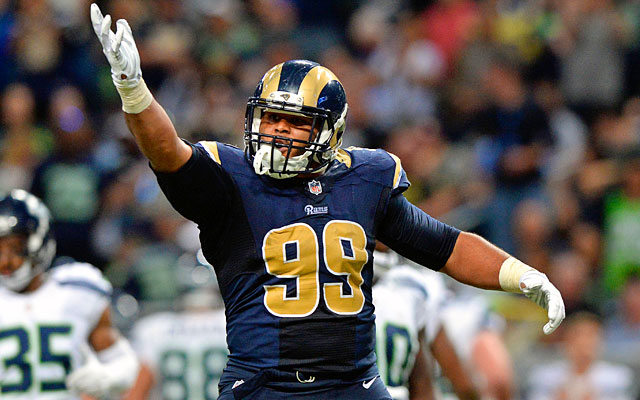 Donald doesn't get much love because he's a defensive tackle for the Rams. Donald was disruptive all season long, racking up 11 sacks. He may not have posted the same numbers as Watt or Mack, but had the best grade ever from PFF. There's no denying that he has emerged as the most dominant defensive player in the league.  
1) Cam Newton, QB, Panthers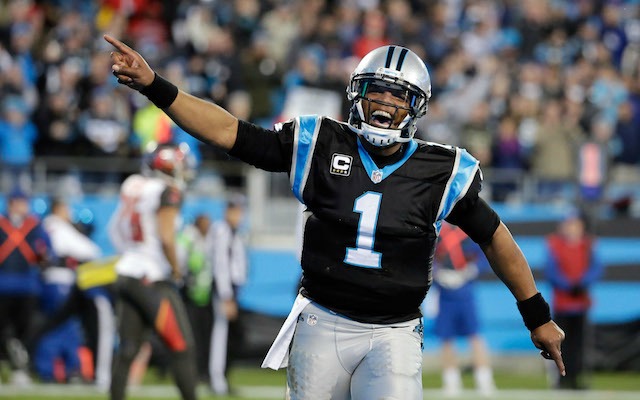 The MVP has to rank No. 1 on this list. He completed nearly 60 percent of his passes for 3,837 yards and 35 TDs while adding 636 yards and 10 scores on the ground. He dealt with limited weapons and a below-average offensive line, and did an incredible amount with so little around him. Newton will only put up better numbers with the return of Kelvin Benjamin, his top wideout.
Back to the NFL Newsfeed
Related Topics: Aaron Rodgers, Carson Palmer, DeAndre Hopkins, Luke Donald, Rob Gronkowski, Panthers News, Rams News, Luke Kuechly, Antonio Brown, Cardinals News, J.J. Watt, NFL News, Texans News, Cam Newton, Tom Brady, Patriots News, Khalil Mack, Steelers news, Raiders News, Packers News