Six weeks of the NFL season are complete, and the MVP picture is starting to take shape. We've narrowed down the candidate list, although someone not on this list can still make a run. It's not just stats and wins that determine the MVP, although those are incredibly important. It's also how much a player means to their team and how drastic the drop-off would be if the player in question were to miss time. Players like Tony Romo and Ben Roethlisberger weren't considered. They are incredibly valuable, but I can't put them on here until they return from injury. It's a QB-drive league, and that position is feature plenty on this list. With that in mind, here the NFL MVP Power Rankings after six weeks. 
10. Julio Jones, WR, Falcons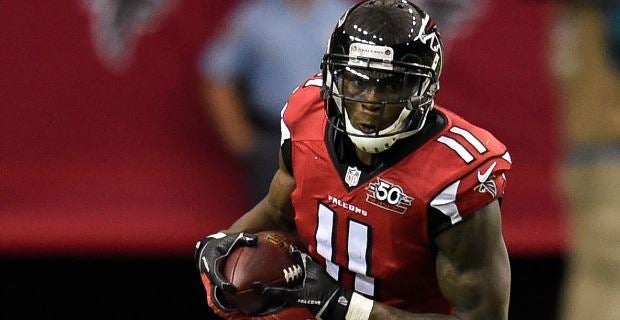 I strongly considered Matt Ryan here, especially since it's a QB-based league and Jones has slowed down slightly over the past few weeks. Still, Jones' production this year has been great. He's caught 49 passes for 638 yards and 4 TDs. He's done this despite being banged up the past few games. 
9. Devonta Freeman, RB, Falcons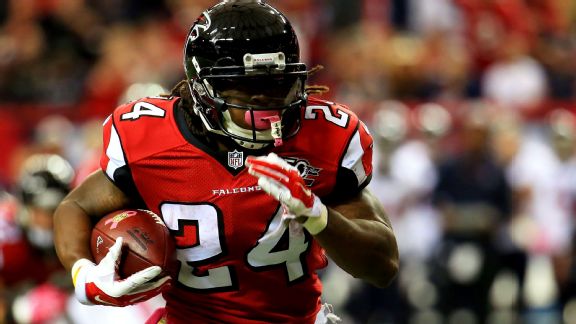 Freeman was the backup to start the season, which makes his 106 carries for 505 yards and 8 TDs even more impressive. He's added value in the receiving game as well, racking up 32 catches for 296 yards and 1 TD. The reason he isn't higher is because his numbers are inflated by an unsustainable TD rate and he's not that much better than Tevin Coleman. Freeman is talented, but I don't foresee a big drop in the running game if Coleman were to become the starter again. 
8. Chris Ivory, RB, Jets
Ivory's stat line of 83 carries for 460 and 4 TDs doesn't seem quite as impressive as Freeman's. Neither does his 29 catches for 227 yards and a TD. However, Ivory ranks higher than Freeman because Ivory is more important to his team. The Jets offense needs Ivory to be successful. Without Ivory, the Jets would be in real trouble. 
7. DeAndre Hopkins, WR, Texans 
Hopkins is the highest non-QB on this list and for good reason. He pretty much IS the Texans' offense. He's the only true threat for Houston and has still managed to reel in 52 catches for an NFL-high 726 yards and 5 TDs. Hopkins is highly unlikely to win MVP, especially given the Texans' record, but is worthy of recognition. 
6. Cam Newton, QB, Panthers
There might not be a QB in the NFL who has done so much with so little this year. Newton completing 55 percent of his passes for 1,078 yards, 8 TDs and 4 INTs isn't that impressive. Adding 225 yards and a score on the ground helps, but it's not the biggest reason Newton makes this list. Newton has almost nothing around him and still has the Panthers at 6-0. TE Greg Olsen is a weapon, but that's the only true threat Newton has. The rest of his WRs are castoffs, unless Devin Funchess can get going soon. Newton's offensive line is just awful, too. If Newton played on a team with better weapons or offensive line, his stats would be much higher. 
5. Philip Rivers, QB, Chargers 
Rivers is the only reason the Chargers have hung around in games this season. He's attempted a whopping 253 passes, yet has completed 70 percent of them in a one-dimensional offense. He's already eclipsed the 2,000 yard mark and has 12 touchdowns against 5 INTs. The Chargers can not run the ball, so opposing teams known Rivers is going to throw it a ton and yet still can't stop him. 
4. Carson Palmer, QB, Cardinals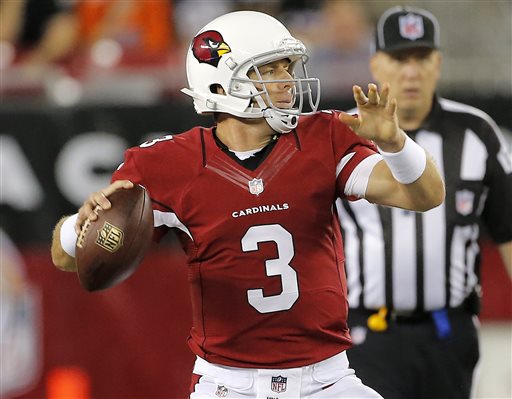 We saw what happened last season to the Cardinals without Palmer. He's the most important part of the team, and they'd be in serious trouble without him. This season, Palmer is completing 65 percent of his passes for 1,737 yards, 14 TDs and 5 INTs. If Palmer continues to play well, and the Cardinals continue to win, he'll be a staple in the Top 5. 
3. Andy Dalton, QB, Bengals 
Yes, I am serious about this. Dalton has had issues in the past and I understand that some won't trust him until he proves himself in the playoffs, but Dalton deserves this ranking. He's in the midst of his best season, completing 67 percent of his passes for 1,761 yards, 14 TDs and 2 INTs. Sure, his supporting cast is among the best in the NFL, but Dalton has played great this season. If the Bengals continue to win, and Dalton avoids the disastrous games that have plagued him in the past, he'll be a serious MVP contender. 
2. Aaron Rodgers, QB, Packers
Rodgers is without several offensive weapons and is still producing a great season. He's completing 68 percent of his passes, with 15 TDs, 2 INTs and 1,491 yards. Rodgers had the Packers 6-0 and he'll be one of the top contenders all season long. 
1. Tom Brady, QB, Patriots 
In five games this season, Brady has proved "Deflategate" should have been a non-issue and that he is the MVP front-runner. He's completing 71 percent of his passes for 1,699 yards, 14 TDs and only one INT. He's torched every defense he's faced and it doesn't look like he'll slow down this season. 
Back to the NFL Newsfeed
Related Topics: Devonta Freeman, Carson Palmer, DeAndre Hopkins, Andy Dalton, Julio Jones, NFL MVP, Aaron Rodgers, Cam Newton, NFL 2015, Chris Ivory, Tom Brady, Philip Rivers