The NFL season has just three regular season games left and the MVP picture is taking shape. We've narrowed down the candidate list to the top five players, since the race is nearly complete. It's not just stats and wins that determine the MVP, although those are incredibly important. It's also how much a player means to their team and how drastic the drop-off would be if the player in question were to miss time. With that in mind, here the NFL MVP Power Rankings With 3 Weeks Left: 
5. Aaron Rodgers, QB, Packers
Rodgers is without several offensive weapons and is still producing a great season. He's completing 61 percent of his passes, with 28 TDs, 5 INTs and 3,175 yards. He's even added 314 yards and a TD on the ground. Rodgers has not been as sharp as he has in recent seasons, but he's still worthy of MVP consideration. 
4. Russell Wilson, QB, Seahawks
Dalton had this spot before a thumb injury that could cost him the rest of the season allowed Wilson to move up. Wilson has been nothing short of increidble lately, as his offensive line has finally improved to the point that Wilson has some time in the pocket. In his last four games, Wilson has thrown 16 TDs and no picks. He's completed a blistering 75 percent of his passes for 1,171 yards during that time. His great play has the Seahawks in great position for a playoff spot. 
3. Carson Palmer, QB, Cardinals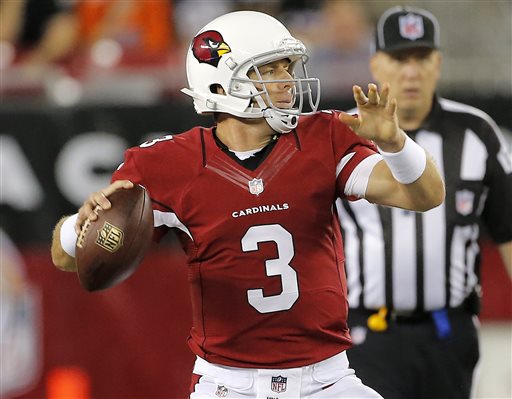 We saw what happened last season to the Cardinals without Palmer. He's the most important part of the team, and they'd be in serious trouble without him. This season, Palmer is completing 64.5 percent of his passes for 4,003 yards, 31 TDs and 9 INTs. If Palmer continues to play well, and the Cardinals continue to win, he'll be in position to take a top 3 spot in the MVP race. 
2. Tom Brady, QB, Patriots 
Brady has proved "Deflategate" should have been a non-issue and that he is an MVP candidate. He's completing 64.2 percent of his passes for 4,138 yards, 33 TDs and 6 INTs. He's torched nearly every defense he's faced and it doesn't look like he'll slow down this season. Brady has battled through injuries to his supporting cast and he has a case for being ranked higher. 
1. Cam Newton, QB, Panthers
Newton completing 59 percent of his passes for 3,062 yards, 28 TDs and 10 INTs isn't that impressive. Adding 480 yards and 7 scores on the ground helps, but it's not the biggest reason Newton is the MVP front-runner. Newton has almost nothing around him and still has the Panthers undefeated. There isn't a QB in the NFL doing so much with so little. TE Greg Olsen is a weapon, but that's the only true threat Newton has. The rest of his WRs are castoffs and his Newton's offensive line is poor. Newton's stellar play with little support is why he deserves the MVP. 
Back to the NFL Newsfeed
Related Topics: Carson Palmer, Russell Wilson, NFL MVP, Aaron Rodgers, Cam Newton, Tom Brady