Week 7 of the NFL season is nearly in the books and that means we have PLENTY to cover from yet another fun Sunday. Check out our NFL Final below for the six biggest on-field stories from Sunday.
Arian Foster Injured
We start with a bit of bad news for Texan fans. All indications are that Foster tore his Achilles, which would end his season. While the team will wait for an MRI to confirm the injury, it looks like the Texans' season has gone from bad to worse. 
Colts Dropping And Saints Rising 
We're merging the two storylines from the Saints-Colts game into one. The Saints picked up a 27-21 win over the Colts, who battled turnover issues. The Saints are on the rise, having won three of their last four. The Colts have lost two straight and have yet to beat a non-AFC South team this season. It's been a strange season for both teams, but it's the Saints whose stock is trending the right way. 
Dolphins Crush Texans 
This game was over well before halftime. The Dolphins were up 41-0 before completing taking their foot off the gas in a 44-26 stomping of the Texans. QB Ryan Tannehilll had perhaps the best game of his budding career, completing 18 of 19 passes for 282 yards and four TDs. RB Lamar Miller had 17 touches for 236 yards of total offense and two scores. The Dolphins look like a completely different team under Dan Campbell. They aren't out of the playoff race. 
Raiders Beat Chargers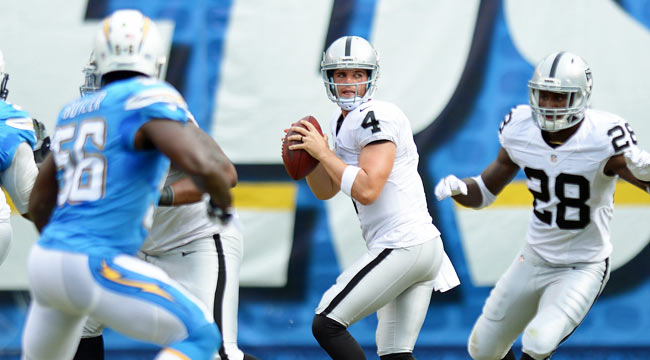 The Raiders defeated the Chargers 37-29 in a game that wasn't as close as the score indicates. It was 37-6 at the end of the third quarter, before San Diego mounted a comeback that was always going to come up short. QB Derek Carr, RB Latavius Murray and WR Amari Cooper looked like budding triplets. Denver is still the clear No. 1 in the AFC West, but with the Chiefs missing Jamaal Charles and the Chargers at 2-5, the Raiders are the second best team in the AFC West right now. 
Todd Gurley Is A Beast
So long as he stays healthy, Gurley has a bright future in the NFL. He ran all over the Browns, racking up 128 yards and two scores on the ground. Of course, that was partially expected given how bad the Browns' run defense is. With Gurley playing like this, the Rams have a shot at the playoffs. 
Patriots Stay Undefeated, Thanks To Brady
The Patriots have Tom Brady to thank for their win over the New York Jets. Of the Patriots' 371 yards of offense (ignoring sacks), Brady accounted for 370 of them. Seriously, Brady WAS New England's offense. New England is 6-0 and Brady is the biggest reason for that. 
Back to the NFL Newsfeed
Related Topics: Colts News, Todd Gurley, Saints News, Tom Brady, Lamar Miller, NFL 2015, Ryan Tannehill, Raiders News, Arian Foster