The start of the 2017 NFL Draft is just over a week away and teams around the league have turned their full attention towards it. With the draft comes trade rumors, centering on both picks and players. ESPN's Mark Dominik, a former NFL general manager, posted a piece on ESPN Insider breaking down the trade values for several players on the trade block. So for today's NFL Draft rumors roundup, the players are detailed below, with a few thoughts on each. 
CB Richard Sherman, Seahawks
Dominik reports the Seahawks want a first and a late round pick, which fits with pretty much every report out there. He says they'd settle for a second and a fourth round pick, but I doubt that. 
Does It Happen: Highly Unlikely
I don't believe the Seahawks are in a rush to deal Sherman, so they won't take less value for him. Unless a team like the Dolphins decides to get really aggressive, no one will offer what the Seahawks want. This is a really good example of why trades don't happen that often in the NFL: every player has a price, but that price is usually higher than teams are willing to pay.  
CB Malcolm Butler, Patriots
The Saints have clear interest in Butler, but won't sign him to an offer sheet, knowing it would cost them the No. 11 overall pick. Dominik says the Patriots are hoping for the Saints No. 11 pick, but they'd only settle for a mid-round first. 
Does It Happen: Maybe
Dominik reporting the Patriots would only accept a pick in the low teens surprises me. It would require the Saints to trade down from No. 11 to make the deal happen, which I don't see happening. If the Saints offered the No. 32 overall pick, would the Pats say yes? I would, but Dominik says the Pats don't want that pick. If that's the case, this deal won't happen. No other team appears to have interest in the Saints, so I wouldn't be surprised if the price moves down. If Butler plays out this year with the Pats, he could end up with the Saints next offseason via free agency. 
DL Sheldon Richardson, Jets
The Jets shopped Richardson at the trade deadline, talking with teams like the Dallas Cowboys. They continue to shop him, with the hope they can get a second round pick. Dominik says they'd settle for a fourth. 
Does It Happen: Maybe
The Jets' willingness to move Richardson helps the chances, but there are some road blocks. For starters, Richardson will make $8 million in the final year of his deal. So whatever team trades for him would need to pay him and then a big contract. That will scare off general managers and a team like the Cowboys simply don't have the cap space right now. The Jets could just elect to let Richardson play out the year and hope they get a fourth round compensatory pick. 
QB A.J. McCarron, Bengals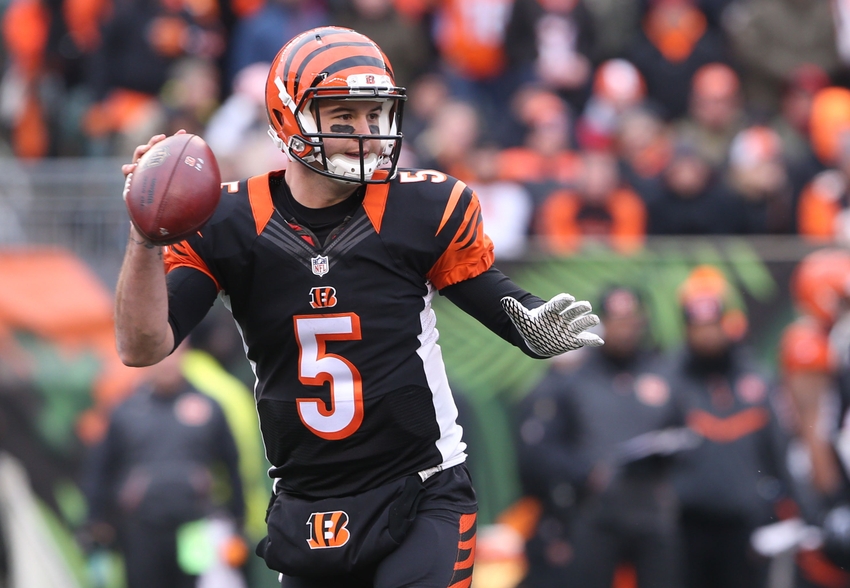 The Bengals are sticking with Andy Dalton, which means McCarron could be dealt. The Bengals want a second and a fifth round selection for McCarron. However, Dominik reports they'd settle for a 3rd and a late Day 3 pick. He also throws out the Browns as a potential landing spot. 
Does It Happen: No
This is a Mike Glennon situation. I don't think there's a ton of interest in adding a QB like McCarrron, who might not be a franchise QB. What team would want to give up a high pick to see if McCarron is the answer and then pay him a bunch of money. But McCarron is a solid backup and that's valuable to NFL teams. This is a perfect example of a player being worth more to his current team than one of the other 31 teams. Entering the final deal of his rookie deal, there just won't be a ton of buzz around McCarron. 
LB Mychal Kendricks, Eagles
The Eagles have been shopping Kendricks for some time and Dominik reports the Eagles would like to get a fifth round pick back. However, he adds the Eagles would settle for a seventh. 
Does It Happen: Doubtful
No one really wants Kendricks. He had just 32 tackles last year and is set to count $6.6 million against the cap. The Eagles can keep trying to move him, but it appears no one is biting. 
QBs Kirk Cousins, Jimmy Garoppolo and Brock Osweiler
Dominik grouped these three together for one reason: they aren't going anywhere. Dominik thinks the Pats don't want to move Brady and that no one wants Osweiler. As for Cousins, Dominik says the Redskins would turn down the No. 2 overall pick and would only move Cousins if the 49ers offered two first and two seconds. That deal won't happen. 
Does It Happen: Nope 
See above.
Follow our NFL team page for all the latest NFL Draft news or download the Chat Sports App!
Back to the NFL Newsfeed
Related Topics: Richard Sherman, Malcolm Butler, Mychal Kendricks, NFL Rumors, NFL News, NFL Rumors Roundup, NFL Draft Trade Rumors, NFL Draft Rumors, A.J. McCarron, NFL Trade Rumors, 2017 NFL Draft, Richard Sherman Trade Rumors, Sheldon Richardson