The reality of the "win-now" NFL is that head coaches are often on the hot seat. If teams don't produce, their coaches often pay the price. Just look at what happened with the Miami Dolphins and Joe Philbin. This season is no different and there are already several head coaches in danger of losing their jobs. These coaches could save their jobs by winning more games, but if they don't, they'll end up looking for a job this offseason. Here seven NFL head coaches whose jobs are on the line this season. 
Tom Coughlin, New York Giants
Coughlin has had great success in the past, but his time might be up. The Giants (mostly the Mara family) were patient with Coughlin and gave him another chance. If Coughlin can't get the Giants to the playoffs, don't be surprised if he "retires" at the end of this season. The Giants have a chance to make a postseason run with the Dallas Cowboys battling numerous injuries. 
Jim Caldwell, Detroit Lions
The Lions had high hopes this season and an 0-4 start was not what the team expected. If the Lions continue to struggle, it might cost Caldwell his job. 
Jay Gruden, Washington Redskins 

The Redskins have been a dysfunctional organization since Dan Snyder bought the team. Jay Gruden's handling of Robert Griffin III has not helped matters. GM Scot McCloughan took over at the start of this year and he might want to bring in his own coach soon, especially if the Redskins continue to struggle. Gruden went all in on Kirk Cousins and that's a bet that won't pay off. 
Jim Tomsula, San Francisco 49ers
It's only Tomsula's first year as a head coach, but the former defensive line coach wasn't really qualified in the first place. The 49ers hiring Tomsula after breaking up with Jim Harbaugh was a bit like dumping your girlfriend and dating the first girl who said yes. It's only a matter of time before the 49ers want to end things with Tomsula, especially if the team continues to struggle. I'd send you to the twitter mentions of Jed York to show just how upset 49ers fans are, but it's really, really bad. 
Mike Pettine, Cleveland Browns 
The Cleveland Browns haven't had the same head coach for more than two seasons since 2009. If the Browns don't start winning, Pettine might not break that streak. Owner Jimmy Haslam is not a patient man and he could look to start over again in 2016. 
Gus Bradley, Jacksonville Jaguars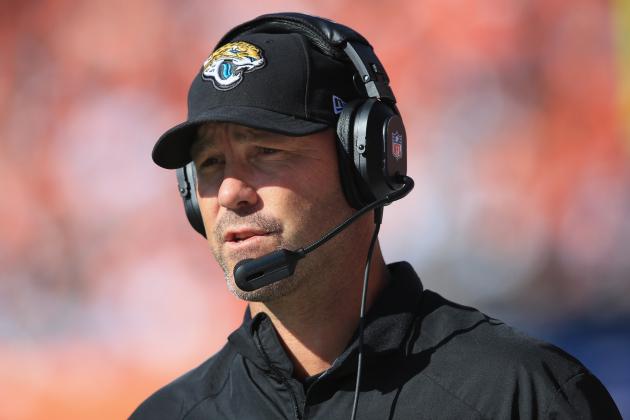 Bradley took over a tough situation in Jacksonville, but he has yet to win more than four games in each of his first two seasons. The Jaguars haven't capitalized on an AFC South that appears to be winnable and if the Jaguars don't start winning, Bradley could be out of a job. A 10-win season isn't needed, but the Jaguars need to show improvement. Patience is not a common virtue in the NFL.
Chuck Pagano, Indianapolis Colts
This isn't an indictment of Pagano as a head coach, but a statement about the fracturing relationship he has with GM Ryan Grigson. The two deny there is a rift, but reports say otherwise. Unless Pagano can lead the Colts to a Super Bowl, he might not be the Colts' head coach next season. After all, it's the last year of Pagano's contract.  
Back to the NFL Newsfeed
Related Topics: Tom Coughlin, Hot Seat, Joe Philbin, Jim Tomsula, Chuck Pagano, Jim Caldwell, Mike Pettine, NFL 2015, Jay Gruden