NFL players might be a bit jealous of the massive contracts being handed out to NBA players, but NFL players still make an impressive amount of money. That was no different this season, as several players received large contracts. But which players landed the biggest deals? 
This is list is based on the guaranteed money handed out this offseason, and that figure is listed for each player. While some players might have a higher per year figure or more total money involved, guaranteed money is the best barometer for value in a contract. Players who signed extensions with years still left on their deals and franchise tag players do not count. With that in mind, here are the eight largest contracts given to NFL players this offseason.  
T-7. Alex Mack, C, Falcons - $20 million
The Browns let Mack walk this offseason, and the Falcons quickly snatched him up. He's one of the top centers in the NFL and is the highest-paid one. 
T-7. Damon Harrison, DT, Giants - $20 million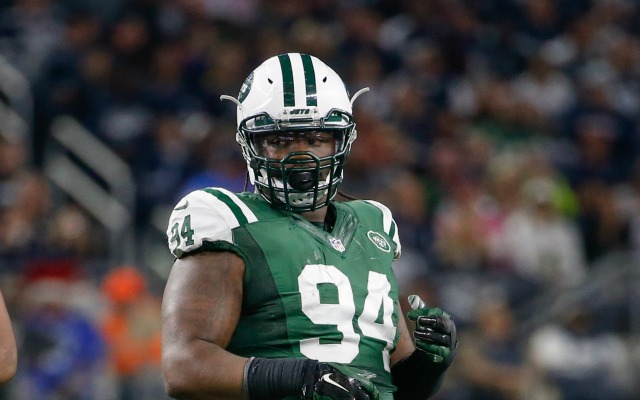 Harrison is one of the best run-stuffing tackles in the NFL. He doesn't offer much in the passing game, but he'll help clog the running lanes in New York. He switched from the Jets to Giants. 
6. Kelechi Osemele, OG, Raiders - $25.8 million
The Raiders swiped Osemele away from the Ravens this offseason. He's the highest paid guard in the NFL by a fairly wide margin. He makes an already good Raiders' offensive line one of the best in the NFL. 
5. Janoris Jenkins, CB, Giants - $28.8 million
Jenkins gives up plenty of plays, but makes more than he gives up. He's a ball-hawking corner and fills a major need for the Giants. He's now the third-highest paid CB in terms of guaranteed money, but only the second highest from this offseason. 
4. Malik Jackson, DE, Jaguars - $31.5 million 
Jackson might shift to DT in the Jags' 4-3 scheme, but he was a 3-4 DE for the Broncos. He's strong against both the run and pass and will be a key player for team. He has the most guaranteed money among 3-4 DE, and but only third among 4-3 DEs. 
3. Josh Norman, CB, Redskins - $36.5 million 
The Panthers surprisingly let Norman go this offseason, and the Redskins didn't waste much time signing him. His $36.5 million in guaranteed money trails only Darrelle Revis among all corners. 
2. Brock Osweiler, QB, Texans - $37 million 
Osweiler, much like Jackson, left the Broncos and got paid for doing so. His $37 million is second among players this offseason, but is only 10th among all QBs. Whether or not Osweiler lives up to his hefty contract remains to be seen. 
1. Olivier Vernon, DE, Giants - $40 million 
That's right, it's Vernon and his 7.5 sacks last year that received the most guaranteed money. Vernon was the better pass rusher on the market this year (Von Miller doesn't count), and he was paid like it. No 4-3 DE has more guaranteed money than Vernon. 
Back to the NFL Newsfeed
Related Topics: Damon Harrison, Malik Jackson, Janoris Jenkins, Kelechi Osemele, Alex Mack, 2016 NFL Offseason, NFL Offseason, Brock Osweiler, NFL Free Agency, Josh Norman, Olivier Vernon