When the 2017 NFL season ends, or even before it, several head coaching jobs will open as teams fire their current head coaches. That means a new wave of NFL head coaches will rise up, although there will likely be one or two former head coaches getting another shot. The offensive minds have dominated the promotions in recent years, but there are still several quality defensive coaches in line for head coaching gigs. So just who are the assistant coaches in the NFL next in line to be head coaches? 
Only current assistant coaches qualify. That means no former head coaches out of the NFL, like Jon Gruden, made the list. The same goes for college coaches. For the most part, former head coaches who are now assistants are also left off the list. Guys like Scott Linehan and Rod Marinelli of the Cowboys, or Pat Shurmur of the Vikings and Jim Schwartz of the Eagles could get another chance, but this list focuses on the young guns. Several quality young coaches also missed out on the list. That includes, but isn't limited to, Harold Goodwin (Cardinals OC), Paul Guenther (Bengals DC), Edgar Bennett (Packers OC) and Matt LaFleur (Rams OC). With that in mind, here are seven assistant coaches likely to become NFL head coaches in the future. 
Teryl Austin, Detroit Lions defensive coordinator
Austin, at age 52, is actually one of the oldest coaches on this list. He's been one of the rising stars in the coaching world since taking over as the Lions defensive coordinator in 2014. Heck, I get a Mike Zimmer vs. Marvin Lewis vibe here with Austin and Jim Caldwell. Austin has had several head coaching interviews, but has openly said some of those weren't "legitimate," meaning they were only trying to fulfill the Rooney Rule. Still, Austin will get a shot. 
NFL Fans - Download Chat Sports on iPhone today for breaking news, rumors, scores and more - Chat Sports iPhone App
Jim Bob Cooter, Detroit Lions offensive coordinator 
Cooter took over as the Lions' OC during the 2015 season and it's been a major boost for the Lions' offense. He's rapidly risen up the coaching ranks and could be the next super-young head coach (like McVay and Adam Gase). He's just 33 years old, but he shouldn't have to wait much longer if the Lions' offense continues to find success. In fact, he could be the choice of Bob Quinn if the Lions decide to move on from Jim Caldwell in the near future. The NFL likes hiring offensive minds and has shown a willingness to hire young guns, so Cooter could get the call soon. 
Dowell Loggains, Chicago Bears offensive coordinator
Here's one of the more under-the-radar options on this list. But being young and (relatively) unheard of didn't stop Gase and McVay. Loggains served under Gase, as he was the QBs coach in Gase's lone year in Chicago. He's now the Bears' OC, after also serving as the Titans' offensive coordinator in 2012 and 2013. He's just 36 years old and if the Bears find success on offense this year, Loggains will get plenty of the credit. One potential problem is that head coach John Fox might be fired after this year. The Bears could elect to promote from within (the Bucs and Titans did something very similar after drafting a QB), but Loggains could also be looking for a job with a new team if he doesn't get the role.  
Josh McDaniels, New England Patriots offensive coordinator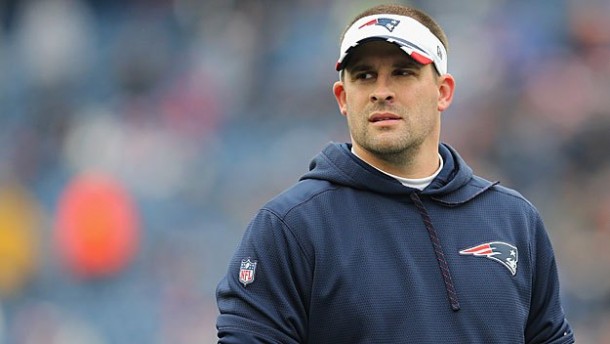 Josh McDaniels is the only former head coach on this list and yet is still just 41 years old. McDaniels' time with the Denver Broncos was a failure, but he's rehabbed his value in five years as the Patriots' offensive coordinator. McDaniels is now the top coach in line to be a head coach, even with the failure of Denver on his resume (Bill Belichick got past his bad first stop after all). McDaniels was a candidate for several jobs last year, but he's back again for another year in New England. Come January, McDaniels will once again be linked to numerous jobs. 
Matt Patricia, New England Patriots defensive coordinator
Patricia has one of the stranger stories on this list. He looks like a lumberjack, with his bushy beard, but was a literal rocket scientist before joining the coaching ranks. He's done a little bit of everything since joining the Patriots in 2004. He's served as an offensive assistant, the offensive line coach, a linebackers coach, a safeties coach, and took over as the defensive coordinator in 2012. The buzz around Patricia picked up last year and it should only grow this year. He'll turn just 43 once the season starts and he'll get a head coaching gig in the near future. 
Dave Toub, Kansas City Chiefs special teams coordinator
Special teams coaches are people too, and given the success of John Harbaugh with the Baltimore Ravens, it's a bit of a surprise no NFL team has tabbed a special teams coach to run their staff. It'll happen again and when it does, the 55-year-old Toub is the front-runner. The best special teams coach in the business, Toub drew interest from the Broncos and Chargers in the last coaching search (and other teams in the past). He's the oldest coach on this list, but he's frankly one of the more worthy. One team to watch for Toub is the Indianapolis Colts. If they fire Chuck Pagano, new general manager Chris Ballard gets to make the hire and he came over from Kansas City. Also watch for Matt Nagy, the Chiefs' young offensive coordinator. He's another young OC who could start to generate some buzz. 
Mike Vrabel, Houston Texans offensive coordinator 
Vrabel is a name NFL fans know, but as a player. He played 14 NFL seasons, many with the Patriots. He started as a coach in 2011 at Ohio State and has quickly ascended up the coaching ranks. He's turned down DC jobs in the past and the Texans moved Romeo Crennel out of the position to kepe Vrabel this offseason. Vrabel is on the fast track and even if it doesn't happen this offseason, the 41-year-old in line for a head coaching gig.  
Check out our NFL page for all the latest NFL Rumors or download the Chat Sports App!
Back to the NFL Newsfeed
Related Topics: Mike Vrabel, NFL Coaching Rumors, NFL Rumors, Matt Patricia, Josh McDaniels, Teryl Austin, Jim Bob Cooter, NFL News, Dowell Loggains, Dave Toub, NFL Assistant Coaches, Next NFL Head Coaches