Even though Ohio State's Ezekiel Elliott went No. 4 overall in the NFL Draft this year, the 2016 class doesn't have the talent that next year's class does at running back. The 2017 draft class is loaded with gifted RBs, and as many as four who could end up being first round picks. While this list could, and likely will change once we get closer to the actual draft, we've put together the top 7 RBs who are draft-eligible next season. 
7. Wayne Gallman, RB, Clemson
There are a few other players that have a claim to this spot (like Tennessee's Jalen Hurd), but we'll go with Gallman for the time being. Often overlooked because of the presence of QB Deshaun Watson, Gallman is a gifted player in his own right. He was the workhorse back for Clemson and was very productive. He's a speedy player, but needs to add strength. 
6. Royce Freeman, RB, Oregon
Freeman has an impressive size-speed combo. He's not as fast as former Oregon RBs like LaMichael James, but he could be a feature back in the NFL. At worst, he could be a productive short-yard back. For more NFL coverage, download the Chat Sports App.
5. Samaje Perine, RB, Oklahoma  
Perine doesn't have top-end speed, but he's a productive and big back. He might not be a first round pick when he turns pro, but he'll likely go on Day 2 at least. There are some injury concerns (he had ankle surgery to repair a ligament this offseason), but Perine is a talented runner. He'll be tough to bring down at the next level. 
4. Christian McCaffrey, RB, Stanford 
McCaffrey probably should have won the Heisman last year after a monster season. While he'll continue to produce great numbers in college, he's not going to be as effective in the NFL. McCaffrey has impressive vision and good speed, but he lacks the size and strength to be an early first round pick. He's a very effective pass catcher and will be a productive back in an offense that lets him catch the ball out of the backfield. He could be a bit a like Matt Forte at the next level. 
3. Nick Chubb, RB, Georgia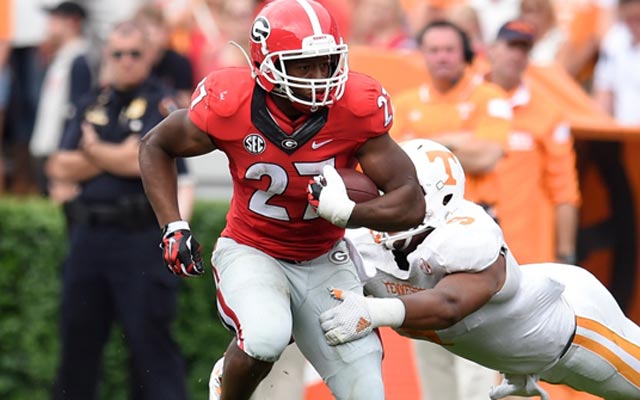 Chubb is coming off a knee injury, but should return to the field this season. Chubb is the next great Georgia running back. A powerful runner, Chubb is tough to bring down. He's not as fast as some, but he's got enough speed to make it as a feature back. 
2. Dalvin Cook, RB, FSU
Cook's power is a bit underrated, and he has plenty of speed. He's battled injury issues at times at Florida State, which could cause his stock to drop slightly. But, Cook has the makings of a talented three-down back. He could easily be a first round selection. 
1. Leonard Fournette, RB, LSU
The former No. 1 overall high school recruit is easily the best back in this year's class. There were comparisions to Adrian Peterson before he even played at LSU, but Fournette has shown he's that type of back. He has everything teams want in a back and he could be a very high draft pick next year. If he stays healthy, Fournette will be a special player. 
Back to the NFL Newsfeed
Related Topics: Nick Chubb, Leonard Fournette, Wayne Gallman, Christian McCaffrey, Dalvin Cook, Royce Freeman, Samaje Perine, 2017 NFL Draft, NFL Draft