The 2016 NFL Draft is still months away, but NFL teams have already turned their attention to the offseason and the draft process. Many NFL teams could end up taking a running back this year, as more and more teams shift to a running back-by-committee approach. 
While there are many RB prospects who will be drafted, and even more that sign as undrafted free agents, there are a few that will end up being over-drafted. That's not to say they'll end up being busts, but rather that they aren't worth taking at their current projected slot. All of these players are worth taking if they fall to the proper range, but NFL teams shouldn't reach for them. With that in mind, here are 3 RBs to avoid in the NFL Draft. 
Daniel Lasco, Cal Golden Bears
The phrase "workout warrior" might be best applied to Lasco out of all the running backs at the NFL Combine. He posted a solid 4.46 40 time, the fourth fastest among RBs. He then benched 23 reps, trailing only a few RBs. He led all backs in the vertical jump and broad jump. Unfortunately for Lasco, he doesn't play like his impressive numbers might indicate. He runs far too upright, has fumbling issues and there are durability concerns. He wasn't that productive at Cal either. Taking him late on Day 3 is fine, but he's not worth the fourth or fifth round pick CBS projects for him. 
Alex Collins, Arkansas Razorbacks
I was high on Collins before the NFL Combine, but his stock fell after the combine. He ran a slow 4.59 40 time. looked awful in drills and had issues catching the ball. A slow 40 time and poor hands screams "plodder" and it's going to hurt his stock. I had him a second round pick before the NFL Draft, but that would be a reach now. He's a late Day 2 pick at best. A solid pro day could help boost his stock. For more NFL Draft coverage, download the Chat Sports Android and iPhone app.
Derrick Henry, Alabama Crimson Tide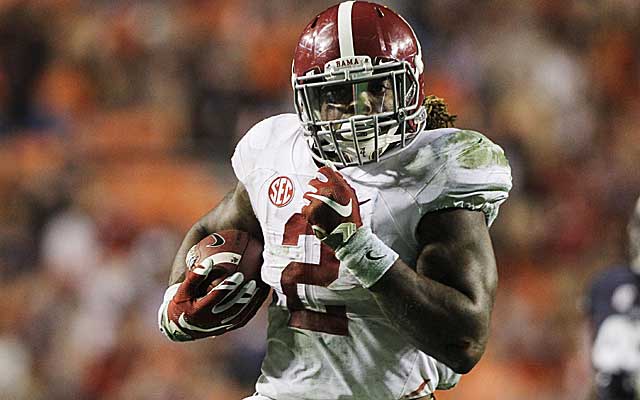 After his impressive combine showing and monster final year at Alabama, it's easy to see why so many are high on Henry. He profiles as a productive power back in the NFL. However, he's not worth an early second round pick and certainly not a first rounder. Henry has speed, but it's more straight end speed than it is shifty speed. That's not ideal and neither is Henry's upright running style. Henry is a great pass blocker, but has limited hands at this point in his career. And the major, completely overlooked concern is that Henry had 395 carries last year. That's 68 more than any NFL player had last season. While Henry is a true workhorse, that number of carries should give teams pause. The curse of 370 carries is real, and that is based on 16-game NFL schedule.
Henry is talented and is worth a late 2nd round pick. But his hype train is starting to get out of control. He's not going to be an Adrian Peterson-type back. He's much more in the mold of a Brandon Jacobs. While Henry will have a solid NFL career, the nature of the NFL and the multitude of several quality RBs means Henry shouldn't be an early draft pick.  
Back to the NFL Newsfeed
Related Topics: Derrick Henry, Alex Collins, NFL Draft, Daniel Lasco