The NFL no longer values running backs the way it used to. It was only a few years ago that running backs were some of the most important players on an offense. Now, it's all about defense and quarterbacks. That's reflected in the way teams spend their cap space and draft picks. Running backs simply aren't as valuable as they once were.
But that doesn't mean there haven't been great running backs in the NFL's history. Some of the best players ever to play the game were running backs. With that in mind, we've put together a list of the best. Active players weren't included on this list, because it's not fair to judge them before their careers are over. There's a good chance Adrian Peterson will end up as a top RB when his career is over. Every player, not surprisingly, on this list is in the Hall of Fame. Several great RBs just missed the list and there isn't much separation from the players on this list. With all that out of the way, here are the 11 Best RBs In NFL History:
11. Tony Dorsett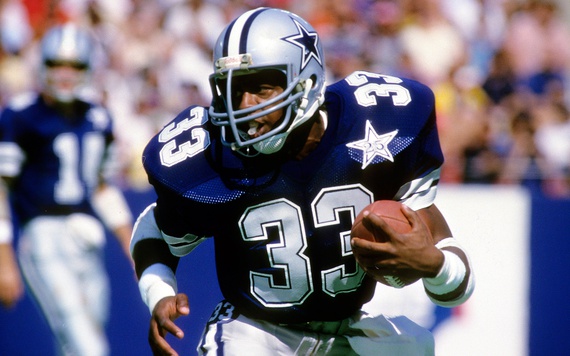 Dorsett played 11 years in the NFL, from 1977 to 1988. He spent nearly all of that time with the Cowboys, but played his last year with the Denver Broncos. The Hall of Famer is No. 8 all-time in rushing yards and averaged 4.3 yards per carry. He's not the only Cowboy on this list. 
10. Earl Campbell 
Campbell is the only player on this list to not record at least 10,000 yards. But Campbell only played seven seasons and still racked up 9,407 yards. He's the only player to ever rack up 200 yards or more on the ground in four games. He led the NFL in rushing three times. 
9. Curtis Martin
Martin is the Jets' all-time leading rusher and also ranks fourth in NFL history in rushing yards, racking up 14,000+ yards. Despite those impressive numbers, Martin averaged 4 yards per carry and led the NFL in rushing once. For more NFL coverage, download the Chat Sports Android and iPhone app.
8. Eric Dickerson
In just eleven years, Dickerson racked up 13,259 yards, good enough for seventh all time. He led the NFL in rushing four times, including his 2,105 yard season. Injuries helped stunt Dickerson's career, as he only played in all 16 games five times. 
7. Marshall Faulk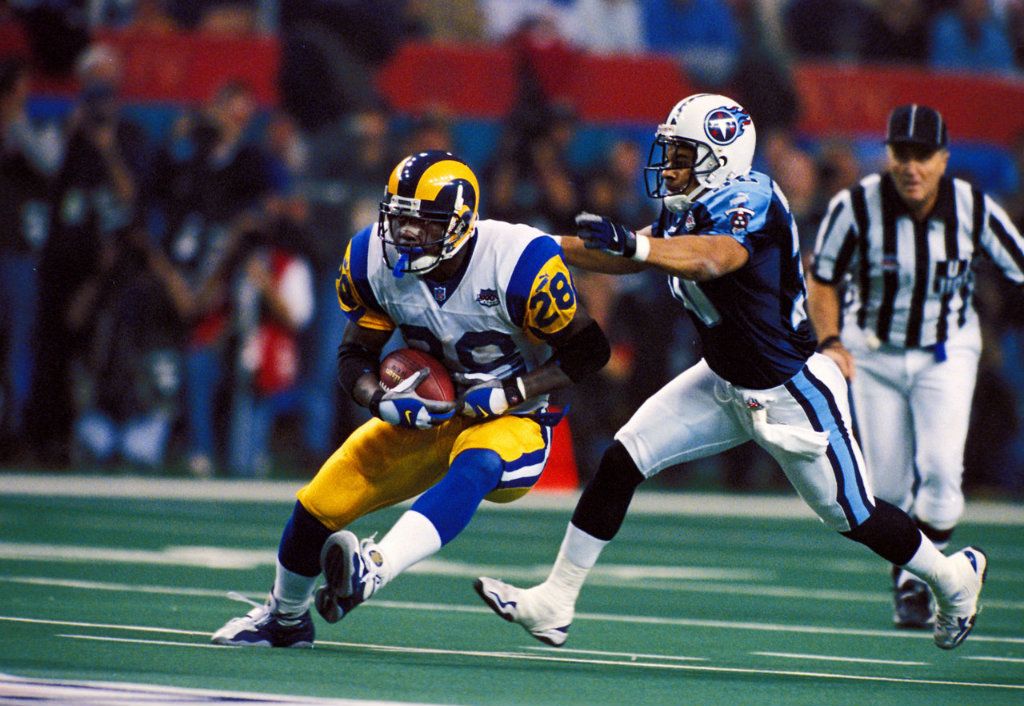 Faulk was a weapon on the ground in the passing game. Playing for both the Colts and Rams, he's one of just two players to ever record 1,000 yards rushing and receiving in the same year. For four straight seasons, he had 2,000 yards from scrimmage, an NFL record. He never led the NFL in rushing, but did lead the NFL in yards from scrimmage twice. 
6. Marcus Allen
At the time, Allen was the first player to record 10,000 rushing yards and 5,000 receiving yards in a career. He played a whopping 16 years, with 11 of those on the Raiders. His best year came in 1985, when he racked up 1,759 yards in one season. 
5. LaDainian Tomlinson
Tomlinson is No. 5 all-time in rushing yards and No. 3 in TDs. He spent nine years of his 11-year career with the San Diego Chargers. He led the NFL in rushing twice and set the record for most rushing touchdowns in a season, single-handedly carrying many fantasy owners to titles. 
4. Walter Payton
Payton spent his entire career with the Chicago Bears. He only led the NFL in rushing once, but was dominant throughout his time in the NFL. He's second on the all-time rushing list and 11th on the TD list. He won MVP three times and is second all-time in rushing yards. Sadly, Payton died at the age of 46.
3. Barry Sanders
Had Sanders not retired at the age of 30 after 10 years in the NFL, he might have been at the top of this list. He led the NFL in rushing four times, and never missed a Pro Bowl. Despite retiring early, he's third on the NFL's all-time rushing list. There might never be a more dynamic runner than Sanders, who appeared untouchable at times. 
2. Jim Brown
Brown played from 1957-1965, and was actually a full back in an era when defenses dominated. He's the only player to average more than 100 yards during his career and was the leading rusher in eight of his nine seasons. There's a real argument that Brown should be number 1. 
1. Emmitt Smith 
Sure, Smith probably benefited from some great talent around him, but he was most important part of the Cowboys' offense. The stats also speak for themselves. Smith is the NFL's all-time leading rusher and No. 2 all-time in TDs, behind only Jerry Rice. He played 15 years, racking up an NFL record 1,000 yards in 11 of those. He led the NFL in rushing four times and won MVP twice. With the records Smith holds among RBs, there's just no way anyone else can rank above him. 
Back to the NFL Newsfeed
Related Topics: Earl Campbell, Tony Dorsett, Jim Brown, Barry Sanders, Marcus Allen, NFL News, Emmitt Smith, LaDainian Tomlinson, Walter Payton, Marshall Faulk, Curtis Martin